Welcome to the world of real beer. Your new favorite brew is out there, waiting to be discovered.
Please check later for future events!
Historical Calendar
Start the journey by finding a brewery near you:
Search
the world
for a country, city, state, county, region, address, or brewery.
View The Breweries List In A Full Page Map
Dundee Ales and Lagers
DC Brau Brewing Company
The Cambridge House Brewpub
Bog Iron Brewing Company
You will soon be able to purchase our Pubway Maps online in Print, Framed, Canvas, or other finished formats!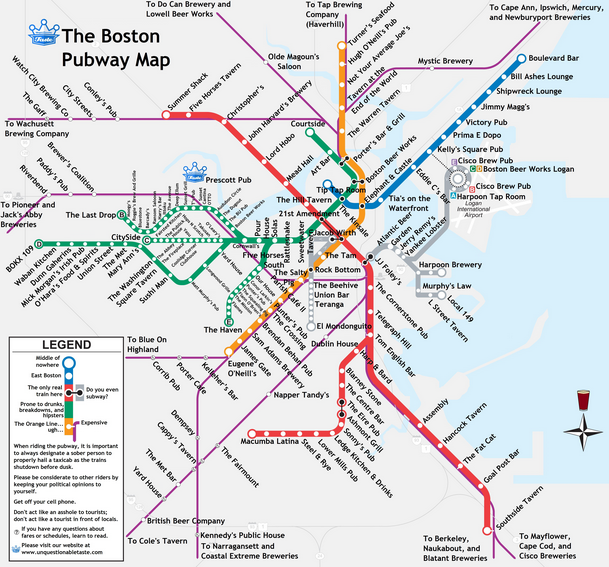 The Boston Pubway Map -
Download it here!
12-15-14 - Six Point 3Beans
12-02-14 - Frampton Nuit D' Automne Ale
11-18-14 - Brasseurs RJ Belle Gueule Rousse

Click each beer style's picture for more information about the vast array of
beer styles
out in
the world
.
Recently Rated Stouts

Includes Dry, Porter, Imperial, Baltic Porter, Milk/Cream, Oatmeal, Oyster, Coffee, and Cocoa among others.


5-03-14 -
Left Hand Black Jack Porter
4-11-14 -
John Harvard's Bow Stout
3-17-14 -
Fort Collins Chocolate Stout
3-07-14 -
Boston Beer Works Baltic Porter
3-07-14 -
Boston Beer Works Muddy River Porter
Recently Rated Weissbiers
Includes Weizenbier, Hefeweiss, Dunkels, Kristallweiss, Weizenbock, Weizen Eisbock, Lambic, Gueuze, Mars, Faro, Berliner Weisse, Kriek, Fruit Lambic, Witbier, La Biere Blanche, and Gose among others.

11-02-13 - Kiuchi Hitochino Nest White Ale
7-25-13 - Custom Brewcrafters Finger lakes Summer Wheat Hefeweizen
6-05-13 - Magic Hat Elder Betty
6-02-13 - Sam Adams White Lantern
6-01-13 - Rising Tide Spinnaker

Recently Rated Ales

Includes Brown, Pale, IPA, ESB, Amber, Altbier, American Pale, Strong, Biere de Garde, Blonde, Burton, Tripel, Bitter, Irish Red, American Strong, Scotch, Old, Belgian, Mild, Golden, Flemish, Oud Bruin, Cask (real), Pumpkin, Winter/Christmas, Chile/Pepper, Barley Wine, and Pale Malt among others.

5-20-14 - Smuttynose Flatbread's Emotional Rescue
5-10-14 - Kennebunkport Brewing Nitro Pale Ale
5-04-14 - Pretty Things Fluffy White Rabbit
4-26-14 - Smuttynose Finest Kind IPA
4-19-14 - Three Heads Loopy Red Ale

Recently Rated Lagers

Includes Pilsner, Pale, Bock Dortmunder, Kolsch, Marzen, Oktoberfest, Schwarzbier, Dark, Eisbock, Pal Pilsner, American, Helles, Golden, Premium, Malt, Maibock, Doppelbock, Altbairisch, Munchner, Steam/California Common, and Rauchmarzen among others.

5-18-14 - Lakefront Brewing Pumpkin Lager Beer
5-18-14 - Magic Hat Dream Machine
5-03-14 - Sam Adams Escape Route
3-08-14 - Matt Brewing Utica Club
3-07-14 - Boston Beer Works 9 Alarm Amber Lager