"Have A Drink On Me"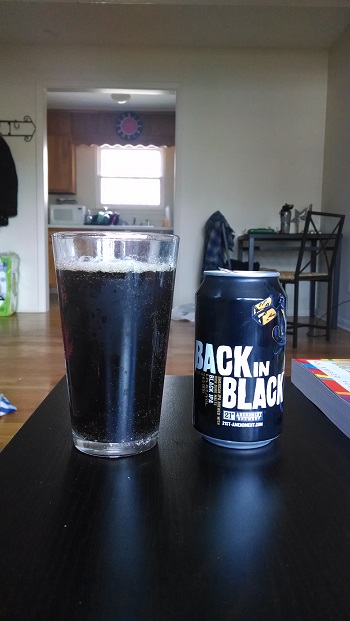 Brewery
and
Country
of Origin:
21st Amendment Brewery
of
563 2nd Street, San Francisco, CA 94107, USA
Date Reviewed: 5-30-14
Sitting at #77 on the list of
Rolling Stone's
"The 500 Greatest Albums of All Time," is one of our personal favorites, AC/DC's
Back In Black
, which was released on July 21st, 1980. The album became instant
global
success as the album and its singles broke the charts in many countries around the world. Today its 50 million estimated sales make it tied for the second best selling album of all time, with Pink Floyd's
Dark Side Of The Moon
and in the
US
, the fourth best selling record with 22 million copies. It is regarded by many as one of
Australia
's greatest musical acts and after
Back In Black
was released, interest for the band's other studio albums shot up, making AC/DC the first band in the UK to have four albums in the British Top 100 since The Beatles. Its title track, the first on side 2 of the record was a tribute to the band's late former lead singer Bon Scott, who died four months before the album's release. Written in part by the band's then new frontman, Brian Johnson, the lyrics are a celebration of Scott and his "Nine Lives. Cat's eyes. Abusing every one of them and running wild."
Back In Black
's success also helped seal the band's decision to stay together after Scott's death, along with the encouragement of his parents, who did not want to see them disband as it wasn't what their former singer would have wanted. The record was recorded in studios in New York City and
Nassau
, and due to its high sound quality, it was sometimes played to test the acoustics of new studios being constructed in Nashville, TN (aka, Music City).
Date Sampled: 4-05-14 At: Amanda's Apartment, 1953 Whitney Ave Hamden, CT 06517, USA
Beer Style
:
American Black IPA
Alcohol by Volume: 6.80%
Serving Type: 12 oz Can, 16 oz Tumbler Glass
Rating: 4.01
Look
Back In Black pours moderately choppy with an average level of carbonation action producing a low density, half inch tall foam head with a low retention rate and a tan like color. This beer has a dark copper red color with a slightly hazy appearance, some visible very fine sediment, and no visible settling. There is a moderate effervescent effect. This beer has no shine and an average glow in light with small amounts of thin lacing.
Aroma
Like most black IPAs, this beer has a mostly bitter hoppy aroma full of clean aromatic piney hops with a subtle floral note. And like most black IPAs, this beer's aroma also includes a very malty, deep roasted side complete with a fairly chocolately primary with a good amount of coffee espresso undertone. This beer also has a slight alcohol smell and a fair amount of biscuit like sweetness and earthy nuttiness. This beer's aroma is average in strength.
Feel
This is a medium bodied beer with a good crisp and clean finish which has a dry lingering effect. This beer has a medium weight with an average viscosity and an average amount of carbonation, making this a fairly middle of the row beer in terms of its drinkability and seasonal sensitivity. There is some noticeable alcohol induced warming toward the finish. This is a smooth beer overall with no real texture from the included sediment.
Taste
With an IBU of 65, this beer is more hoppy than not. And as indicated by the aroma, this beer has a good deal of piney notes due to the inclusion of northwestern style hops. This beer also has some bitter dark chocolate roasted malty notes augmented with a mostly espresso coffee like secondary which makes this a well balanced, well proportioned beer in terms of its flavor profile. The hops round out a somewhat soapy aftertaste. This beer has a slight alcohol bite which does little to distract from an overall flavorful experience which is mostly bitter with a sweet malty undertone.
Our Take
As you're probably aware, we've reviewed many
black IPAs
that have, for the most part,
received high marks
on average. And this particular San Francisco rendition is no different. Headlined by a well balanced, robust flavor and aromatic experience, this is a powerful beer that covers all of the bases in terms of a high quality black IPA, delivering on the promise of a clean hoppy base enhanced with a rich malty twist that is neither too sweet, nor too burnt tasting. As this beer is fairly average in terms of its overall presence, its versatility in terms of season and weather makes it a great perennial option, and a thoroughly checked out profile makes it a great option when paired with many different hearty meats, pastas, sharp or mild cheeses, and dark chocoaltes. If you're looking for a great black IPA that you can not only drink in the dead of winter with alfredo, but also on the beach with a burger (yes, this comes in cans, which means it's beach friendly), then you're in luck if you can find it at your local beer purveyor.