Earthquake Series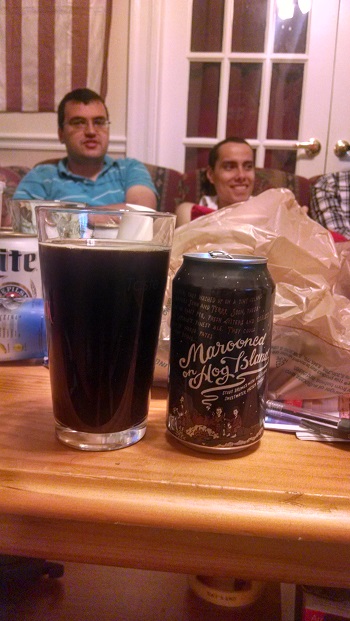 Brewery
and
Country
of Origin:
21st Amendment Brewery
of
563 2nd Street, San Francisco, CA 94107, USA
Date Reviewed: 10-17-14
With a Travis Ishikawa 3 run walk off home run sealing San Francisco's NLCS victory last night, the Giants will be playing in the 2014 World Series later this month. This was the twenty second NL Pennant for the orange and black and third in five years, but for the residents of the San Francisco Bay area, the memories of the 1989 World Series are perhaps the most lucid in their minds, and not only because their beloved Giants were swept. Twenty five years ago to this day, game three of the 1989 World Series was set to begin, with the series moving over to Candlestick Park in San Francisco (home of the
21st Amendment Brewery
). The series, known as The Battle of the Bay (or the
BART Series
) was matched up between the San Francisco Giants and their cross Bay adversaries, the Oakland A's, who were appearing in the World Series for their second time in as many years. Oakland's superior pitching had shut out the Giants in game 1, and only allowed 1 run in game two. Game three was set to start at 5:35 PM, during rush hour. ABC had the broadcast rights to the series and at 5:04 PM, just as Tim McCarver was discussing the events that led to a Jose Canseco run in game two, the live feed began to cut out and Al Michaels interrupted: "I'll tell you what, we're having an earth-." The entire Bay Area was subjected to a 6.9 magnitude earthquake which lasted no less than 8 seconds, with its epicenter about 60 miles south of the city, near Loma Prieta. Because of the coverage of the World Series, the 1989 Loma Prieta Earthquake was the first major earthquake to be nationally televised live in
US history
. Entire sections of the city, especially in the Marina District and West Oakland experienced widespread damage, downed phone lines, and power outages. Transportation in the city had been crippled, and emergency services were completely inundated. In all, the Loma Prieta earthquake caused roughly $6 Billion in damage. 63 people were killed and an additional 3,757 more were injured. The World Series was postponed for an initially indefinite amount of time, and resumed at the undamaged Candlestick Park ten days later. The Oakland A's would go on to sweep the Giants in a 9-6 game four victory. Though the series was the first sweep in thirteen years, the thing that everyone, the cities, the fans, and both clubs remembered most, was the moment when the world literally broke apart. The scheduling of game three around rush hour was actually a blessing because by the time the earthquake hit, many people were already off the streets and doomed highways either getting ready to enter Candlestick Park (which had been retrofitted for earthquakes), or at bars and homes to watch the game. Officials said that if more people were on the highways, especially the elevated Nimitz Freeway in West Oakland (which caused the majority of fatalities when it collapsed on itself), the earthquake's death toll would have most certainly been higher. Hog Island refers to a famous Oyster company in the ferry building market along San Francisco's Embarcadero waterfront. This strip of land between the financial district and the bay was the site of another elevated highway, the Embarcadero Freeway, which was also damaged during the earthquake. After numerous debates, the damaged highway was demolished and the waterfront was reunited with the rest of the city. The elevated portion of the Nimitz Freeway was also removed and rerouted around West Oakland, with the remaining surface road's median converted into a memorial greenspace for the 42 people who had died there.
Date Sampled: 6-21-14 At: 7 Prescott Place, Allston, Boston, MA 02134, USA
Beer Style
:
American Oyster Stout
Alcohol by Volume: 7.90%
Serving Type: 12 oz Can, 16 oz Tumbler Glass
Rating: 3.77
Look
Marooned on Hog Island pours smoothly with a low amount of carbonation action, producing a thin, eighth inch tall foam head with a lower retention rate, a high density, and a tan color. This beer has a nearly opaque, dark brown appearance which owes its hazy look to the inclusion of chunky sediment. Because of this, this beer does not display any effervescent effect, and gives off no shine, and only a very dull glow in bright light. There is an average amount of lacing on the glass.
Aroma
This Oyster stout gives off a strong dark roasted malt filled aroma that you would expect from a beer of the style. This is augmented by deep bitter burnt like notes and a good amount of sweet toffee and noticeable coffee espresso notes as well. There are some subtle earthy tones and a slightly biscuity cookie like presence. At the end is a bit of alcoholic tinge. There are no real hoppy or fruity notes detectable. This beer's aroma is fairly strong overall.
Feel
This is a medium full bodied brew with a high viscosity, an above average weight, and a lower level of carbonation, making this a thick, heavy, and sipping only kind of beer which goes best when the weather is colder. This beer finishes with a good amount of dryness which lingers for some time, and a slight alcohol induced warming effect. This beer has a smooth, almost velvety texture overall with no feel from the sediment.
Taste
This dark brew comes in immediately with a bouquet of malty flavors, the strongest of which is a bittersweet dark roast coffee flavor which tastes a bit burnt at first. This transitions to a browned sweet biscuity or vanilla cookie like flavor, which is carried by a very subtle burnt wood undertone. This beer finishes with a lingering dry and bitter aftertaste which comes with a slight alcohol taste. This flavor is relatively unbalanced with no real hoppy flavors to detect. There are no oysters in the flavor of this stout.
Our Take
Though this oyster stout shares its name with one of San Francisco's most well known oyster distributors, you shouldn't expect any sort of "fishy" or "brine" like taste or smells with it. This is actually a very solid bittersweet stout which is closer to a strong porter more or less. While this beer does have a rather substantial presence in terms of body, and its color and flavor would have you believe that this is indeed a fairly heavy going beer, this is no more or less difficult to drink than any other winter brew. Of course, there is certainly an ideal time and place for this beer, and summer on Miami Beach is not it. But still, any stout lover who is looking for a full flavored dark brew with only a superficial hint of bitterness and oyster character in name only, you can't go wrong with this one. Even though this beer's flavor does include a small amount of alcohol trace, it is somewhat expected at almost 8% ABV. This is a hearty ale which should go well with any sharp cheese, and as a contrast, fruit, salads, and fish or poultry. If you are in fact looking for an oyster stout which tastes like San Francisco Bay, then you'll probably want to try something else. This is a robust, warming stout which makes for a great way to end the Baseball season, and ring in the winter season.