The Pursuit (of Hoppiness)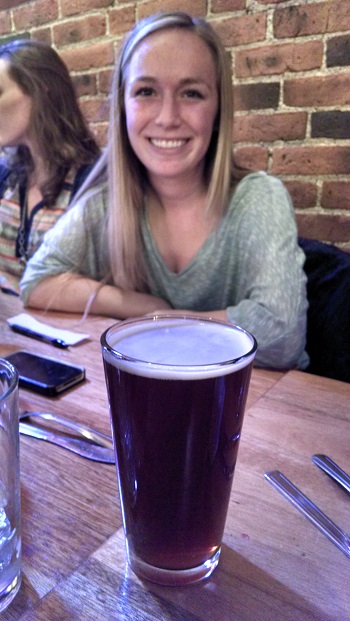 Brewery
and
Country
of Origin:
Anderson Valley Brewery
of
17700 California 253, Boonville Ukiah Rd, Boonville, CA 95415-0505, USA
Date Reviewed: 2-13-14
With the
2014 Winter Olympic Games
in
Sochi, Russia
well underway, the medal count has already begun its inevitable accumulation among the usual suspects, including
Slovakia
, whose Anastasiya Kuzmina became the first woman to defend an individual Olympic Biathlon title, winning the 7.5km sprint event last Sunday. Biathlon, in a pure sports sense, means any sporting event involving two distinct disciplines (such as running and cycling), but in terms of the Olympics, it is a series of cross country ski race events with rifle range shooting incorporated in the competition. The sport originated in
Norway
as a cold weather training program for soldiers. This program, known as Military Patrol, was replicated in ski clubs as a way to help promote national defense on a local level, and quickly spread across Scandinavia as a popular winter sport as the region has had a long history skiing and hunting.
The Swiss
had also adopted the sport in the Alps, and both regions continue to host local competitions where civilian athlete shooters are ranked. But the sport is most notable for being included in the Olympic Winter Games, beginning with the 1924 Games in
Chamonix, France
. After appearing in three more winter games as a demonstration sport, the Biathlon was struck from the schedule, as only a small number of countries were represented, and they could not agree on the rules.
Austria
held the first biathlon World Championship in 1958, and two years later, the sport was officially included as a competition in the Winter Games at
Squaw Valley
. It wasn't until the 1992
Albertville
Games that biathlon events were held for women. The rifles used have varied over the history of the Olympic sport before the bolt action .22 Long Rifle was made a standard in 1978. And the shooting distance, stances, ski distances, and other aspects of the race have changed as well. Today, the sport is represented by 11 events including pursuits, sprints, and relays for both men and women. And the reason why there is an odd number of events is because for the first time ever, a mixed 4 x 6/7.5km relay event is being staged (February 19th). American Susan Dunklee finished 14th in the women's 7.5km sprint on Sunday, the best finish for an American woman in the event's history.
Date Sampled: 12-12-13 At: White Horse Tavern, 116 Brighton Ave, Boston, MA 02134, USA
Beer Style
:
Winter Warmer
Alcohol by Volume: 6.90%
Serving Type: Keg, 16 oz Tumbler Glass
Rating: 3.54
Look
Winter Solstice pours smoothly with a medium amount of carbonation action, producing a fairly dense, half inch tall foam head with a good amount of creamy texture and a fairly good retention. This beer has a hazy appearance caused by the inclusion of a fairly large amount of fine sediment which doesn't settle. The color is copper with a medium glow in bright light, and no real effervescent effect visible due to the cloudiness of this beer. There is no chunky sediment and almost no lacing.
Aroma
A fairly potent, sweet, medium roasted like malty aroma helps to enhance the flavor of this beer with some presence of balancing, citrusy hops from the Northwest and a good amount of sweet cookie or biscuit like notes. There are also some nutty hints as well as some faint spice and hazelnut, caramel, and molasses. The aroma is average in strength overall, and includes some alcohol tinge.
Feel
This is a medium light bodied beer with a subtle warming effect trailing, caused by a somewhat elevated level of alcohol. This beer has a smooth texture overall with no influence from the fine sediment. This brew also comes with a medium low amount of carbonation, some lingering dull wetness at the finish, a medium low weight, and an average viscosity. This beer is fairly crisp with only some refreshing qualities.
Taste
Overall, this beer has a strong sweet caramel and medium slightly roasted darker malt flavor profile which is complemented by an array of spices, earthy, nutty, and biscuity notes akin to English style brown ales. This beer has a very small hint of nutmeg and clove, and is balanced out with some ending hoppy bitterness toward the finish. There are no fruity notes, and this flavor does not come with any alcoholic tinge.
Our Take
This seasonal beer offers much of the trademark qualities that ale enthusiasts have come to expect from a respectable winter warmer. A fairly strong sweet medium roasted boldness with a good deal of spices and secondary flavors to match, without any distraction from hops or other ingredients. This beer is also easy to drink and goes well with a variety of foods in a variety of settings (buffalo chicken at a bar, for example). We personally recommend you try this rather forgiving beer if you've never had any stronger winter warmers or even strong ales in general, as this is a well balanced beer which doesn't offer anything too intense or overpowering, and with a 6.90% ABV, this will still perform its duty of keeping you warm, without rendering your social skills useless. We'd recommend you pair this with any hearty meats, seasonal dishes, or even normal pub food and mild cheeses. Of course, much like this very cold winter, this seasonal isn't going to be offered by
Anderson
forever, so if you are in the mood for a hearty, yet easy going beer for winter, this is a great place to start.