"Orange Barrel - Reroute!"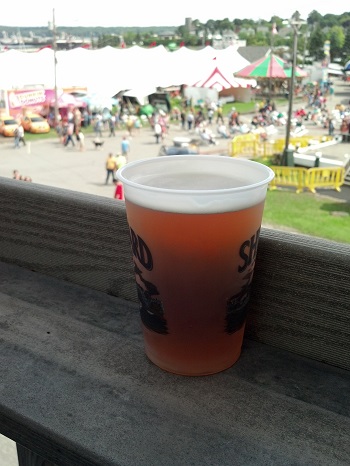 Brewery
and
Country
of Origin:
Redhook Brewery
of
1 Redhook Way, Portsmouth, NH 03801, USA
Date Reviewed: 10-02-13
Football is officially four weeks into the 2013-14 NFL Season. And with some fantasy owners already throwing in the towel, there are some who have been blessed enough to draft none other than Peyton Manning this year. He's already set the NFL record for most thrown touchdowns in the first four games of a season (16), and is on pace to throw more than 60 if things continue to go Denver's way. Not to mention, he's been able to contribute to his team's 4-0 record without throwing any interceptions at all. And much of this is contributed to his ability as a quarterback, to know exactly what is going on over the field at all times. And yes, this awareness sometimes justifies Manning's (or any smart QB's) use of the audible. If you're a football fan (who apparently likes beer enough to come to this website), you'll already know what we're referring to. Basically, an audible is a tactic used by a quarterback to change the coach's call at the line of scrimmage if the opposition (defense) is lined up for a different kind of play (such as an umbrella during a throwing play). If the quarterback calls an audible, the offensive line shifts formation, which may put the defense out of position, resulting in a succesful run or pass. Sometimes it's done to protect the passer from a sack (in the case of a blitz), preventing the offense from losing yards. Overall, the audible is regarded as just one of many tactics used by QBs in an attempt to gain an advantage over the defense. And yes, Peyton even uses the audible to change routes in his voice navigated Buick Verano.
Date Sampled: 8-03-13 At: Time Out Pub, 275 Main St, Rockland, ME 04841, USA
Beer Style
:
American Pale Ale
Alcohol by Volume: 4.70%
Serving Type: Keg, 12 oz Plastic Tumbler Glass
Rating: 2.92
Look
Audible pours moderately choppy like with a fair amount of carbonation action, giving this beer a three quarters inch tall foam head with a low retention rate, a moderate density, and a white color. This beer has a clear appearance with an amber colored shine which is fairly bright in light with some glow. There is no visible sediment and this beer displays moderately full lacing.
Aroma
The aroma is full of caramel roasted sweet malt with some fairly nutty notes. This is balanced with a good amount of bitter and aromatic hops from the Northwest. There are no nutty or fruity notes in the aroma, which is lower than average in strength overall. This beer's aroma also contains a small amount of grassy notes.
Feel
This is a medium light bodied brew with a fair amount of carbonation, a medium low viscosity, and a low weight. The finish is fairly dry with a small amount of lingering, and a crisp and pretty refreshing, clean finish. This is an easy to drink beer, especially with the heat of summer. There is no alcohol warming, and the finish is somewhat cooling.
Taste
Overall, this is a well balanced, sweet beer with a mostly roasted like malty flavor profile, mixed in with a good deal of floral, slightly piney hops. This beer also includes a small amount of grainy notes, as well as a trace amount of nuttiness. No alcohol or fruity notes make their way into the flavor. This beer's profile starts off sweet with caramel malt and finishes with a somewhat lingering better aftertaste.
Our Take
While nothing terribly special, this beer does offer a well balanced, restrained characterthat should satisfy most craving a casual drinker with no major substance or powerful flavors. This beer is easy to drink, goes well with a variety of foods (we enjoyed it at a lobster festival), and its refreshing and crisp feel make it a great beer for the beach or boat. Unfortunately, most of those days are sadly over (though its going to be 85F today somehow), but that doesn't mean you can't enjoy a generic
pale ale
from time to time. In fact, we sometimes prefer a lighter, easier beer over a hard and heavy
imperial
. It all depends on the mood. If you entered the night thinking about a growler of
stout
, but you just had 40 oz of steak for dinner, well... you may just want to opt for an
audible
.