They're Good For Your Heart. The More You Eat, The More You... Enjoy Art.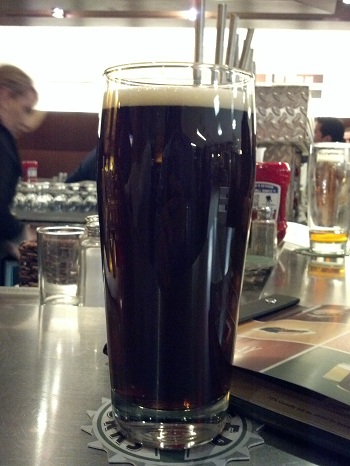 Brewery
and
Country
of Origin:
Boston Beer Works
of
Around Boston, Headquarters: 110 Canal Street, Boston, MA 02114, USA; Original Fenway Location: 61 Brookline Avenue, Boston, MA 02215, USA
Date Reviewed: 12-13-12
The City of Boston is one of
America's
oldest and most historical cities. Since it was settled in September of 1630, it has been the setting for many important events, a stubbornly New England style culture, annoying sports teams whose ability to aggravate is only surpassed by their fans, the worst drivers in America, great food, and of course, awesome beer. Because of this city's storied past, it has earned itself many nicknames. Among them include
The Hub, The City on a Hill, The City of Notions, America's Walking City, The Athens of America, and The Cradle of Liberty
. Of course, these are all familiar to the locals, but none is as well known as
Beantown
. Why beantown? Well, as it turns out, Boston has its own famous rendition of the regional dish, originally conceived by the Native Americans well before being Puritan was all the rage. The dish made its way to Europe, where it became a mainstay convenience food in
The UK
Ireland
. Boston's Baked Beans are made with sweet molasses and flavored with salt pork or bacon. Because of Boston's involvement with the Triangular Trade, its access to molasses used in Rum made the natural sweetener readily available to cook with. Traditionally, New England Baked Beans are cooked in ovens on Saturday and left over night. That way, the residents would have a hot meal on sunday which still complied with The Sabbath. Baked Beans were a very popular, cheap, flavorful, and easy dish in New England... until about 1930. Since then, its appeal has vanished, as America moved on to foods which didn't induce as much flatuence. Today, the nickname is used only by people not native to Boston, as the perception of Bostonians' affinity toward baked beans is a bit optimistic. Fortunately for those who frequent the unairconditioned T in the hot summer, that isn't the case.
Date Sampled: 12-07-12 At: Boston Beer Works, Terminal C, Logan International Airport, Boston, MA, USA
Beer Style
:
American Brown Ale
Alcohol by Volume: 5.00%
Serving Type: Brewery Keg, 23 oz Stange Glass
Rating: 3.61
Look
Beantown pours smooth with a dark ruby reddish brown color and a clear appearance giving off a slight shine in light. This beer exhibits a three quarters inch foam head with medium retention, and a fairly high density. Low to medium carbonation action. There is full lacing on the glass.
Aroma
This beer's aroma is moderately strong with a mostly malty profile characterized by roasted coffee and semi-sweet malt. There is a fair bit of hoppy mix as well as a good amount of earthy or nutty notes. This flavor enhancing aroma comes with no trace of alcohol, a plus.
Feel
This is a medium full bodied brew with a moderately low viscosity, and an average weight. This beer's moderate carbonation level doesn't showcase a crisp or airier feel, but one of a little bit of substance, though this beer is still relatively easy going, and fully drinkable. There is a very subtle warming effect at the close, as well as a slightly dry and moderately lingering finish.
Taste
The flavor is dominated with raosted malt with a slightly bitter and nutty mixture as secondary notes throughout. This beer has some coffee and chocolate like traces as well, and the lingering aftertaste is full of hoppy bitterness, accompanied with a bit of dryness. There are earthy notes, as well as caramel sweet toward the beginning, and no alcohol present.
Our Take
Aside from this beer, many other things about
The City on a hill
are nutty... Bruins Fans, Pats Fans, and of course, its drivers. To be honest, we don't know how well this beer goes well with baked beans, simply because we don't really like beans. Either way, this is a very good beer which should satisfy the malty brew fan looking for a sweeter, earthy, and nutty beer with some local, hometown brew quirks. A disproportionately lacking aroma as well as a slightly dull feel were this beer's weak points, but those should be heavily outweighed by this beer's great brown ale character. Though the
venue for this beer
is often seen as a more tourist oriented establishment, it is enjoyed by locals and foreigners alike, even if they have their differences when it comes to their sports teams, or the use of the word
Beantown
. This is a great beer you should enjoy if you find yourself in the mix.