The House Doesn't Always Win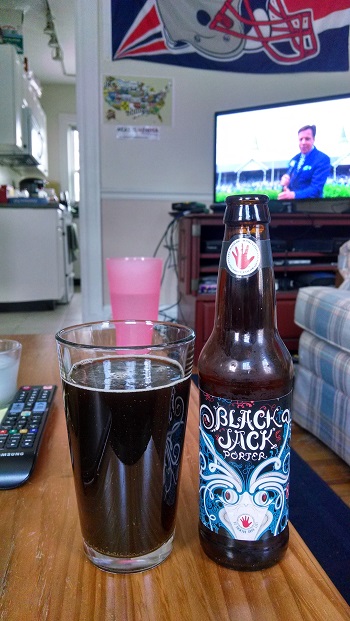 Brewery
and
Country
of Origin:
Left Hand Brewing Company
of
1265 Boston Avenue, Longmont, CO, 80501, USA
Date Reviewed: 8-13-14
It is estimated that the
worldwide
gambling industry brought in more than $350 billion in 2011, about $50 billion greater than the global
brewing industry
. Even though the
American
economy has been slow to recover from the
recent economic downturn
, and much of Europe is still in a secondary recession, the gaming industry has been able to recover since 2009. This recovery, however, has not been the same among the world's gambling destinations evenly. Las Vegas and
Macau
have seen a steady rise in tourism, gambling revenues, and economic growth while at the same time, Atlantic City has been experiencing annual drops in revenues between 4-7%. This year alone, four of the city's most famous casino properties announced that they will be closing their doors for good, primarily citing poor economic conditions which led to lower gaming revenues. Revel, the city's newest and most expensive property, had announced yesterday that its business would have to go through "an orderly wind down of the business" after it could not recoup its $2.4 billion construction cost or find a buyer in bankruptcy court. The hotel tower was New Jersey's second tallest building. The ill-fated casino resort has been in operation for only two years and was struck with a torrent of controversy even before the ground was broken on the project. Revel, the Trump Plaza, Atlantic Club, and the Showboat will all be closed by the end of the year, costing Atlantic City about 8,000 full time jobs which will probably lead to an eventual cascading effect in the greater AC economy. It is uncertain whether other properties will close or the state government will step in even more to help ameliorate the city's deterioration. The state already controls what's known as the Atlantic City Tourism District, which essentially translates into special development initiatives, more police presence, and a push for overall economic development. But at the moment, the city's near term prospects look bleak as the city's economic decline is on a five year streak. There are other issues that have given AC a bit of a lackluster reputation with the usual crime, drugs, and urban blight being long morbidities of the real city behind its famed boardwalk. But at some point, the bad streak will end for the Jersey Shore's largest destination, and things will turn around. With the help of regional transit infrastructure upgrades, as well as upgrades to the Garden State Parkway, NJ Transit from Philadelphia, and a growing list of destinations for the Atlantic City International Airport, the city hopes to bring in more tourists who would otherwise travel to Philly, NYC, or elsewhere along the shore.
Date Sampled: 5-03-14 At: 7 Prescott Place, Allston, Boston, MA 02134, USA
Beer Style
:
American Porter
Alcohol by Volume: 6.80%
Serving Type: 12 oz Bottle, 16 oz Tumbler Glass
Rating: 3.41
Look
Black Jack pours smoothly with a low amount of carbonation action, producing a thin, eighth inch tall foam head with a below average retention rate, a light tan color, and a medium density. This beer has a cloudy appearance with a high amount of fine and medium chunky sediment which hazes the beer's brown copper color. A noticeable amount of settling at the bottom occurs from the larger sediment. This beer has an average brightness with no shine due to the sediment. A below average amount of lacing appears on the glass and this beer has a medium low effervescent effect.
Aroma
This beer has a malty aroma which is lower in overall strength than most. This aroma features fully dark roasted bitter chocolate and espresso notes laced with a subtle metallic tinge which does take a bit away from the olfactory experience. There is a good amount of nuttiness, oaky/wood, and biscuit like notes in the undertone. This aroma is offset slightly by the presence of some alcohol, but this is less of a factor than the metallic smell. This beer also has some floral and somewhat dull hops with a low strength bitterness.
Feel
This is a medium bodied brew with a good, higher than average amount of viscosity, an average weight, and a moderate amount of carbonation, making this a fairly solid beer overall. This beer has a dull but smooth overall feel with no sediment texture and no refreshment delivered. This beer offers a small bit of crispness toward a dull and somewhat lingering finish which includes some alcohol warming at the close.
Taste
Overall, this is a malt heavy beer which delivers on the promise of its sweet but restrained aroma. As expected, this beer starts off sweet with a strong amount of toffee and caramel flavor mixed in with some cookie/biscuity like notes. Deep roasted coffee and espresso notes with a bitter burnt taste round out a prominent secondary with a slightly earthy undertone throughout. This beer finishes with a subtle amount of dull bitter hops, a metallic tinge and a fairly present alcohol taste at the dull closing.
Our Take
Unless you are, for some reason, opposed to malty beers, you won't be taking a gamble with this one. This is a very good hearty porter that hits on all of the trademark notes of a solid, high quality dark brew. Very robust sweet malt and a somewhat balanced presence make this a solid sipping beer which delivers an above average alcoholic strength. Overall, a fairly traditional sweet porter with a good deal of complex roasted malts and a nutty undertone, all what you'd expect from the style. This is a fairly heavy beer which would probably be best paired with sharper cheeses, beef or burgers, and colder weather.