Bilch with a Bahlness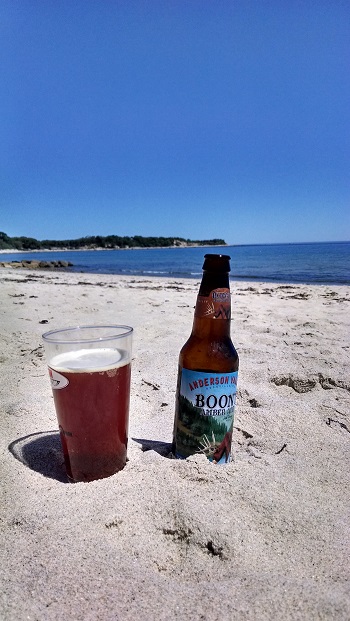 Brewery
and
Country
of Origin:
Anderson Valley Brewery
of
17700 California 253, Boonville Ukiah Rd, Boonville, CA 95415-0505, USA
Date Reviewed: 9-29-14
Boont, or Boontling is an english based jargon with
Scottish
,
Spanish
, and
Irish
influences. The largely esoteric language is spoken by the 700 or so residents of
Boonville, CA
and some other people in Northern California (mainly the
Anderson Valley
region). Boontling was invented in the late 1800s and was widely used in Northern California until the early 1900s when it started to lose followers. Because the language mainly uses english words, the jargon is limited to about a thousand unique words and phrases, and because it was not largely documented until the 1970s, many of the words had multiple spelling variants which helped lead to the language's ultimate decline. The town of Boonville was founded in 1862, about 115 miles north of San Francisco. Aside from the local jargon, the town is famous for the
Anderson Valley Brewery
which dedicated this
amber ale
to the quirky language. The town is also home to the annual Mendocino County Fair, the Sierra Nevada World Music Festival, and the Legendary Boonville Beer festival, which showcases beers from over 50 craft breweries with an emphasis on California establishments. The book
Boonville
by Robert Mailer Anderson was 2003 HarperCollins published national best seller which tells of the story of a man who moves to the town from Miami, Florida after breaking up with his girlfriend. The story portrays the town in a comical and stereotypical way, which goes over rednecks, hippies, the pot industry, and feminists. Anderson, who shares his surname with the name of Anderson Valley, affectionately tells Boonville residents in the preface that if he offended any of them, instead of "sucker punching" him, he would rather buy them a drink and call it even. As far as the hippies that have been offended, he simply states, "Tough shit, hippie." Needless to say, his book is probably not in Boonville's library.
Date Sampled: 6-07-14 At: Manomet Beach, Plymouth, MA 02360, USA
Beer Style
:
American Amber Ale
Alcohol by Volume: 5.80%
Serving Type: 12 oz Bottle, 16 oz Tumbler Glass
Rating: 3.14
Look
Boont pours fairly choppy with a medium high amount of carbonation action, producing a two thirds inch tall foam head wtih a lower retention rate, a good amount of density, and a mostly tan/off white color. This beer has a hazy appearance, occluded by a fair amount of very fine sediment included in the beer. This beer has no shine and a brigth caramel brown colored glow in the light. There is no settling of any sediment and this beer displays a high amount of effervescent effect. There is full lacing on the glass.
Aroma
This amber ale delivers a yeast filled Belgian style aroma reminiscent of a clove filled mild IPA. A good deal of present, yet dull floral and citrusy hops accompanied by sweet fruity banana notes. There is also a good amount of sweet malty caramel toffee aromas and a dull biscuity undertone. This beer's aroma is medium high strength overall and does have some impact on the overall flavor experience. There is also a slight alcohol tinge detectable.
Feel
This is a medium bodied brew with a good amount of weight, an average viscosity, and a medium level of carbonation. An average stature makes this a versatile, season agnostic beer that even goes well with the beach, as evidenced by the picture above. This beer is slightly creamy and has a smooth texture overall with no added feel from the included sediment. This beer finishes with a slight dull cooling effect with a good amount of dryness at a lingering close.
Taste
Overall, this beer has flavors akin to a strong Belgian ale, full of sweet banana and clove notes along with a good amount of sweet toffee malt. There are general ipa like flavors with dull, but citrus filled hops with a good amount of prominent orange flavor. This beer finishes with strong dryness which lingers through a long lasting bitter, hop filled aftertaste. There is some alcohol tinge toward the end.
Our Take
While Boonville's Northern California geography doesn't deliver very hot summers all that often, this particular amber ale is suitable for all seasons. This is a fairly average amber ale which contains a well balanced flavor profile which is comprised of mild hops with a good amount of sweet toffee malt with Belgian yeast like flavors. This beer is rather lack luster in terms of any defining tastes or characteristics, but this beer does have a fairly strong aroma which help influence this beer's flavor. This is a brew of normal stature with an overall mild, yet satisfying flavor which should go well with mild cheese, poultry, and a breezy 75 degree summer day. Overall, this is a pretty good beer which hits on most of the needs and expectations of those looking for a mild ale. Of course, there are definitely better ales, even California based Ambers out there, but there's only one which pays homage to a derelict jargon which survives only by way of less than a thousand people who'd prefer not to conform to normal American English. And if that's the only unique thing about this particular beer it is still something worth trying.