Happy Trails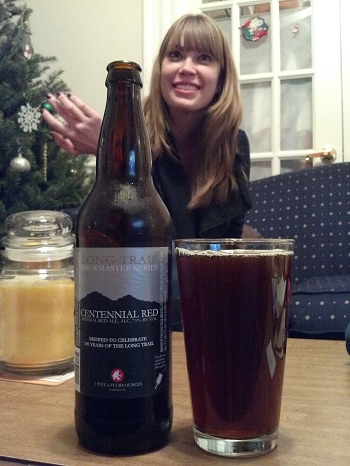 Brewery
and
Country
of Origin:
Long Trail Brewing Company
of
5520 U.S. 4, Bridgewater Cors, VT 05035, USA
Date Reviewed: 12-21-12
Constructed over a twenty year period starting in 1910, The Long Trail is a long distance hiking and showshoeing trail running the north-south length of
Vermont, USA
. The mountanous trail is 272 miles long, making it one of the longest in the United States not running on a railroad's right of way (such as a rail trail). The trail is the oldest long distance recreational trail in the country, and is recognized by Vermont State Legislature as "The founder, sponsor, defender, and protector of the Long Trail System." The trail climbs most of the Green Mountain State's tallest peaks, including Mount Mansfield, Killington Peak, Mount Ellen, Camel's Hump, and Mount Abraham, the top five tallest mountains in Vermont and the only mountains with a height of more than 4,000 feet. Because of this, the trail is rated as "moderate to strenuous", making it a challenging route for even experienced hikers. The trail has become a major landmark in the state, with many coming from all over to hike the historic trail. The path runs concurrent with the famous Appalachian Trail in Southern Vermont for 100 miles. It's 100 birthday was in 2010 and to help celebrate that anniversary,
Long Trail
decided to brew a special
red ale
as part of its high quality, smaller batch Brewmaster Series. Of course, this is where the Centennial Red gets both parts of its name. The beer is a strong ale which ideally makes it a good alternative to classic winter warmers, especially now that we have to deal with the cold winter since
the world didn't end
. Anyway, as the brewery takes a lot of pride in their Green Mountain heritage, they have made this specialty beer they've made this a mainstay Brewmaster series offering since the 100th birthday of the trail, and continues to offer it around New England and other parts of the US.
Date Sampled: 12-14-12 At: 7 Prescott Place, Allston, Boston, MA, 02134, USA
Beer Style
:
American Red Ale
Alcohol by Volume: 7.90%
Serving Type: 22 oz Bottle, 16 oz Tumbler Glass
Rating: 2.67
Look
As is normal for the style, this beer has a dark reddish brown (rusty) color with a dull hazy appearance attributable to a slightly unfiltered presence. There is a dull glow given off when held up to light. This beer pours mostly smooth with moderately low carbonation action, giving it a thinner, relatively weak foam head with almost no retention and a low density.
Aroma
This beer's red ale like aroma features a good amount of sweet caramel like malt with a small balance of hoppy character mixed in. There is a noticeable amount of alcoholic aroma in the smell, as well as some deep nutty and earthy notes as well. This beers aroma overall is somewhat weak given the carbonation and lacking foam head.
Feel
This is a medium bodied brew with a moderate/average amount of carbonation. A wet and unclean finish awaits at the close, as well as a lingering aftertaste. This beer has an above average viscosity, a higher weight, and an overall sense of heavy substance, giving it a dull feel. This beer's elevated alcoholic content gives it a prominent warming effect after the end.
Taste
This beer's flavor is characterized by a full malty presence, accentuated by a very sweet tone overall. There is a slightly hoppy finish which helps to offset an unclean, lingering malty aftertaste. There is a good amount of alcohol present through the entire profile, but this is mostly present at the beginning. Roasted or deep caramel sweet malty notes are dominant here.
Our Take
Though this beer has all of the makings of what could be a really good malty red ale, sadly we can't report that it delivered on its promise. Overall, this is a decent casual drinking beer which offers some high quality points in the malty red ale department. Unfortunately, much of this valuable flavor is negated by an ever present alcoholic taste, produced by both an elevated ABV, and a lack of pronouced, bold flavors. This is not a well balanced brew as the only trace amount of hops comes after you've been experiencing all of the deep malt and alcohol that this beer is characterized by. Some of the malty properties are rewarding though, and this beer's solid presence, and somewhat sweet aroma makes it a pretty good complement to pork, sharp cheddar, beef, and meat stew. This is also a good beer for the winter, as it delivers a nice, strong warming effect at the close. So there you go. This isn't a beer we'd rave about, and we probably wouldn't go out of our way to recommend it, but if you happen to stumble across it, the weather is right, and you're in the mood for a stronger ale with a malty tone, why not give this one a try? Perhaps you'll like it more than we did, and hopefully, you won't have to hike up to Vermont (literally) to grab a bomber of it. Either way, this beer is a hit or miss, and we'll leave it up to you and the trails to figure it out.