Even Santa Goes on Vacation Sometimes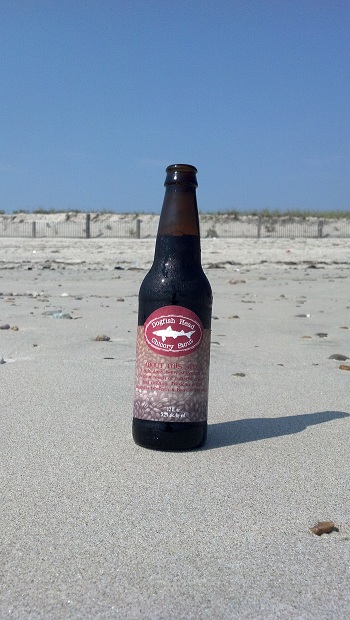 Brewery
and
Country
of Origin:
Dogfish Head Craft Brewery
of
6 Cannery Villiage Center, Milton, DE, 19968, USA
Date Reviewed: 6-25-12
First, let's get one thing straight. We know very little about fashion. But what we do know is that different seasons of the year call for different styles of clothing and accessories... yes, even in
Nassau
. Well, it turns out that many beers are generally the same way. Of course, if you're like us, you mostly wear clothing that "can" be worn year-round; things like generic button downs, khaki's, gym shorts, and of course, slippers. These are the
Light beers, Pilsners, mass produced Missouri and Milwaukee Lagers,
IPAs, and browns
of the beer "fashion" world... in a sense. Not necessarily bad, but consumed all year round and without that special element of "perfect timing." Yes, beer is actually as sensitive to the seasons as fashion. Booty shorts and
summer ales
are yes, for the summers. Burnt Sienna booty shorts and
Marzens
are good for fall. And pair a hockey jersey with an
Imperial Porter
, and you got a match made in heaven. Actually, we know fashion very well. Either way, the warmer it is outside, the lighter the beer accompanying the day should generally be. Of course, this isn't always true, this rule isn't the law, and with the exception of a few specific styles, this sometimes doesn't matter. Yes, you could play Devil's advocate, and yes, you can be a pedantic asshole. But actively choosing to enjoy an ice cold stout on a 95 degree day on the beach is a sign that either you are ludicrous, or the beer is just that good. Either wearing shorts and sandals in the dead of North Eastern winter is insane, or it's just that unbelievably awesome.
Date Sampled: 6-22-12 At: Duxbury Beach, Duxbury Beach Park, 435 Gurnet Road, Duxbury, MA, 02332, USA
Beer Style
:
American Stout
Alcohol by Volume: 5.20%
Serving Type: 12 oz Bottle, 20 oz Plastic Cup
Rating: 3.85
Look
This dark brown, almost opaque, filtered, and clear beer pours very smoothly with a nice glistening effect. A thick, creamy, and rich foam head appears at the top with full lacing throughout. A lower amount of carbonation action contributes to a smooth pour.
Aroma
The Chicory invigorates the nostrils with a coffee like, toasty malty aroma with a good deal of sweetness involved. There are no hoppy notes present in the aroma.
Feel
This is a full bodied beer with a solid, substantial presence. Although this is a moderately heavy brew, it is still smooth and relatively drinkable. A high viscosity, dull, lingering finish, and thick feel give this beer a "manly" sort of character without trying. There is a lower level of carbonation in this beer.
Taste
As you would imagnie, this is a beer bursting with coffee and roasted malt flavors. A small bit of creamy character and a bitter, drier, aftertaste in the lingering finish round out this sweeter beer which also contains subtle cocoa notes as well.
Our Take
Though this beer was enjoyed on a very hot day (as the picture would suggest), and though this beer is a bit on the heavy side, this was very enjoyable considering. This is a stout which provides a full, sensual experience without ruining your late night evening plans and sending you to the toilet. A true sipper, this beer has a moderate alcholic strength, but a full presence which will leave you satisfied without having to be accompanied with a hearty meal. And what makes this a unique beer is that you can drink it with any kind of meal. You can also have this in the dead of winter, or the heat of summer. This beer's not going to compete with the big, bold, heavy, and high strength stouts of the imperials by any means. There needs to be more complexity in the flavor, a more prominent aroma, and perhaps a bit more strength to compare. But if you want a true American interpretation of Ireland's favorite beer style which won't tire you out after only one bottle, Dogfish Head offers a nice, modest brew with a little bit of
Mexico
mixed in as well.