"The Mother of All Mail Days"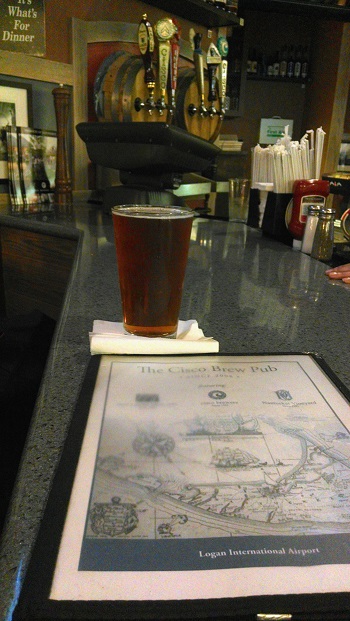 Brewery
and
Country
of Origin:
Cisco Brewers Nantucket
of
5 Bartlett Farm Rd, Nantucket, MA, 02554, USA
Date Reviewed: 11-07-14
The 2014 Midterm Elections happened on Tuesday, which marks the temporary end of the annoying torrent of constant political ads. Normally, we avoid politics on this site because honestly, they don't belong here, but there is one issue that came to our attention. Last night, the republicans won the majority for both the House and the Senate, pot was made legal in Oregon and Washington D.C., California will remain Indian casino-free for now, various states now have a higher minimum wage, all good and/or bad depending on who you are. But in Massachusetts, there was a ballot to expand forced bottle deposits to all other bottles and cans not already affected by the current law. Enacted in 1982, the descriptively named Beverage Container Recovery Law placed a five cent forced deposit on carbonated beverage containers for things like mineral water, beer, and soda. This covers the recyclable materials plastic, glass, and metal. Deposits on larger vessels like Growlers and Kegs run sort differently. Growlers, in fact, must be returned to the exact location where they were bought, or at locations that sell the brewery's beer. For example, if you have a growler from
Harpoon
, you can't go to a liquor store and return it for the $2.50 deposit if they don't sell Harpoon growlers, even though all of the glass will get recycled in the same way. The Massachusetts Bottle Bill ballot on Tuesday would have expanded the existing measure to other non carbonated beverages including water, juice, and sports drinks. On top of that, the deposit would also rise every five years in line with inflation. About 1.4 billion bottles consumed in MA every year are not covered by the existing law, which helps contribute to the state's solid waste of which 15% is beverage containers. And what's worse, about 80% of containers affected by the law are being returned (the vast majority for deposits, and about 9% via curbside), while containers not covered are returned at a rate of only 25%. There are of course, real benefits to promoting recycling, everyone knows that. But the problem exists when recycling is made inconvenient, especially when any money is involved. Currently, with beverage containers already encompassed under the law, people are penalized when they recycle beer cans and soda bottles via weekly curbside pickup, which of course doesn't return deposits... unless you are homeless and you gather them from other people's recycle bins. What should be emphasized is that recycling bottles and cans in the Commonwealth of Massachusetts is currently incentivized by mandatory penalties which can only be avoided if you deliberately return the cans at the places you buy them. And the recently rejected measure would have made this an more obvious issue. In our rarely expressed opinion, it would be better to spend our resources and debating breaths on increasing the accesibility of curbside recycling and do away with deposits altogether. Of course, that would require municipalities to get new trucks, new bins, more recyling facilities and what not, but it's better than ending up seeing your state Governor buy him or herself a new Cadillac Escalade Hybrid because it can technically be classified as an "environment" related line item on the state budget.
Date Sampled: 7-03-14 At: Cisco Brew Pub, Terminal B, Logan Airport, 1 Harborside Dr, Boston, MA 02128, USA
Beer Style
:
American IPA
Alcohol by Volume: 6.50%
Serving Type: Brewpub Keg, 16 oz Tumbler Glass
Rating: 2.91
Look
Cisco's IPA pours smoothly with a low amount of carbonation action, producing a thin, nearly white colored, eighth inch tall foam head with a lower retention rate and a low density. This beer has a rich deep amber color with a big shine in light and a bright golden glow. This beer has a clear, filtered appearance with no visible sediment, no setlling, and a moderate effervescent effect. This beer shows off a good deal of white colored lacing.
Aroma
This ale's smell starts off with a fairly sweet mild malty caramel roasted aroma with a good deal of nutty and biscuity secondary notes. This aroma is made a bit more complex with a good amount of dull hops complete with some weaker citrusy notes and some subtle pine. There are no fruity, alcohol, or metallic tinges included in the aroma, and overall, this beer's aroma is comparatively weak and does not enhance this beer's flavor to a great degree.
Feel
This is a medium light bodied brew with a below average weight, a matching viscosity, and a lower level of carbonation, factoring in toward a beer which is dull, yet smooth and slightly refreshing overall. This is an easy to drink beer which pairs best with the warmer months. This beer finishes pretty dry with a lingering, slightly cooling finish which contains no alcoholic bite.
Taste
As expected with an IPA, this beer has an overall bitter flavor, but is more balanced than most with a good amount of caramel roasted flavor that comes with a slightly sweet nutty and biscuity undertone. This beer's flavor is mostly influenced by the presence of dull and somewhat restrained bitter piney hops with some slight citrus and spice. This beer contains no alcoholic flavor and finishes somewhat bitter with a grassy lingering aftertaste and a dry close.
Our Take
As far as IPAs go, this particular specimen doesn't really deliver any surprising or noteworthy characteristics. This is, as you would imagine, a pretty basic pale with some decent hoppy flavor in what is more or less a well balanced profile with a good amount of malty presence. Unfortunately, this beer's rather weak aroma and lackluster hop character don't make this beer one with going out of your way to try. Though that said, this is a good flavored beer which may be more suitable for those not looking for a decked out 120 Minute Dry Hopped bitter leviathan. This is also a pretty versatile beer with a rather indifferent mouth feel which makes it good for all seasons, and its well balanced flavor profile makes it a good pairing option for a wide variety of meat, veggie, or baked dessert dishes. If you are in the area and you're looking for a good casual go to IPA, you're actually better off with offerings from other local mainstays
Harpoon
,
Jack's Abby
, or
Ship Yard
.