Seasoned Veteran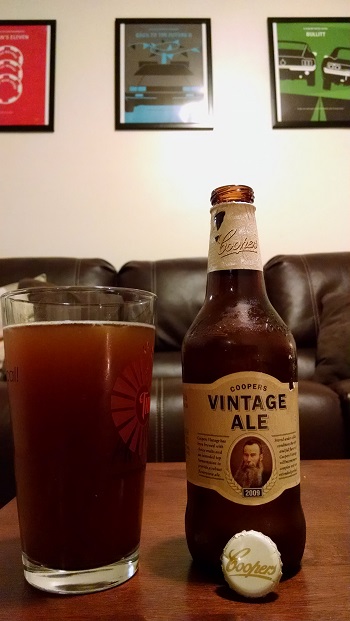 Brewery
and
Country
of Origin:
Coopers Brewery Limited
of
9 Statenborough Street, Leabrook, 5068, Australia
Date Reviewed: 1-12-15
Each year,
Coopers
releases a new iteration of its Extra Strong Vintage Ale, which it says, is fully suitable for additional maturation. This secondary aging stage comes in the form of
bottle conditioning
. Conditioning in general is the optional brewing process (sometimes mandated by specific styles) in which a beer which has already gone through primary fermentation, is transferred to a new, clean container, such as a bottle or cask for further aging. This involves removing the trub (dead yeast/other solid material) from the bottom of the primary fermentation tank. This prevents the formation of harmful compounds and detrimental, unintended flavors. This secondary stage can involve aging or further fermentation (with the injection of new yeast) in the form of
Krausening, Lagering, Casking, Secondary Fermentation, or Bottle Fermentation
. This particular beer is advertised as a beer ripe for bottle conditioning. The reason why this beer has a hazy appearance and comes with a good amount of visible sediment, is because this beer is infused with additional yeast while being bottled. Not only does this increase the overall alcohol content, the flavor is also changed, additional carbonation is added to the mix, and sometimes, the updated beer contains a more pronounced yeast flavor. Occasionally, beers that undergo a secondary conditioning or fermentation go through clarification, which is the removal of any solid material so that the beer appears clear. This particular specimen, as you can see in the picture below, is a five year old, unfiltered example. The conditioning process can last from a couple weeks to several years, depending on various factors including the beer's
style
and alcohol strength. Each brewery is going to have a different interpretation on what the ideal aging time frame is for a specific beer. As a beer is aged, the flavor changes continuously. Many people hold that if you intend on aging a beer, you should buy two bottles. One to drink immediately, and one to age. This way, you can experience the difference in taste and profile between the two.
Date Sampled: 11-15-14 At: 7 Priscilla Road, Brighton, Boston, MA, 02135, USA
Beer Style
:
Australian English Style Strong Ale
Alcohol by Volume: 7.50%
Serving Type: 12.7 oz Bottle, 16 oz Tumbler Glass
Rating: 3.27
Look
This five year old ale pours smoothly with a low amount of carbonation action, producing a thin, eighth inch tall foam head with a low retention rate, a white color, and a medium density. This beer has a hazy appearance with a large amount of fine floating sediment, and a good amount of chunky settling sediment at the bottom of the glass. There is an average brightness glow with no shine, a light brown color, a medium low effervescent effect, and very little lacing on the glass.
Aroma
This beer has a lower strength aroma which starts off with a medium roasted caramel and toffee character which leads into a yeast derived set of fruity notes which includes a good amount of sweet banana and apple aromas. This is also slightly spicy with a hint of coriander and clove. There is no alcohol or metallic tinges. This beer includes a subtle earthy and grainy undertone. Overall, this beer has a fairly weak aroma.
Feel
This is a medium full bodied brew with a high viscosity, a fairly heavy weight, and a below average amount of carbonation. In general, this makes Cooper's Vintage a slow drinking, sipping beer which, combined with a moderately higher ABV content, makes it better suited for colder weather. This beer's texture has a good amount of smoothness despite the inclusion of a large amount of sediment. This beer has a somewhat crisp and dull, yet dry finish which lingers for a short amount of time. There is only a slight alcohol warming with a sublte warming effect.
Taste
Cooper's 2009 Vintage Ale starts off with fairly strong yeast filled banana, clove, and coriander notes. This is accompanied by a decent amount of medium roasted toffee sweet malt, and very little, dull hoppy notes to balance. This beer has a slightly spicy secondary and a good amount of nutty and biscuity notes. This beer has a somewhat lingering malty aftertaste, and a relatively noticeable grassy undertone. There is no alcohol or metallic taste.
Our Take
Plainly put, this is a pretty good beer for the colder season. This beer's heavier presence and larger alcohol content give it a somewhat heavy feel and make it a beer which should be enjoyed slowly, in limited quantities. Unfortunately, the word limited has a double meaning, because this beer, in its 2009 iteration, obviously hasn't been made for five or six years. But if you are looking for a fully conditioned strong ale complete with a good amount of Belgian style yeast notes and little in the way of bitter hoppy notes. This beer's strong flavors does indeed make it a polarizing one that only some people will find satisfying. Despite this beer's fairly strong flavor, this beer's main shortcoming is its rather anemic aroma, which doesn't help to enhance its flavor profile. Still, if you do find this beer on the shelves, give it a whirl, and pair it with sharp cheddars, pot roast, beef stew, steak with wine reduction, or meat sauce pasta dishes. The beautiful, yet mysterious thing about bottle conditioning a beer is that no two results are the same. Much like a mature wine, a two year old beer will taste differently compared to a five, seven, or ten year old beer of the same brand. And to add another layer of complexity, Cooper's brews a new batch of this strong ale every year, so no year straight out of the store will taste exactly the same either. Still, as far as this particular five year old example is concerned, this was a good beer. Unfortunately, we can't report on the actual effects of conditioning this beer for more than five years, but what we would recommend is that you try the next iteration of this beer, and save a second bottle for your future self.