"The Legend Lives On From The Chippewa On Down..."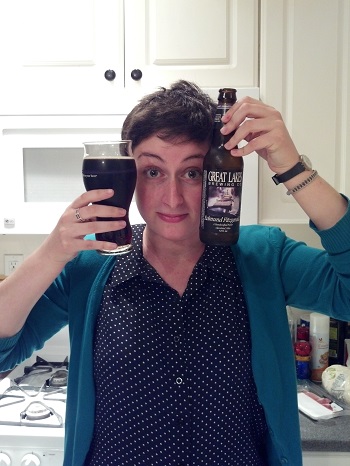 Brewery
and
Country
of Origin:
Great Lakes Brewery
of
2516 Market Avenue, Cleveland, Ohio 44113, USA
Date Reviewed: 5-17-13
Completed in 1959 at a cost of C$470 million, the St. Lawrence Seaway opened up the trade potential of the Great Lakes regional economy to greater reaches beyond the midwestern states and part of
Canada
. The seaway, which is roughly 2,500 miles long (including the navigable waters of the lakes themselves), was actually developed from a series of smaller, disconnected canals, and provided the Great Lakes' industrial ports with a route wide enough for larger ships to pass. Until then, the only other options for merchants was transport by train or the Erie Canal, which was already largely rendered obsolete by then. Today, more than 45 million tonnes of goods is shipped through the seaway, of which about half is transported across the Atlantic to Europe, Africa, and the Middle East, while the rest is shipped to coastal ports along the east coast of North America. This cargo is transported in what are commonly referred to as Lake Freighters, bulk carrier ships which are narrow enough to pass through the smallest parts of the seaway, but large enough to prove economically viable. The largest of these ships are about 1,000 feet long, but most are around 700 feet long due to restrictions on the Welland Canal, which bypasses Niagara Falls. These larger ships are used to carry ore, which originates from mines in the
US
.
And though the lakes aren't as tumultuous as the oceans can be, the Great Lakes aren't without their fair share of shipwrecks. According to The Great Lakes Shipwreck Museum, the lakes have claimed more than 6,000 vessels and the lives of 30,000 sailors since the mid 1800s. And perhaps no loss on the Great Lakes is more famous than that of the SS
Edmund Fitzgerald
. Christened on June 7th, 1958, this lake freighter was built for the purpose of transporting taconite iron ore from Minnesota mines to Cleveland. She was a six time record setter, often beating her own seasonal shipping records. And when she was built, she was the largest freighter on the lakes, becoming a fan favorite among boat watchers. Because of this, the
Fitzgerald
had many nicknames, including "Big Fitz", "The Mighty Fitz", "The Pride Of The
American
Flag", and "Toledo Express". But of all of the nicknames she was given, one probably shouldn't have been made: "The Titanic of the Great Lakes". We all know what happened that night of April 15th, 1912. The
RMS Titanic
was "unsinkable" until her maiden voyage across an icy Atlantic. And since then, the word/name "Titanic" has become a byword for something cursed... as well as meaning large or of great proportions. Calling another large flagship Titanic is essentially like giving a new
space shuttle the nickname Challenger
. Still, Big Fitz went on with her business as usual for seventeen years until the fateful night of November 10th, 1975. On what should have been yet another routine iron ore shipping trip from Wisconsin to Detroit, the
Fitzgerald
and a second freighter, the SS
Arthur M. Anderson
were caught in a massive storm on Lake Superior, delivering 35 foot high waves and near hurricane speed winds.
The storm took both ships by surprise as the National Weather Service's slightly choppy weather forecast wasn't unusual for November. Gale level warnings were issued for the entire lake, but the storm rapidly gained strength, being upgraded to a full storm from a gale and at 2:00 AM on November 10th, the storm was upgraded by the NWS. Topped with snow and inactive lighthouse radios and inactive navigation beacons, the ships, which were traveling within about 10 miles of each other, were caught in the storm completely blind, unable to use their radars, which were knocked out in the storm. The last known communication between the
Anderson
and the
Fitzgerald
came at 7:10 PM on the 10th. The
Anderson
checked in to see how the
Fitzgerald
's crew were doing, to which they replied, "We are holding our own." That was the last communication with the
Fitzgerald
, which sank only minutes later, taking the lives of 29 crewmen with her.
The
Anderson
turned back to look for the ship, but in vain, as it was now night, and the storm was still above the lake. The Coast Guard had problems with communications themselves, and no nearby ships could bring the
Fitzgerald
on their radar, and no radio signal was detected, which raised concerns and at 10:30, the area's entire stock of commercial ships were asked to assist in the search. Both the American and Canadian Coast Guards had planes and helicopters aiding the search, but no survivors and nothing of the ship except for some debris and broken lifeboats were found. After three days of constant screening, the search was called off.
No one really knows for sure what happened to the
Edmund Fitzgerald
, though numerous theories were developed. But a large service was held in Detroit for those who lost their lives in the sinking, and the catastrophe was immortalized in Gordon Lightfoot's hit,
"The Wreck Of The Edmund Fitzgerald"
. The sinking remains a popular part of the lakes' history, and its legacy remains in part, within the legislative changes to shipping on the lake, as well as changes in search and rescue operations. The sinking is also remembered by numerous memorials as well as a
Porter
crafted by the
Great Lakes Brewery
of Cleveland, Ohio, which is where the
Edmund Fitzgerald
's home port was located.
Date Sampled: 5-08-13 (5-21-11 original) At: 7 Prescott Place, Allston, Boston, MA 02134, USA
Beer Style
:
American Porter
Alcohol by Volume: 5.80%
Serving Type: 12 oz Bottle, 14 oz Sam Adams Glass
Rating: 3.77
Look
The Edmund Fitzgerald pours smoothly with a moderately low amount of carbonation action, giving this beer a thin, quarter inch foam head with a low retention rate, and a medium low density. This beer has dark brown color with a clear, and filtered appearance with no visible sediment, and a dull glow in the light. This beer shows off moderately full lacing.
Aroma
This beer has a strong aroma full of dark roasted malty character, somewhat balanced with a moderate amount of trailing hops. Coffee and dark semisweet chocolate headline the aroma with a bold prominence. There are no fruity notes and the overall maltiness is supplemented with a secondary nutty note and a very small amount of alcohol tinge.
Feel
This is a medium full bodied brew with a full weight, and a medium high viscosity, making this a sipping beer. An average ABV (5.80%) does not give off any warming, as this is a cool beer with a slightly dry finish. This beer has a below average level of carbonation and has a mostly smooth texture overall. This beer offers a very small amount of closing refreshment, and is fairly easy to drink.
Taste
Overall, you should expect a very malty experience in the flavor profile. This beer features dark roasted coffee and bittersweet dark chocolate flavors delivered by roasted malt with a mostly sweet beginning turning bittersweet as the hops begin to take command toward the finish. This beer has some nutty and secondary biscuity notes included. The finish is bitter with a short lingering hoppy aftertaste, and overall, this beer is fairly well balanced with nothing overpowering or weak.
Our Take
Yes, this is the second review we've done primarily focusing on the events surrounding a shipwreck. We're actually starting to sound like some sort of maritime history museum. So, the beer. What we have here is a fairly standard
porter
which fits all of areas where a proper American porter should be. Roasted character, full presence, very dark color, and a prominent malty aroma. This is a full beer which will satisfy just about every dark malty beer fan out there. And though we're heading into the summer months soon, we believe this beer's balanced stature makes it a good go to option during the winter and spring. We would also suggest pairing this with meaty meals or sweeter desserts and sharp cheddars. The only main weak point in this beer was a lack of real hop presence, especially in the flavor, which was a big factor in this beer's rather mundane finish. Otherwise, espect good things from this beer.