Not So Nimble, Not So Quick. Ain't Jumpin' Over Any Candlestick.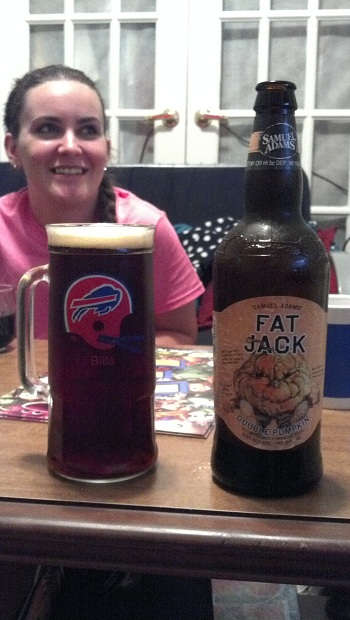 Brewery
and
Country
of Origin:
Sam Adams (Boston Beer Company)
of
30 Germania Street, Boston, MA, 02130, USA
Date Reviewed: 10-01-12
So now that the fall season is officially upon us, we can enjoy some
pumpkin ales
without any inhibitions. Of course, as you will see, we actually tried this beer in September, a couple weeks before the official vernal equinox of 2012. Either way, taste notes and objective information was written then, we're writing this background story now, and as far as the calendar says and the weather suggests, it's Autumn. Though the pumpkin ale as we know it today is a far cry from the original crafted by New England Colonialists during the 1700s, it still centers around the annual early fall harvest and takes full advantage of the flavorful opportunities presented by fermenting one of the biggest squashes
in the world
. Originally, pumpkins were used as
adjuncts
in place of malted barley or wheat as
the Colonies
didn't have any established wheat or grain growing lands. Pumpkins were grown in a wide range of climates, and didn't need special cultivated lands to thrive. Being hardy, the pumpkin can also survive harsh weather conditions and damaged leaves, regrowing new vines or leaves when necessary. In the early fall, when the harvest was upon the colonials, the pumpkin was used as a means of fermentation to create beer, which was sometimes consumed when the local water supply was dirty, unsafe, and made people sick. The New Englanders knew that properly made beer didn't contain any harmful bacteria, so it was relatively safe to drink... and fun as well. The pumpkin is one of the most cultivated crops in the United States, and is one of the only mass produced crops native to North America. They are typically around 12-15 pounds heavy, and about the size of a basketball. Some pumpkins are grown specifically for becoming massive fruits, growing to more than 1,000 pounds, a popular attraction at local fall festivals and fairs. At the time this was written, the current world record holder for the largest pumpkin was a massive Atlantic Giant variety grew to be 1,816 pounds in October of 2011. Now that October 2012 is finally here, we may yet see another year where the record is broken.
Date Sampled: 9-08-12 At: 7 Prescott Place, Allston, Boston, MA, 02134, USA
Beer Style
:
Imperial Pumpkin Ale
Alcohol by Volume: 8.50%
Serving Type: 22 oz Bottle, 20 oz Mug
Rating: 3.85
Look
This brew features a deep reddish brown color with a nice full shine in the light. Clear and filtered, this beer has a full level of carbonation action which delivers a tall, thick, dense, and creamy foam head with an average retention, and full lacing on the glass.
Aroma
There is a full roasted malt aroma with a pronounced mix of aromatic spices present. The aroma is strong and contains trace amounts of hoppy character, as well as almost no apparent alcoholic smell. The large foam head accentuates the aroma of this beer.
Feel
The Fat Jack is a medium bodied brew with an average level of carbonation, a lower viscosity, and a slightly creamy texture which makes it a great sipper, but nothing close to unforgiving. This beer has a medium weight and a somewhat dry finish and some lingering. This is a pretty alcoholic beer with noticeable qualities, including a subtle warming effect following the finish.
Taste
This is a very malty brew with a full pumpkin character. The flavor profile is dominated by caramel and dark roasted malt, accompanied by a great deal of spices, especially nutmeg and cinnamon. This beer has a very complex and pronounced set of flavors. A slightly hoppy aftertaste rounds out a bold taste experience.
Our Take
If you love the autumn season as much as we do, then it's high time you get your hands on one of these while they're being produced. Sam Adams celebrates the harvest with this bold and potent imperial pumpkin which will definitely get your fall festival senses tingling. Strong and complex flavors headline an all star profile lineup including an enhanced malty and spicy aroma, a nice cold weather warming effect, a tall and dense foam head accompanied by full and beautiful lacing, and a solid, yet fairly easy going body. This is a great bev to enjoy with any of your fall or just cold weather foods and treats, including anything made with pumpkins, over cooked veggies, gravy topped anything, turkey, duck, chicken, or even better, Turducken, and of course, stuffing. The spicy elements of this beer also make it a great accompaniment to any dessert like pecan pie, cookies, and basically anything very sweet and somewhat spicy (full of cinnamon and nutmeg). In terms of its overall drinkability, we will say that this is a pretty average beer which is easy to drink, but if you abuse it, Mr. Jack will definitely punish you. Being sold in bombers and at 8.50% ABV, consuming one of these large bottles is essentially the equivalent of drinking four light pale lagers in a short amount of time. So at the very least, eat something tasty, and don't rush through this beer. Like the very season it celebrates, Fat Jack isn't around forever. Before long, everything will be covered in snow, and it'll be time to bring out the Stouts, Porters, and winter warmers. So enjoy this like you enjoy the fall. Take the time to really get yourself involved in order to enjoy this and experience the full effects that the synthesis of the right ingredients can have, if enjoyed responsibly of course. And if pumpkin ales aren't your thing, perhaps it's time you got a new thing.