"Hi-didily-ho, Neighborinos!"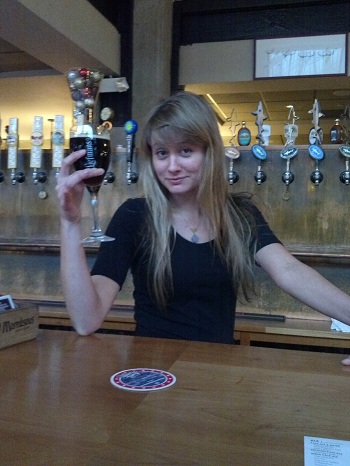 Brewery
and
Country
of Origin:
Brouwerij Leifmans
of
Aalstrstraat 200, Oudenaarde, 9700, Belgium
Date Reviewed: 1-17-13
Allow us to sound a bit beer nerdy for a bit.
Flanders
, other than being the next door neighbor of Homer Simpson, is one of the three main regions in Belgium. It is the most popular
Community
of Belgium, and is comprised of mainly
Dutch speaking
residents. Among other things, the region is known for their beer, notably Flanders
oud bruins
. This is a
style
which is aged for a long time (up to a year) which incorporates
secondary fermentation
. This additional step involves blending a young unaged beer with older, mature brews of the same style, similar to the brewing practice of
Lambics
. This injection of young, sweet beer increases the complexity of the flavor, as well as tempering the natural acidity of a beer which contains a good deal of residual yeast and bacteria. The young beer's fruity (plum, cherry, and raisin), sweet (caramel), and tart characteristics enhance a trademark complex flavor which is mostly overtoned with sourness. Oud Bruins are aged in casks, (sometimes oak) which helps produce the brown color, as well as an earthy aroma, both of which distinguish it from
Flanders red ales
. This process is followed by
bottle conditioning
for up to additional half year. Flanders Oud Bruins are medium to light bodied beers with a reddish, copper, or brown color and a hazy or cloudy appearance (in bright light) caused by the excess yeast and other solid material left after secondary fermentation. Aside from their distinguishing sour taste, they are also fruity, and malty (with caramel or toffee notes), producing an overall balanced effect. There is usually no bitterness resulting from the inclusion of any hops. To many, the sometimes powerful sour flavor is too much for drinkers' liking, and combined with the style only being brewed in smaller quantities with a complex and relatively costly brewing process, this style is considered only a regionally popular type which is rarely distributed internationally, much less intercontinentally.
Date Sampled: 12-29-12 At: Mead Hall Bar, 4 Cambridge Center, Cambridge, MA, 02142, USA
Beer Style
:
Flanders Oud Bruin
Alcohol by Volume: 8.00%
Serving Type: Keg, 25 cl Wine Glass
Rating: 3.98
Look
Goudenband pours somewhat smoothly with a medium low amount of carbonation action, producing a half inch tall, lower density foam head with a short retention. The color is reddish dark brown with a nearly opaque appearance which gives off a very dull glow with no shine, even in bright light. This beer laces fairly fully.
Aroma
This beer has a medium high strength aroma with sweet malt overtones supplemented with a fruity presence and some earthy undertones, as well as some nuttiness mixed in. This beer has a complex aroma with many sides, attributable to Belgian ingredients. Almost no alcohol is detectable, and there is absolutely no hoppy character in the aroma at all.
Feel
This is a medium light bodied beer with a very dry feel throughout. A medium high level of carbonation, combined with a below average viscosity and weight, and a crisp finish give this beer a lighter, almost airy feel which may make it refreshing to some. There is a low amount of alcoholic warming at the end, which finishes off lingering for a bit with a dry close.
Taste
A sour flavor overall sets the tone for this fruity, almost, wine like flavor. Some semi sweet malt and a small amount of citrus and nutty notes are present, as well as a very small amount of alcoholic flavor. This beer has no hops in its profile. The aftertaste is full of sour fruity character with a short amount of lingering, as well as a dry, crisp ending.
Our Take
Mead Hall happens to be the only place in the
United States
where you can get this beer on draught... or at least that's what our bartender (pictured) told us. Interestingly enough, although this isn't yet a popular style in America, we can't understand why you can only supposedly get it at one place. This is because simply, this is a truly great beer. As in the past, we've recommended beers purely on the chance you were to travel to some
faraway country
and found them on tap. This however, is not only a rare beer which has the whole "novelty" aspect going for it, this particular beer is genuinely one we'd just recommend to any strong ale lover. Bold, and complex flavors more than satisfy the senses, while it's lower than average viscosity, lighter body, and crisp feel make this easier to drink than just about every other beer in the segment (style and alcoholic strength). This beer (and its style in general) offers a very unique profile and overall experience, in that it delivers huge presence in the way of fruity and sour flavors, with no detectable amount of hops, yet this is a very well balanced, easy going beer which makes for a great sipper by itself, or as a rich complement to beef or pork.