Tall Wall, Tall Beer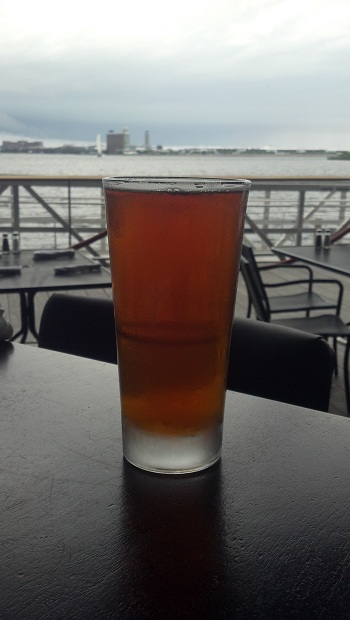 Brewery
and
Country
of Origin:
Wachusett
of
175 State Road East, Westminster, MA 01473, USA
Date Reviewed: 6-08-12
Constructed in 1912 as a part of the original Fenway Park layout, the Green Monster (or historically simply,
The Wall
) is a 37', 2" high wall/scoreboard at the Northeast corner of the home field of the Boston Red Sox. Over the years, this sports world behemoth has kept rookies and legends alike out of line drive home runs which would easily have cleared outfield walls in most other ball parks (the Green Monster is the second tallest wall of its kind in any professional baseball field). Fortunately for the guys in the tall red stockings, they get the most practice driving balls over the wall. It has been a major part of the club's storied history, and is now an icon of the City of Boston. Funny enough, you'd expect an eponymous beer to have the same character. Big, heavy, intimidating label, full of flavor, and of course, very high in alcohol. Turns out however, Wachusett, the guys who make this beer, don't feel that they need to draw anything out too much. Though this is a confident beer, perhaps the "Green Monster" is merely an homage, rather than a descriptor.
Date Sampled: 6-07-12 At: Jerry Remy's Sports Bar & Grill, 250 Northern Avenue, Boston, MA 02210, USA
Beer Style
:
American IPA
Alcohol by Volume: 6.00%
Serving Type: 24 oz Tumbler Glass
Rating: 2.70
Look
This clear and filtered beer has a very nice rich, dark amber glow which shimmers when held up to the light. Moderate lacing covers the glass as you enjoy this beer, which pours somewhat choppy and features a half inch foam head which disperses quickly.
Aroma
Being a well balanced beer, the Green Monster comes with a set of both somewhat malty and very hoppy aromas. A little bit of caramel notes helps to even out the relatively high amount of hops used in this IPA.
Feel
This is a lighter bodied beer with moderate levels of carbonation, a crisp dry finish, and a lower viscosity. Very smooth and easy to drink.
Taste
This IPA has a typically hoppy and bitter taste from start to finish. This beer finishes with a drier, bitter aftertaste which doesn't linger. Weaker, modest flavors make this
Our Take
Despite the fact that this name offers a lot of promise, this brew is unfortunately nothing terribly special. This is however a decent go-to IPA which offers a limited delivery of traditional IPA character, albeit lacking in a solid aroma, substantial presence, or robust flavor. And while this beer is severely lacking in certain areas, this does have a great appearance, a very well balanced character, and a nice, bitter finish. Unfortunately, this beer suffers from the same problem as the Hyundai Veloster - something we discussed in the naming of the
Ayinger Celebrator Doppelbock
- as it is a product which can't cash the check its name writes. Nothing bold, nothing exciting, and not high in alcohol. Giving this beer a different name would not result in a higher rating, but it is unfortunate we have to give an only fairly good 2.70 to a beer whose name defines a city. Shame...