Time Of The Season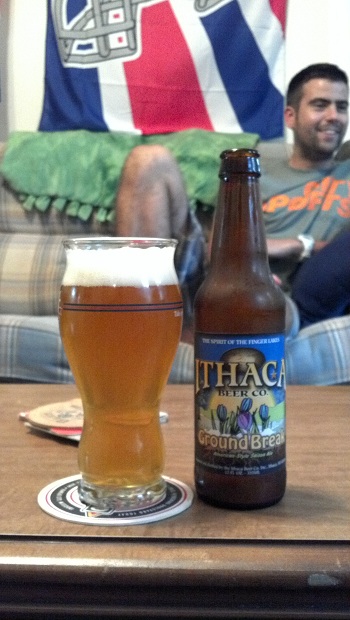 Brewery
and
Country
of Origin:
Ithaca Beer Company
of
606 Elmira Road, Ithaca, NY, 14850, USA
Date Reviewed: 9-08-12
Think of this late winter/early spring offering as a way to welcome in the new, warmer part of the year. The
saison
is usually a summer option, traditionally brewed during the harvest for the satisfaction of farm workers. And though the word Saison means "season" in
France
, this style originated in the French speaking part of
Belgium
. Either way, this particular beer can be enjoyed from early spring all the way to the middle of the fall (or September if you're like us). The name of this beer of course, comes from the time of the year when farmers deemed the land soft and warm enough to begin the farming season. The cold, harsh, and frozen tundra of winter is now beginning to thaw, and the eager farmer can't wait to begin this year's crop. So rather than only celebrating a successful harvest (or unsuccessful if you're living in a drought plauged
America
right now), the guys at Ithaca, about an hour south east of Rochester, New York, decided to make a tradition by going against tradition, and offering a harvest beer at the beginning of cultivation.
Date Sampled: 9-02-12 At: 7 Prescott Place, Allston, Boston, MA, 02134, USA
Beer Style
:
Farmhouse Ale (Saison)
Alcohol by Volume: 6.20%
Serving Type: 12 oz Bottle, 14 oz Sam Adams Glass
Rating: 2.98
Look
The Ground Break is a slightly hazy beer which glows with a typical bright goldenrod color when held up to the light. The beer pours choppy with a fair bit of carbonation action, giving this beer full lacing and a thick, dense, and tall foam head with solid retention and longevity.
Aroma
This saison features a strong, grazy and pale malt filled aroma which is exaggerated by the higher amount of carbonation, enabling a full aroma inducing foam head. The aroma stays strong through the finish of the beer, enhancing the full flavor of this brew. There are also some clove notes and hoppiness detectable as well.
Feel
This is a light bodied beer with a medium viscosity, and an average level of carbonation, making this a crisp, refreshing beer which is easy to drink. A lighter presence also makes this good for the summer season. This beer finishes crisp with a dry overall feel with little lingering.
Taste
There is an immediately present bittersweet flavor overall changing into a wheat like clove arragement and finally finishing slightly hoppy with a dry finish and somewhat lingering aftertaste. There is a very little bit of grainy character in the flavor as well.
Our Take
This is a very forgiving, relaxing, and refreshing brew which will get you into the season of either a new spring, or a festive fall. Either way, this is a beer with a lighter presence overall, yet not without a set of complex and intricate flavors and aromas. A stronger foam head delivers a potent light malt and slightly hoppy smell, while an almost tingly feel gives this beer a bittersweet, and unique, yet well balanced flavor overall. We'd highly recommend that you don't wait for the fall to get too cold to enjoy this one, as it can bring a great deal of refreshment on a hot late summer's night, but like we said, it's not going to punish you if you do. This beer goes well with more heartier meals with meat, fish, or poultry. Humble, yet refined, this brew is a good casual, fun, and festive way to ring in the new season.