Beers in the Belfry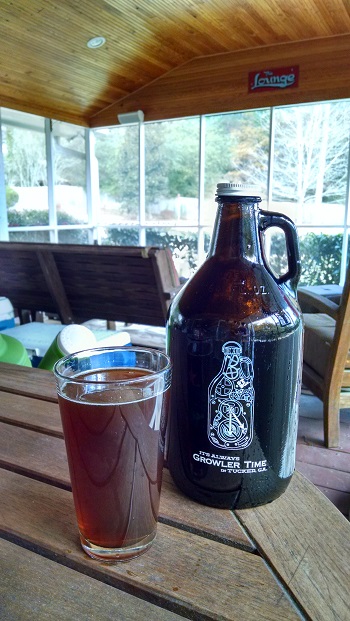 Brewery
and
Country
of Origin:
Brouwerij Van Steenberge N.V.
of
Lindenlaan 25, Ertvelde, 9940, Belgium
Date Reviewed: 1-14-15
The name of this beer is
Dutch
for
Golden Dragon
and takes its name from a small gilded (golden) dragon statue which sits on top of the
Belfry of Ghent
. Standing at 91 meters, the medieval tower is the tallest in all of Belgium. It is also one of three belfries which overlook the town of Ghent. Construction of the tower began in the year 1313 and lasted until 1380, at which time the golden dragon was placed at the top of the tower. The reason that construction took so long was because the process was almost routinely interrupted by war, political turmoil, and even plagues. The dragon was gilded in the city of Bruges, the capital and largest city of West Flanders, known for its canals. In the beer world, West Flanders is famous for its red
Flemmish/Flanders
style Belgian ales which sometimes have trademark sour and fruity notes. And on the coat of arms of Bruges & West Flanders, as well as the flag of the official region of Flanders, is a dragon. The Belfry was originally built for religious purposes but over time, its role had shifted to more secular purposes, especially when warning citizens of an incoming enemy, or to chime on the hour for timekeeping. Each bell in the tower is given a name, and the primary bell is named Roland. Aside from warning the citizens of Ghent of approaching enemies, Roland's ring became famous for signifying a battle victory. The bell is the primary character in the city's anthem, in which Roland warns Ghent of a fire or calls upon them to defend the city. Over its life, the upper section of the Belfry has been rebuilt numerous times to accommodate the growing number of bells held within. When the bell Robert was added in 1993, there were 54 bells in the tower. Today, the Belfry and the associated buildings attached to it, belong to the UNESCO's World Heritage Sites List as part of the set of "Belfries of Belgium and France," and serves as a major point of interest for the city.
Date Sampled: 11-27-14 At: 5726 Williamsburg Drive NW, Norcross, GA, 30093, USA
Beer Style
:
Belgian Strong Dark Ale
Alcohol by Volume: 10.50%
Serving Type: Growler, 16 oz Tumbler Glass
Rating: 3.39
Look
Gulden Draak pours fairly smoothly with a medium low amount of carbonation action, producing a thin, eighth inch tall foam head with a white color, a medium low density, and a low retention rate. This beer has a somewhat hazy appearance caused by the inclusion of a moderate amount of very fine sediment, which leads to a bright copper glow, with no shine and no visible sediment. This beer has a moderate amount of effervescent effect with no settling, and displays an average amount of lacing on the glass.
Aroma
Immediately present is a strong amount of heavy caramel roasted malt giving off some sweetness and accompanied by some fruity banana, cherries, plums, and clove aromas from the Belgian style yeast notes. This beer has a slight alcoholic tinge, but that is expected with a double digit ABV. There is no metallic smell in the aroma. This beer's aroma does not have any real detectable hops to speak of, but does come with a slightly nutty and earthy undertone, and finishes off with a bit of toasted toffee note. Overall, this beer has a high strength, almost overwhelming aroma.
Feel
This is a medium full bodied brew which has a medium high viscosity, a pretty heavy weight, and a low amount of carbonation, which totals up to a beer which is better consumed in a slow sipping situation rather than a casual drinking environment. This beer finishes dull and wet, and lingers for a fairly long time with a good amount of alcohol induced warming. This is a cold weather beer that contains an expected amount of alcohol bite at the close. This is a smooth beer with no added texture, but offers little in the way of refreshment or crispness.
Taste
This beer's complex flavor profile immediately starts off with a strong roasted dark caramel toffee like malt which sets the tone for a rather sweet, unbalanced overall experience. This beer has only a minimal amount of detectable hop derived bitterness. Also included is a bit of sweet fruit and a subtle coffee like taste. This general maltiness is supplemented with a bit of nutty and biscuity secondaries and a slightly earthy undertone. The finish ends with a slight alcoholic tinge and a fairly harsh bitter and soapy aftertaste which contains a small amount of metallic taste that actually leaves you a bit thirsty for more.
Our Take
Strong is the main adjective that we'd use to describe the overall character of this ale, particularly in terms of this beer's aroma and general maltiness. To an almost overwhelming degree, this Belgian Strong Ale takes full advantage of showcasing its sweet toffee like malt, making this beverage generally sweeter than most of the same style. This is a rather unbalanced beer which does little to counteract this strong flavor, and the average consumer won't be able to detect any presence of hops outside of the overall composition of the beer. This is a cold weather beer which we would only recommend in smaller doses, not for the beach, and definitely not for drinking games, of course. This beer will not satisfy everyone. Its strong pronunciations make it somewhat of a polarizing, "love or hate" sort of beer, but if you're a fan of most strong dark ales, then this is definitely worth giving a go, especially if you can get it in growler/keg/tap form. And if you do end up trying it, this beer's rather sweet and strong profile does make it a great pairing option for glazed roasted duck, caramelized salmon, grilled chicken, and pork based dishes.