Perhaps That St. Patrick Was On To Something...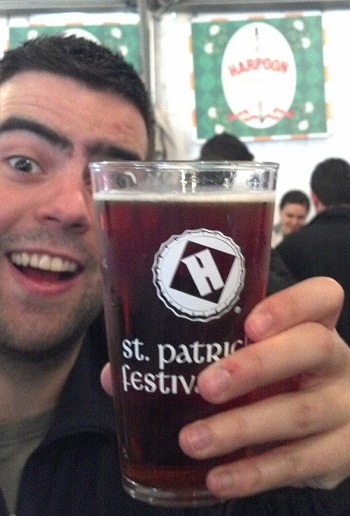 Brewery
and
Country
of Origin:
Harpoon Brewery
of
306 Northern Ave # 2, Boston, MA, 02210, USA
Date Reviewed: 3-14-12
Though it isn't clear whether the
Irish Red Ale
deserves to be considered a style independent of
English
or Traditional Red Ales, we do enjoy what some revolutionists call
Irish
Reds. These are typically darker and richer in color and aroma, and these beers are also a tad maltier than what the Brits call proper as well. Boston Brewery
Harpoon
aims to bring out the Irish side of things in the Seaport with their Celtic Ale, an unintentional homage to the Irish heritage in the city of Boston. This is a beer offered from January to the end of March, building up to the season's pinnacle Lá Fhéile Pádraig (St. Patrick's Day). The Festival of Patrick is a religious (Catholic, Eastern Orthodox, Anglican, and Lutheran) celebration which became associated with an annual feast commemorating the life and acts of St. Patrick, who was not only a patron saint who played a major role in bringing Christianity back to Ireland - it is a commonly held belief that he drove away the frogs and snakes plaguing the island nation... whether this is true or not is up for Wikipedia to decide. Anyway, early celebrations involved much of the traditions that take place today - aside from heavy drinking. Special Mass was held, traditional Irish food was consumed, and there was plenty of dancing and whatnot. Sure, the Irish love to drink, but it wasn't until the 1990s when the Irish government decided to add a second meaning to the 17th of March (Besides religous reasons, of course). A government run "organiSation" called
St. Patrick's Festival
was founded to repurpose the day as a celebration of not only St. Patrick, but also
The Culture of Ireland
. People always drank on the 17th of March, but it wasn't until this decision was made that heavy drinking was associated with St. Patrick's Day. Harpoon's Celtic Irish Red is a celebration of the celebration. And while
Guinness
amicably reminds us that "Everyone's Irish on St. Patty's Day," lest we forget that there are plenty of other ways to make fellow pub crawlers better looking (or more approachable) than Whiskey,
Stouts
, or distastefully named bomb shot cocktails.
Date Sampled: 3-03-12 At: Harpoon Celtic Ale Beer Festival, Harpoon Brewery, Seaport, Boston, MA, USA
Beer Style
:
Irish Red Ale
Alcohol by Volume: 5.40%
Serving Type: American Pint, Brewery Keg, Tumbler Glass
Rating: 3.54
Look
This is a bronze (dark amber) colored beer with a thin foam head and a good deal of carbonation flow. Because this is a filtered beer, it is clear, making its rich color stand out in the light.
Aroma
A toasty, malty aroma is present from start to finish, and though it isn't very pronounced, you get the sensation that this is maltier than most beers of the style. There are also some light fruity aromas as well.
Feel
This is a moderate bodied beer with an above average amount of carbonation. The consistency is smooth and has a low viscosity. There is no sediment, and because this is a moderately strong and flavored beer, it is easily drinkable. Perhaps this is a beer that goes well with hearty Irish cuisine? Or maybe just some late winter stew.
Taste
Malty rosted notes are definitely present among a seemingly simple and somewhat understated flavor portfolio that makes one feel like something's missing. A moderate amount of hoppiness is apparent as well, delivering a short lived bitter and dry after taste. The overall flavors of this beer do not leave anything to the imagination, and yet they could use a little more hops if we had the choice. This is not a big problem, but it is definitely noticeable.
Our Take
Today, 12 years after the first barrels of Celtic Ale were produced, this Irish tip of the hat is Harpoon's spring seasonal beer, an offering that was made available beyond the taps of Boston in 2001 (it was only sold in kegs to Boston pubs in 2000). Since then, the city of Boston and every other place that is able to get their hands on this specimen have been able to provide pseudo celebrators an alternative to what people normally call a meal in a can (and yes, we generally disagree with that sentiment). Because of this beer's understated taste (unproportional to its aromas), it doesn't rank as high as some of Harpoon's recent offerings, but you can rest assured that this is definitely a must try - at least on the day we celebrate the massively diverse and rich culture of Ireland (and no, we weren't kidding about that... ok, maybe we were). If you remember nothing else this coming Saturday, remember to try Harpoon Celtic ale, your inner leprechaun will thank you. Beannachtaí na Féile Pádraig oraibh all! (Oh, and don't end up in the back of a police car - UqT tip of the week!)