Stuck In The Middle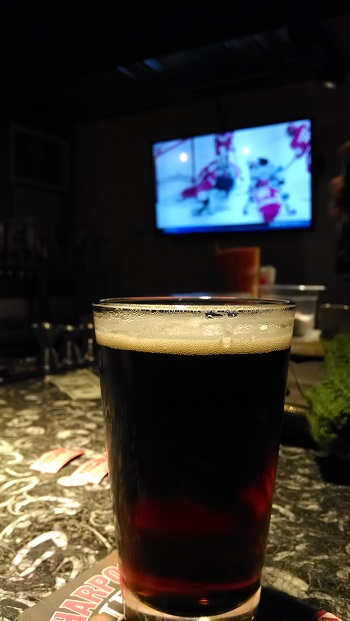 Brewery
and
Country
of Origin:
Harpoon Brewery
of
306 Northern Avenue, Boston, MA 02210, USA
Date Reviewed: 5-05-14
If history can teach us anything relevant about
Harpoon
's lineup of
IPAs
, it's that there is a real chance this new limited edition Brown IPA will become a permanent offering from the Boston based brewery. Their
Black IPA
, as well as their
White IPA
both reached the markets in the form of a 100 Barrel Series beer, and both were receieved so well that Harpoon added them both to their mainstay brews, as well as including them in a new IPA Adventures sampler 12 bottle pack. Last week, we talked about a beer which
didn't really belong
to any
particular style
per se. Rather, it was a hybrid of a few varieties. This too is somewhat of a hybrid beer, mixing the expected hoppiness of an IPA made of Northwestern style hops, with a rich, sweet
English
brown ale. And yes, as far as the appearance goes, if you blended Harpoon's white IPA with their black, you'd probably get a brownish color. But don't think of this as an inbetween. The 49th session in Harpoon's famed 100 Barrel Series was conceived by a quality control employee named John Cataldo, who ended up finding a nice fit between two established IPAs that we happen to like quite a bit. And if the intended result was to end up with a beer which carries many of the traits of both, then they got what they were looking for. But perhaps more importantly, this is a new beer belonging to a new style which we've never really come across before. That's pretty exciting, since people are always looking to create new styles outright, yet many traditionals are often overlooked as a source of inspiration. There's such a strong emphasis on keeping things the way they should be when it comes to old and established styles like
Stouts
and IPAs, that it's not wrong, but actually refreshing to see even the most mainstream beer styles experimented with.
Date Sampled: 2-28-14 At: Uno's Pizzeria & Grill, 22 John F. Kennedy St, Cambridge, MA 02138, USA
Beer Style
:
American Brown IPA
Alcohol by Volume: 5.60%
Serving Type: Keg, 16 oz Tumbler Glass
Rating: 3.24
Look
The 49th 100 Barrel Series session pours fairly choppy with a good amount of carbonation action, giving this beer a two thirds inch tall foam head with a moderate retention rate and a fairly dense, somewhat creamy foam head with a light tan color. This beer has a nice copper reddish color with a clear appearance showing no visible sediment and a low amount of effervescent effect. Average lacing shows up on the glass. This beer has no settling and gives off a fairly bright shine in the light.
Aroma
As with most IPAs, this beer has a fairly strong hoppy dominance supported with a good amount of soapy undertones and a slightly citrusy secondary. There is also a small amount of sweet average roasted caramel or toffee like malt, giving off a hint of nuttiness and a noticeable cookie or biscuity aroma. This is a fairly clean aroma with no alcohol or metallic tinge, and the citrusy hops give off a clean smell. The aroma is fairly low strength overall and does little to enhance or affect the flavor.
Feel
This is a medium bodied beer with a good crisp overall feel. This beer contains an average amount of carbonation and has a below average level of weight and a medium low viscosity. Overall, this is a refreshing beer with a crisp, pretty dry finish, and contains no texture or alcohol warming or bite. This beer cools slightly after the finish, and in general, this beer is easy to drink in a casual setting. Versatile in terms of season, but leaning slightly toward fall.
Taste
As indicated by this beer's style, this is a very bitter flavored beer dominated by a mix of soapy hops with strong pine and citrusy notes. These taste like northwestern style flowers. This is augmented with some medium roasted malty sweetness similar to a caramel or toffee like flavor, accompanied with a good deal of nuttiness and slight biscuity notes. There is also a small amount of chocolate flavored dark roast. This beer finishes crisp and dry with a bitter aftertaste which lingers for a good amount. There is no metallic tinge and no alcohol bite in the flavor.
Our Take
Interestingly enough, this beer does share many qualities of both Harpoon's Black IPA and their White IPA. And with an IBU of 60, this IPA fits in the balance between a malty and a bitter beer, especially for an IPA variant made by Harpoon. Yet despite having qualities belonging to two other beers, the brown IPA is a unique experience. Like we stated earlier, this is a new beer style that we've never come across before, and that in and of itself is a source of refreshment. Unfortunately, this beer had a few shortcomings, including a fairly overall mild presence with no pronounced flavors and a relatively anemic aroma. This beer also fell fairly below expectations on the promise of a somewhat full and rich malty balancing act to a rather hoppy preference. Still, as a mellow IPA, this is a good beer that should satisfy those looking for a hoppy experience that reminds them of a bit of old
English
styles. And this beer is very versatile when it comes to food pairings, and the
swiss
burger that we had a pint of this with was no disappointment.