The Short Thaw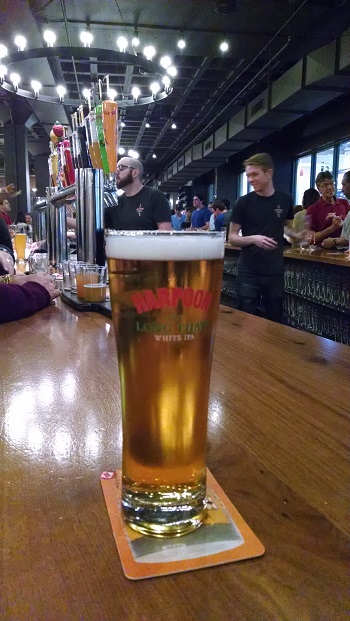 Brewery
and
Country
of Origin:
Harpoon Brewery
of
306 Northern Avenue, Seaport District, Boston, MA 02210, USA
Date Reviewed: 7-13-14
Weather wise, this year has been quite extreme. This past record setting winter was immediately followed by a non existant spring which quickly transitioned into what feels like a summer long late July day worthy of Miami beach. But long before the sun finally brought northerners out of hibernation,
Harpoon Brewery
managed to convince a few beer drinkers in New England to weather the weather by releasing their first new seasonal beer in 14 years: The Long Thaw. This is a
Belgian
style
white IPA
which was released in January of this year. The beer not only celebrates the northeast's all too frequent annual bouts with
Old Man Winter
, but also serves as an optimistic reminder that literally brighter days are to come... albeit slowly. As part of the celebration, Harpoon held "Long Thaw Thursday" parties in 14 cities, in which participants were asked to wear clothes appropriate to their favorite season (e.g. ski gear for winter, bikini's for summer, etc.). What's interesting about this beer is that it's a spring like Belgian pale, but you'd only be able to find it in the coldest months of the year. Somewhat like
Sam Adams
' Alpine Spring (which is sold around the same time), The Long Thaw is a winter specific seasonal which makes no attempt at conforming to traditional cold weather beer styles. Though we've repeatedly stated that certain beers typically go better with certain seasons, we also believe that if you're in the mood for something, regardless of the weather, go for it. Fashion and seasonality is a mere suggestion in our minds. Still, it seems rather unorthodox for a well established
brewery
to release their first seasonal in more than a decade in what would seem to be a season too early based on its
style
. Yet, maybe the generation of anticipation toward warmer weather is this beer's chief purpose. Though we can't say that any of us showed up to a bar in a two piece, this new brwe certainly brought some much needed sunshine to the dead of winter.
Date Sampled: 4-14-14 At: Harpoon Beer Hall, Harpoon Brewery, 306 Northern Avenue, Seaport District, Boston, MA 02210, USA
Beer Style
:
Belgian IPA
Alcohol by Volume: 6.20%
Serving Type: Brewery Keg, 16 oz Stange Glass
Rating: 3.06
Look
Harpoon's Belgian IPA pours somewhat smoothly with an average amount of carbonation action, producing a two thirds inch tall foam head wtih a mostly white color, a fairly high retention, and a medium high density. This beer has a medium high effervescent effect display, along with a filtered, clear appearance with a bright pale golden shine in light. This beer shows off full lacing. There is no visible sediment or settling of any kind.
Aroma
This beer is full of yeasty banana and clove notes reminiscent of a true belgian style pale ale. There are some break like biscuity notes with a hint of earthy undertone. All of this is balanced with a low amount of detectable citrusy piney hops which deliver a clean, crisp aroma secondary. There is a good amount of pale malty aroma in the form of grassy and grainy smells. This beer's aroma is bitter and hoppy overall with no alcohol or metallic tinge, and is below average strength.
Feel
This is a light bodied brew with a fairly low weight, and a below average level of viscosity. This beer has an average amount of carbonation, which combined with a lighter presence overall, makes this beer a fairly easy to drink beveraage with a slight cooling effect. There is a fairly crisp, somewhat dry finish which adds to this. In general, this beer has a light and airy smooth texture with a wispy feel.
Taste
As an IPA, this beer is mostly hoppy overall, fairly well balanced with a good amount of grainy notes and a fairly present yeasty undertone. This delivers a good amount of sweeter fruity banana citrusy orange, and some coriander and clove spicy notes. This beer also has some cookie biscuity notes with a sweet inflection. There are no alcohol or metallic tinges. This beer has a has a bitter hoppy and dry lingering aftertaste which finishes with some subtle sweetness.
Our Take
This may just be the spring time seasonal that you are looking for. Of course, this beer was first released in January, and was available for consumption through March of this year. We predict, as long as sales and reviews were satisfactory enough, that we'll be seeing it (and more of it) next year at the same time. This beer is a light, crisp, and refreshing beer offering a fruity, sweet, and fairly hoppy Belgian style experience which, to us, either goes better with spring, or invokes thoughts of spring when perhaps they're needed most. Though this beer does not deliver much of a high strength aroma, there are many complex flavors and smells which offer a balanced, clean, and citrusy overall profile. As stated earlier, this beer is probably better for the spring, or even the summer, but this shouldn't be much of a problem if you're tired of the same old winter type
Imperials
. Because this is a lighter beer, this should go well with crisp salads, very sweet desserts, mild cheeses, and lighter poultry dishes. We all need a little boost from here to there, and it may be promise that brighter days are in store for us, that keeps us optimistic about the weather.