Simplicity Complex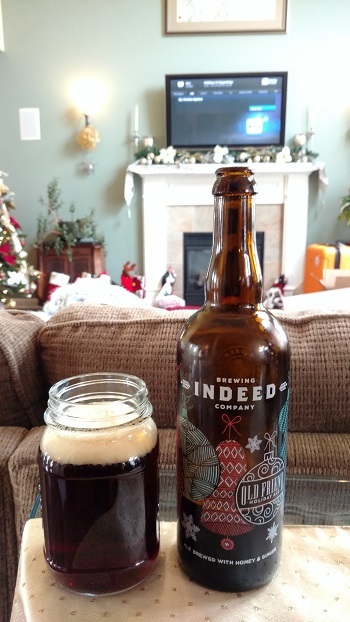 Brewery
and
Country
of Origin:
Indeed Brewing Company
of
711 NE 15th Avenue, Minneapolis, MN 55413, USA
Date Reviewed: 6-27-16
This
winter warmer
delivers a rich and complex flavor profile with a deep aroma and festive pairing capabilities. We did in fact have the pleasure to sample it on Christmas Day in the company of friends and family, and the sensory experience that this beer delivers is so rich in holiday flair that has the power to conjure up memories of holidays long past. The funny thing about it is that it takes a bouquet as complex as this appropriately named "Old Friend" beer has to remind you of the simple pleasures that were, in their own way, so powerful that they remain held in a special place in your memories. Of course, everyone's experience with the end of the year is different. Some happy, some sad. Sometimes these memories involve food or gifts; loved ones and pets; charity and the season of giving. Or perhaps, the sensation of living in a time when things were seemingly simpler: when you were a kid. Most children's minds aren't occupied with the economic consequences of
The UK's
decision to leave the
European Union
, or which 2016 Presidential Candidate debated his wife's level of attractiveness better... or at least let's hope not. But if you ask a kid about their favorite holiday foods or their family December traditions, even if it is the middle of Summer, chances are there will be no hesitations. Aside from the holidays, just about everyone remembers their childhood friends, the memories they shared together, and the places they'd go. Things were simpler back then. And whether this time travel like power was intended by the people at
Indeed Brewing
or not, the fact remains the same. This is a really good beer which proves when the senses are stimulated, they can project rich memories in your head about things associated with that smell, taste, or whatever else the trigger may be. Amazing how the brain works like that. This beer reminds us, for example, of cinnamon and anise lined Christmas cookies as well as roaring fires and skiing, which we really only enjoyed because of the delicious hot chocolate that the lodge had. Of course if you're ever able to get your hands on a bottle of this seasonal offering, your brain will most likely feel compelled to come up with its own memories. That's the beauty of it. Even if the taste and the smell is the same for everyone, the memories, people, and the thoughts it all conjures up will be different, and thus, the entire experience of this beer is unique for each and every person fortunate enough to give it a whirl.
Date Sampled: 12-25-15 At: 146 Fiddlers Hollow, Penfield, NY 14526, USA
Beer Style
:
Winter Warmer
Alcohol by Volume: 7.50%
Serving Type: 22 oz Bottle, 16 oz Mason Jar Glass
Rating: 3.72
Look
This beer pours turbulently with a medium high amount of carbonation action, producing a thick, full inch tall foam head with a tan color, a medium high density, and a good level of retention. Old Friend is a clear and filtered beer with no visible sediment, no settling, a medium bright shine in light, an average amount of effervescent effect, and a rich copper/dark reddish color. This beer displays a medium high amount of lacing on the glass.
Aroma
Old Friend is in tune with the Christmas season with the inclusion of plenty of spice and gingerbread aromas in its bouquet. This beer includes a noticeable amount of ginger and licorice along with anise and vanilla spices, all of which make this a complex and in depth aromatic experience. This beer is sweet overall with some banana fruit mixed in as secondary, with a somewhat hoppy bitter undertone. This beer's aroma contains no metallic or alcoholic smells. Overall, this beer has a medium high strength aroma which does help enhance its flavor profile.
Feel
This is a medium full bodied brew with an average amount of carbonation, a slightly above average viscosity, and an above average weight, making this a mostly sipping beer better suited for the colder months (aside from availability, and brewer's intent). This is a mostly smooth beer which delivers a small amount of crispness at the finish, but as this beer is fairly heavy, there is no refreshment offered. This beer finishes dry with a subtle amount of alcohol induced warming towards the close.
Taste
This ale is a festive beverage which starts out with a prominent ginger spice and anise/licorice mix. Shortly after comes a good deal of fruity notes with honey, banana, and clove in the midst of a complex and rich flavor profile. This beer has a slightly sweet biscuity/cereal undertone which brings a bit of grounded-ness to the overall festivity. This beer finishes with a slightly dry, bitter aftertaste reflecting both a small amount of dull hops towards the close, and an alcohol bite due to the relatively elevated alcohol content.
Our Take
Overall, this is one of the most festive and complex winter warmer ales we've ever had. This beer features a strong, rich, and diverse flavor profile which fortunately contains nothing too overpowering and no single flavor that wasn't distinguishable from the rest of the beer's array of sensations. This beer tastes like the product of a fully decorated gingerbread house that has been put into a blender with a bit of ginger ale and served to your friends and family in stereotypical "before-they-were-hipster" mason jars on Christmas. Yes, it is that much of a seasonal beer. Old Friend turned out to be a thought provoking beer which may bring back memories of holiday seasons past and inspire menu and drink ideas for the ones to come. This beer was sweet and malty overall, so if you're looking for more of a bitter strong beer for the winter, you may not be so moved by this. Still, we found that most people looking for an appropriate ale for the time will be very happy with this. As it turns out, this beer paired well with cherry glazed duck we were having at the time we were reviewing it. We believe this warmer would also make a great pairing option with Christmas cookies, any hearty poultry meals, aged sharp cheeses, and Toffee-Tastic Girl Scout Cookies.