Designated Brewer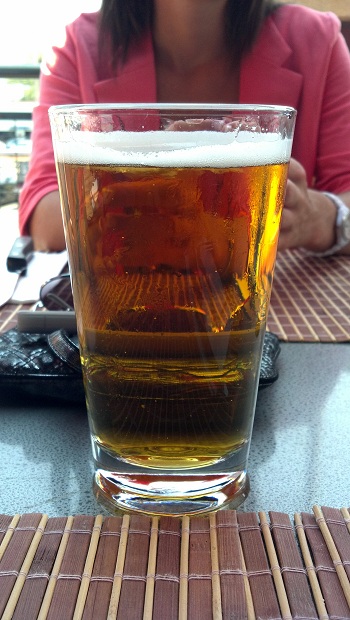 Brewery
and
Country
of Origin:
Contracted by Harpoon Brewery
of
306 Northern Ave # 2, Boston, MA, 02210, USA
Date Reviewed: 7-03-12
In baseball, a designated hitter essentially is a player who relieves the pitcher of his duties to step up to bat.
Harpoon
of Boston isn't known for filling in for other brands as many
contract brewers
are, but for whatever set of reasons, they've entered into an agreement to craft their flagship IPA for the sale in a small chain of local restaurants known as Jake N Joes, a sports bar and grill style eatery. If you've had the second best selling IPA in
America
, then don't bother reading on because what Jake N Joes sells to its customers under the name Jake N Joe's IPA is exactly that. But if you haven't sampled the Boston beer before, then take this as an official review of the Harpoon, and nevermind the stuff about the sports grill. Contract brewer agreements exist all over the world and are a fairly common thing. But as we'll address later, it doesn't coincide with their brand for Harpoon to effectively sell their most important beer as a restaurant's private brew.
Date Sampled: 6-29-12 (date expurgated original Harpoon IPA) At: Jake N Joes Sports Bar and Grill, 475 Providence Highway, Norwood, MA 02062, USA
Beer Style
:
American IPA
Alcohol by Volume: 5.90%
Serving Type: Keg, American Pint Tumbler Glass
Rating: 3.90
Look
This is a rich amber colored beer featuring a tall, three quarter inch quickly dissipating foam head and full lacing. This beer features moderate carbonation with a slightly choppy pour.
Aroma
The IPA features a very traditional hoppy aroma with a slight malty presence. Nothing terribly overpowering here, a nice balance which hints at the level of hops used in this ale.
Feel
This beer is medium bodied with a lighter overall weight and a refreshing, yet moderately lingering finish. The IPA has a lower level of viscosity and a medium high level of carbonation, giving it the crisp overall feel. This is a fairly easy to drink beer.
Taste
This is definitely very hoppy, yet at an appropriate level for the style. There are also some semi sweet malty notes which start off the flavors. The beer finishes very bitter with a prominent, lingering, hoppy aftertaste, typical of the style. Overall, a very robust hoppy flavor with a nice level of maltiness to balance.
Our Take
If you are indeed a fan of the flagship IPA from the boys in the Boston Seaport, then don't worry about what you'll get when you order a pint of this. It is apparent that Harpoon does not change any aspect of this beer aside from the branding. Good thing is that this is served on tap and because Norwood is in the Boston area, it doesn't have to spend three days decaying on a container ship or on a truck. Generally speaking, this is a great American IPA which essentially exemplifies the style: great color, rich feel, slightly malty, well balanced, robust aroma, and of course, very hoppy. Effectively, this is a review of a Harpoon IPA, one of America's greatest large scale contributions to the British Bitters range. Interestingly enough, however, the idea that they'd sell the exact product to a regional restaurant chain for sale under its own brand goes against the Harpoon way. Sure, this isn't something that affects the quality or taste of the beer, but there is something unsettling about how easily a brewery known for being so honest and genuine is willing to give away their best selling product. Of course, we're being nitpicky, and if you don't care about the integrity of tradition, if you're looking for a great IPA which isn't from Harpoon (but is), and you're eating at Jake N Joes in Mass, then order up some of their IPA. It may seem a bit more familiar than you think.