"You did it! Congratulations! World's best cup of coffee! Great job, everybody!"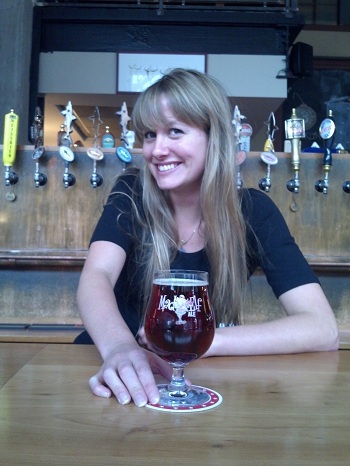 Brewery
and
Country
of Origin:
Troegs Brewing Company
of
200 East Hersheypark Drive, Hershey, Pennsylvania, 17033, USA
Date Reviewed: 1-15-13
Review #100
Sympathy For The Elf
According to European mythology, an Elf is a type of supernatural being which can come in many sizes and shapes, and is featured prominently in folklore originating in countries like
Britain
,
Norway
,
Sweden
, and
Ireland
. And though
The Lord of the Rings
makes people think of elves as a bunch of impossibly old, hot, rich, white supermodels with problems with depression, most are diminutive, quirky, and work in a toy shop. Yes, as far as anyone should be concerned, the end of the Holiday Season marks the beginning of the time for Elves to shine, specifically Christmas Elves, who build things like toy trains, teddy bears, dolls, and tablet PCs for all of those on Santa's good list... unless they
have aspirations of becoming a dentist
. They build this crap all year long until the toys are delivered to Jesus loving kids around the world. And despite the fact that they supposedly live in the happiest place
on earth
(aside from the Girls Gone Wild Island), many elves aren't that happy with the way their life is. They probably get it from the Rivendell side of the family. In fact, many of them are visibly angry all of the time. The head elf in
Rudolph The Red Nosed Reindeer
is a horrible boss who won't address the concerns of his subordinates, Ernie the Christmas Elf on Boston, Massachusetts' WZLX radio station calls people only to tell them why they're horrible people and not getting anything this year, and the main elf in
The Santa Clause
is very short tempered and yells at Santa whenever he has to repeat himself. Sure, the economy is partially to blame, but even during financial booms, elves rarely reciprocate the cheer and merriment of their rotund superior in red. That is because they never get a day off of work. Every year, they're expected to pump out more toys for the ever growing Christian population of the world, and yet they don't get paid any more, they don't get vacation time, and they don't even have a beer cart lady make rounds in the workshop... for shame. On top of that, while toys these days are getting more complicated and intricate, the only guy getting all of the glory is the fat man in the red suit. And most of the stuff he gets credit for is done by magic. So yes, we can easily see why the elves feel as though they've been slighted this whole time. Still, it's better than Foxconn.
Date Sampled: 12-29-12 At: Mead Hall Bar, 4 Cambridge Center, Cambridge, MA, 02142, USA
Beer Style
:
American Belgian Style Strong Dark Winter Ale
Alcohol by Volume: 11.00%
Serving Type: Keg, 30 cl Snifter Glass
Rating: 4.26
Look
Troeg's 2011 season Mad Elf pours smoothly with a moderate level of carbonation action. This produces a low density foam head with a half inch tall stance, and a short retention. The appearance is clear despite its cellared status, glowing nicely with a rich ruby reddish color in the light. A good amount of lacing is on the glass.
Aroma
This beer's aroma has a medium strength and is mostly characterized by a fully developed caramel malt profile. This maltiness is accompanied by a good amount of nuttiness with some earthy bias, as well as a subtle hint of clove and nutmeg. Some citrusy and coriander undertones are detectable as well. Despite this beer's 11.00% ABV, there is only a barely noticeable amount of alcohol in the aroma, and no hops to speak of.
Feel
This is a medium bodied beer with a lower than average viscosity, a medium level of carbonation, and a slightly dry presence. This is a crisp and somewhat choppy beer, giving it a lighter feel compared to other beers of this strength. An average weight and a minimal amount of heavy lingering makes this beer one of the easiest drinking high strength beers we've had to date. The alcohol level of this beer delivers a subtle warming effect at the close.
Taste
As you would imagine, this beer is bursting with sweet caramel flavors covering the malty side. To balance, a short lived beginning citrusy flavor brings out a slightly fruity side of this beer. Some coriander and clove give it a true Belgian style flavor, and again, this beer's character isn't distracted by a double digit ABV. No hops are detected in the flavor. A moderate amount of lingering happens with a mostly malty aftertaste with some small fruity notes.
Our Take
They say that with time comes wisdom. With this year old beer, we can say that time also brings refinement. This is one of the most balanced, smoothest, and best tasting beers we've ever had, and by far the best strong
Christmas ale
we've
had to date
. The only unfortunate aspect of this beer is that this batch only exists from production over a year ago which means once it's gone, it's gone for good. And even if you didn't care about the exact year, you'll still have to wait until next year to get any that's been cellared for a year. And time is definitely running out on this year's fresh batch, which means you'll probably have to wait anyway. Still, if you are lucky enough to find this on tap, for no reason should you ignore the opportunity. This brew is a complex, strong, bold, and rewarding experience which will tantalize each and every sense in profound ways. As is with all beers, this is a specialized brew which only certain drinkers will enjoy. But even if you're not into strong beers, the pronounced flavors and aromas of this
Belgian style
won't let you be turned off by a double digit ABV, nor will you find any of them particularly overwhelming. For those who are into more hoppy beers, perhaps you should use this remarkable example as a way to wean yourself onto other, less popular
styles of beer
. This well balanced brew is great with a wide range of meals, though we decided that an appetizer of (non)Buffalo wings (they were from Boston) would do the trick. Turns out it was a pretty good combination. To be honest, we didn't have high expectations for this beer for a few reasons. For one, by the time we had sampled this beer, we had already begun to get tired of
trying Christmas ales
almost exclusively. It also turns out that certain Belgian styles aren't exactly our favorites. Either way, sometimes you come across something that is so exceptional, so genuinely awesome that
it can be hard to put your feelings into words
. Well, with this seasonal offering from Pennsylvania's
Troegs Brewing Company
, we're finding that it can happen when you least expect it.
Happy #100, everyone.