Back in Black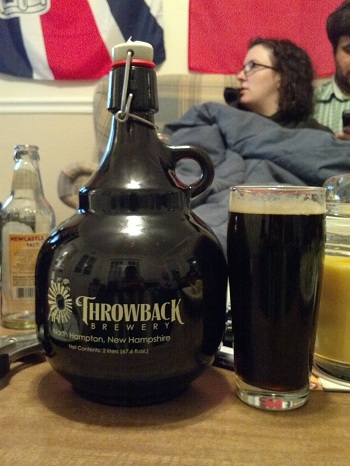 Brewery
and
Country
of Origin:
Throwback Brewery
of
Warehouse Unit #3, 121 Lafayette Road, North Hampton, NH, 03862, USA
Date Reviewed: 11-26-12
Today is Cyber Monday, and although it represents a pseudo holiday for major online
American
retailers brining in hundreds of millions of dollars in one day every year, it didn't exist before 2005 and back then, people did their shopping only on their feet three days before: Black Friday. Taking place each and every year the day (always Friday) after Thanksgiving, Black Friday is a nationwide shopping "holiday" where retailers from big box stores to e-commerce sites, and local small businesses conduct sales events made to bring out holiday shoppers in record numbers. Christmas is usually about one month after Thanksgiving, so the timing is no coincidence. This year was a record setter, with over 247 million Americans hitting the shelves on November 22nd. Each shopper spent an average $423.66, accumulating to a total $59.1 billion spent on Black Friday this year, all new records. The day is a great opportunity for the savvy shopper to grab some serious deals on things like clothing, electronics, and even cars, but historically, it hasn't been without its co-morbidities. Each year stories of great savings are matched with headlines of violence, theft, and deaths as frustrated, impatient, or downright savage shoppers adopt an "every man, woman, and Wal-Mart" greeter for themselves" policy. Sadly, this means that each year, numerous accounts of felonious crimes take place outside of store entrances, including a shooting which took place this year after two motorists were having a dispute over a parking space outside a Wal-Mart. Black Friday sales have also crept into our Thanksgiving dinner, with many stores opening between 8:00pm and 9:00pm Thursday, officially dubbed "Grey Thursday" by the media. The term "Black Friday" originated in Philadelphia in the late 1950s or early 1960s to refer to both the massive traffic caused by pedestrian traffic in the city, and the point at which retailers began to make a profit (represented by Black font on stock tickers).
Date Sampled: 11-19-12 At: 7 Prescott Place, Allston, Boston, MA, 02134, USA
Beer Style
:
American Schwarzbier
Alcohol by Volume: 4.90%
Serving Type: Brewery Growler (Unique Bottle), 16 oz Stange Glass
Rating: 3.48
Look
This beer pours smoothly with a lower amount of carbonation action, yet somehow while producing a three quarters inch foam head with a thick consistency, high density, and fairly good retention. This beer is clear, but very dark brown in color, giving it an almost opaque appearance in less than very bright light. This beer exhibits a fair amount of lacing.
Aroma
There is a roasted malty aroma stronger than most and reminiscent of dark chocolate and a little bit of espresso. There is some caramel and sweet molasses notes present as well. Almost no hops makes an appearance in this beer's aroma.
Feel
This is a medium bodied beer with a lower weight typical of most lagers and a lower viscosity to match. There is a somewhat lingering dry finish which should offer a bit of refreshment to a beer unlike most others in its family. This beer has a medium high level of carbonation adding to a level of crispness.
Taste
Oma's Tribute drinks like a traditional schwarz, being full of dominating roasted dark malty flavors with a smll bit of hoppy notes at a bitter close with a short lived aftertaste. This beer has a very subtle amount of typical lager characteristics including a small bit of cereal/grainy like taste, and a drier finish.
Our Take
Now that Thanksgiving is over and the holiday season is finally creeping in, we can start enjoying some winter beers without any shame. Like Black Friday, a good
Schwarzbier
is a nice way to kickstart the snowy part of the year. It's a ligher bodied
lager
, yet its flavor is full and malty with a bitter finish, much like the usual winter styles such as
Porters, and Russian Imperials
. So in a way, this beer, much like Black Friday, comes at the seemingly perfect time. Great for Sunday football, and great with both hearty and lighter meals. The Oma's Tribute is a great transition beer, moving away from amber, orange, and red colored
Harvest and pumpkin ales
, and working your way into the darker malted bevs, without filling you up after just two sips. Snow is on the forecast (for Boston, at least) this week, which means that again, much like Black Friday (and soon Cyber Monday), that perfect time for the Black Lager is soon to be over, making way for larger, stronger beers with warming effects. But if you're never going to be ready to make that change yourself, and lagers are always going to be your thing, don't worry. Because what's
coming before Christmas may make everything that happens after this year irrelevant anyway
.