Out of Many, One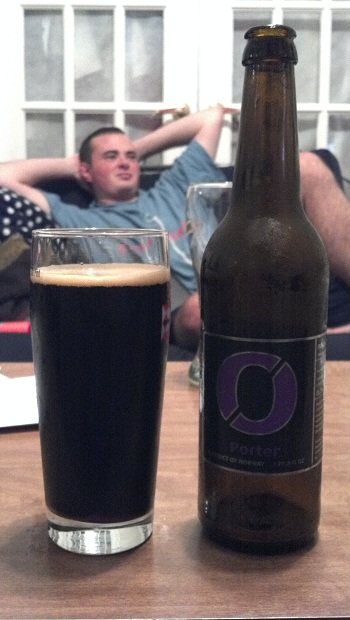 Brewery
and
Country
of Origin:
Nogne Ø Det Kompromissiose Bryggeri A/S
of
Gamle Rygene Kraftstasjon, Grimstad, 4885, Norway
Date Reviewed: 11-05-12
According to
Nogne Ø's
website, a staggering 98% of the beer produced in the country of
Norway
is a pale lager of some sort. And while
pale lagers
can be quite good, we agree with Nogne when they say that there needs to be a bit more variety in Norway's brewing repertoire. Nogne is one of only a few well established craft breweries in the country of only a little more than five million people. And although it (along with a handful of other small and regional breweries) produces a part of the remaining 2% of Norway's beer output, Nogne is doing what it can to bring some diversity to the Norwegian brewing scene. Among the dozens of
exciting and seemingly exotic beer styles
that they make, the
porter
has been a highlight among their well received line-up. Though the Porter comes from England, and probably no one thinks of
The British Isles
as an exotic getaway, the dark colored, malty yet bitter beverage is a long way from what has become the norm in Scandinavia. Nogne Ø's Porter is internationally acclaimed, garnering a silver medal at The 2008 World Beer Cup.
Norway
is tied with
Sweden
for 34th in the world in terms of beer consumption per capita. Yet if more breweries like Nogne begin producing more beers like its Ø Porter, we believe they'll no longer have to share of that otherwise middle of the row ranking with their neighbor.
Date Sampled: 9-18-12 At: 7 Prescott Place, Allston, Boston, MA, 02134, USA
Beer Style
:
Norwegian English Style Porter
Alcohol by Volume: 7.00%
Serving Type: 500 ml Bottle, 16 oz Stange Glass
Rating: 4.00
Look
This is a very dark brown colored beer with a clear yet opaque appearance with no sediment to speak of. Though this beer pours fairly smooth with ah lower than average amount of carbonation action, it does form a half inch tall, fairly dense, and somewhat creamy foam head, which has a long retention.
Aroma
This beer has a fairly strong aroma full of dark chocolate and coffee roasted malt. There is some sweet caramel and medium roasted malty character noticeable, as well as a small amount of nuttiness. There are no hops present in the aroma, though this beer does have some bitter properties.
Feel
As you would expect, this is a full bodied brew with a low amount of carbonation, a high weight, and a full, almost syrupy like high viscosity. This beer's moderately high alcohol by volume gives it a subtle warming effect which takes place after the somewhat lingering and fairly dry finish.
Taste
This beer has some serious dark roasted/toasted malty flavors, dominated with dark chocolate and coffee notes as well as some medium caramel and red malt, all which deliver a very bold and fairly sweet beginning taste. The beer mellows to a well balanced, yet still solid mix, then finally giving way to an all bitter, very hoppy and dry finish with a lingering aftertaste. A noticeable amount of alcohol is present as well.
Our Take
We'll be honest. Given that this is a beer from a country we've never had any brew from before, there was a presence of seemingly swaying novelty about it. But you should never let a beer's peripheral properties influence your perception of it too much. That said, this is a great beer with a well deserved 4.00 score. A dark
porter
from a
lager
dominated part of the world. The fortunate thing about this particular beer is that it is great for cold weather. Its higher weight and exceptionally solid body give it substance, and a 7.00% ABV helps deliver a slightly warm feeling at the close. This is good when you consider that much of Norway is within the harsh confines of the Arctic Circle. In fact because of this, parts of the Nordic Country are so far north, that in certain parts of the year, the sun never sets. Interestingly enough, however, this perennial offering is great all year long, especially when paired with heartier meals like steak, pork, or reindeer (caribou). Many stouts and porters are among our top rated beers, and Nogne's O Porter is no exception. This is a slightly alternative, yet very satisfying, and definitely rewarding take on one of England's most traditional beer styles. And when you consider the brewing environment from which it was conceived, you realize that this beer is really nothing short of special. The question is not about the legitimacy of Norway's craft brewing industry. The question really is when are the Norwegians going to embrace it.