A Rolling Stone...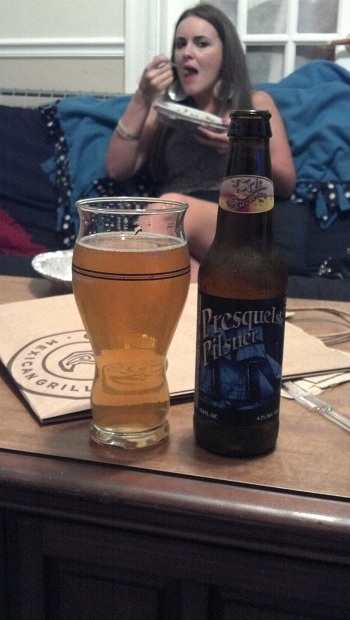 Brewery
and
Country
of Origin:
Erie Brewing Company
of
1213 Veshecco Drive, Erie, PA, 16501, USA
Date Reviewed: 9-08-12
Formed by the movement of the Wisconsin Glaciation (North America's most recent Ice Age), Presque Isle is a State Park on the Lake Erie coast of
Erie, PA
. Though technically a peninsula, the park has a rich history and amazing scenery which bring over four million visitors every year, making it Pennsylvania's most popular state park. Over the most recent part of its 11,000 year old history, the peninsula was the backdrop scene of the
Battle of Lake Erie
, a decisive American Victory against the
British
exactly two hundred years ago during the War of 1812. Presque Isle has been host to several light houses which have helped increase the safety of the growing shipping industry going through the Great Lakes, and has served as the location of a US Life-Saving Service (now US Coast Guard) Station since 1876, long before the USCG merged with the US Life-Saving Service. Today, the park contains many typical park amenities including trails, playgrounds, beaches, and a $31 million Environmental Center (Tom Ridge), which opened in 2006. The 65,000 square foot center focuses research on local and regional flora and fauna, and contains a movie theater, restaurant, and 75 foot observation tower.
Date Sampled: 9-02-12 At: 7 Prescott Place, Allston, Boston, MA, 02134, USA
Beer Style
:
American Pilsner
Alcohol by Volume: 4.20%
Serving Type: 12 oz Bottle, 14 oz Sam Adams Glass
Rating: 3.00
Look
The Presque Isle is a light golden colored beer with a slightly hazy appearance and a smooth pour. There is almost no carbonation action, giving this beer a near extinct foam head with very little retention, and very small amounts of lacing.
Aroma
The aroma reflects this beer's use of lighter, pale and crystal malts as well as a very small amount of hops. There are some grainy notes as well, but overall, this is a very malty smelling beer for a pilsner.
Feel
This is a very light beer with a light body, and a low level of viscosity. Contributing to a less potent aroma is this beer's low level of carbonation, which is usually needed to release a beer's true aromatic character. This beer finishes with a dry feel.
Taste
You will notice that this is a very malty beer relative to the style. Caramel and lighter pale malt flavors dominate the profile of this brew, which contains almost no hoppy presence until the very end. Also uncharacteristic is this beer's slightly bitter, and rather dry aftertaste, similar to a white wine.
Our Take
It is known that the peninsula shifts a very small amount eastward constantly due to prevailing winds and currents flowing through the lake toward Lake Ontario. This means that the Presque Isle of today isn't the same as it was in 1812, and it won't be the same in 2212. And that brings us to the Pilsner in general. Sure, we know this as a mainstay in European brew houses and until the American's got a hold of it, the formula hasn't really changed. But perhaps the Presque Isle Pilsner hopes to bring about a miniature revolution. For too long, the mystifying elements of a well balanced mix of malt have gone unnoticed in much of the lager making world, especially pales and Pilsners. Grassy, grainy, and dry tastes are usually what you'd expect out of these very popular and traditional styles. Sure, if you're in to malt, there are plenty of other beverages out there for you to choose, but maybe if enough people find themselves reaching for new and exciting brews like this Erie Brewing product more times than not, the American Pilsner may finally get the attention it deserves.