"After The Boys of Summer Have Gone"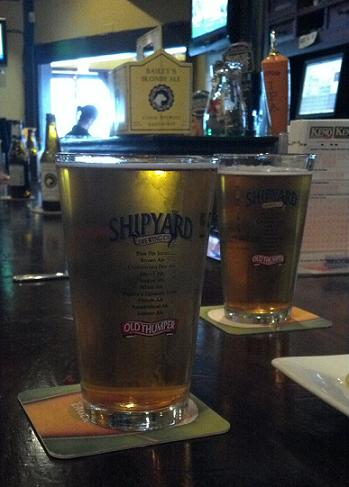 Brewery
and
Country
of Origin:
Shipyard Brewery
of
86 Newbury Street, Portland, ME 04101, USA
Date Reviewed: 6-18-12
Later this week (look at the review date), many areas in the
United States
are expected to break record high temperatures in what has been for the Northeast at least, a relatively cold June. Boston, MA, for example, is going to hit above 95 in a couple days, but at the same time, it has just broken the record for the deepest run into June without a day above 80 degrees (today). The last time the record was broken (if it did happen) was before temperature records like this were kept track of. And for much of the US, records have already been broken. So because we are once again approaching the official first day of summer and we know the heat is coming on, we figured it would be appropriate to review something a bit... summery. So here we go; enter a perennial seasonal of the Shipyard Brewery, first crafted in June of 1995: Shipyard's Summer Ale.
Date Sampled: 6-16-12 (4-14-12 original) At: The Bailey, 278 Ocean Street, Marshfield, MA 02050, USA
Beer Style
:
American Pale Ale
Alcohol by Volume: 5.10%
Serving Type: 20 oz Tumbler Glass
Rating: 2.82
Look
The Summer Ale is a golden amber colored beer with a lighter and fainter tone with some shimmer. Clear and clean, this filtered beer features a choppy pour, a half inch foam head that quickly dissipates quickly and laces only a slight amount.
Aroma
This beer gives off an adequate level of maltiness in the aroma with some malted wheat notes present and a fair bit of noticable hops to suppliment. Not too prominent here.
Feel
Lighter bodied, this is a crisp and refreshing beer with an average level of carbonation and a low viscosity. This beer contains no sediment and finishes dry and clean.
Taste
Malty and sweeter than most summer beers, this lighter tasting ale carries a very small amount of wheat like characteristics and a moderate level of hoppiness. A dry, lingering finish delivers a bitter aftertaste with some reddish maltiness as well.
Our Take
This top fermented beer is a pure summer drinker for those exceptionally hot days. A light, crisp, refreshing, and very forgiving character give this ale points for maintaining a great beer taste all while making sure you can still enjoy it when is nearly 100 outside. As a summer beer to enjoy outside with friends at the BBQ on the Fourth, this is a great option if you don't want to fall asleep after the first two beers. And although in any other situation this beer would not necessarily score very high, the point of this beer is to indulge under the sun. Don't let the modest score fool you. You'd be hard pressed to find anyone who'd prefer a higher rated dark porter over this at their next ball game.