Smokey The Beer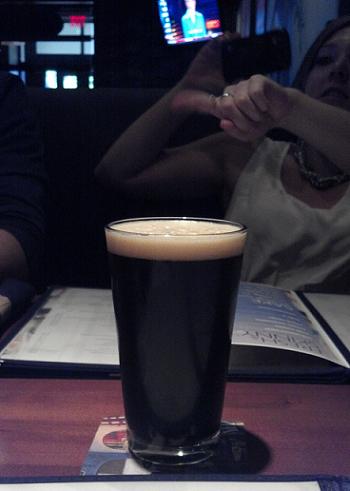 Brewery
and
Country
of Origin:
Stone Brewing Company
of
1999 Citracado Parkway, Escondido, California, 92029, USA
Date Reviewed: 6-04-12
There are many reasons why The Stone Brewing Company is such a highly rated brewery. Their high end beer brand garners domestic and internatinoal awards on an annual basis, and they keep coming up with new ways to market their unique product line. Stone is from Escondido, the 38th largest city in the Golden State, just north of San Diego. and in many ways, their Smoked Porter is like the town it grew up in. Fairly diverse, very traditional and conservative, and slightly rugged with a sublte self-conflicting rebellious side, countering what would otherwise by a very much typical situation. Yes, that string of characteristics describes the city and the Smoked Porter that it's best known brewery produces. Crime, albeit dropping slightly, is moderate for the area, and the political views in the city are stubbornly conservative; reflected by the traditional
English porter
characteristics of this beer, yet a hint of smokiness gives it a slightly alternative edge. It is like an afterthought when after a hefty sip of this very dark beer, you realize that there is some smoky notes. Subtle, but present.
Date Sampled: 5-31-12 At: Yardhouse, Legacy Place, 950 Providence Highway, #200, Dedham, MA 02026, USA
Beer Style
:
American Porter
Alcohol by Volume: 5.90%
Serving Type: Keg, 20 oz Tumbler Glass
Rating: 3.77
Look
This very dark brown colored porter is nearly opaque, pouring very smooth with a nice half inch foam head. The beer laces very nicely around the entire glass, and its mostly clear, dark brown color reflects the dark cholocate malts used in this brew.
Aroma
A modest set of chocolate and coffee aromas invites porter enthusiasts to indulge in this beer with a traditional porter like set of aromas. There is also a very subtle hopiness mixed in, along with a slight smokey character.
Feel
Very smooth, yet heavy, this is a full bodied beer with a high viscosity. A lingering finish is delivers a drier, hoppy character. This beer contains a lower amount of carbonation, making it feel smoother than most.
Taste
The Smoked Porter features nice toasty and coffee notes followed by a lingering bitter aftertaste, indicating the level of hops used in this beer. As the name implies, there is slso a subtle smokiness to this beer, giving it an earthy, more robust flavor.
Our Take
If you're looking for a great example of what a Porter should be, then look no further. Despite this beer having a somewhat smoky character, this is still a very traditional porter, with the toasty note, dark color, bitter finish, and thick foam head which make porters what they are. A good malty flavor with a bit of hoppiness (and happiness) at the end makes this yet another well balanced, smooth, flavorful, and dignified brew of Stone. A word to the wise, always make sure your glass isn't pre-frozen (not a good thing to do ever, see the
Glossary
on why beer should never be served in frozen glassware... yes, under Glassware's definition), and definitely make sure this is on tap. A relatively weak aroma and lethargic finish were areas of detriment in terms of scoring, but overall, this was a good one. And like we said earlier, Stone is an acclaimed brewer for good reason. This beer brings no exception to the rule. If you see this next time you're out give it a whirl and see what Stone is all about.