The uh... American Invasion?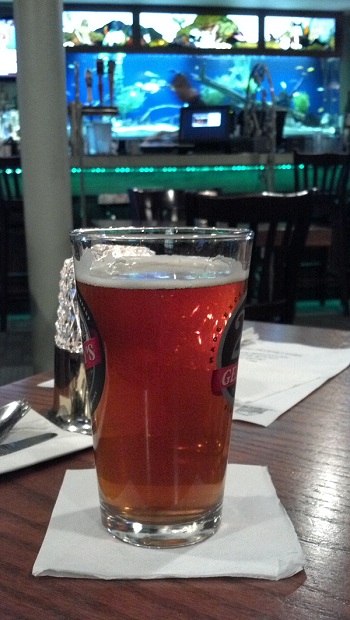 Brewery
and
Country
of Origin:
Baxter Brewing Company
of
130 Mill Street, Lewiston, ME 04240, USA
Date Reviewed: 5-14-12
When it comes to music, Rock reigns supreme. From the pelvic thrusts of Elvis and the moves of Jagger in the 50s and 60s, to the riffs of Hendrix, the stories from Petty, the ballads of Dylan, and the glam of Elton; all the way to the thrashing of Metallica, the distortion of Nirvana, and now the killer synth of Killers, the chill of some Hot Peppers, and the new Moves Like Jagger's, Rock has been transformed and shaped time and time again. In many ways, the
IPA
is very similar to rock music in that it's not lighter, whispy, and without substance.
Pale Lagers
are the beer world's pop music, while the heartier, meatier, and more flavorful ale, well, that's rock. The IPA, a
British
contribution, has been around for quite some time and over the decades, many new breweries have helped change the way people see the IPA. Baxter, from Lewiston, Maine in
America
, is just another example of a catalyst in this everlasting metamorphosis. A citrusy and fruity undertone both help differentiate this beer from the rest, and what's more, it's served in cans. Yes, Baxter is doing what it can to help the environment (including having its operations entirely offset by wind power), so no more bottles. They also distribute in kegs, but as we'll discuss later in this review, that may be a moot point.
Date Sampled: 5-12-12 At: Old Port Tavern, 11 Moulton Street, Portland, ME 04101, USA
Beer Style
:
American IPA
Alcohol by Volume: 6.90%
Serving Type: Keg, 20oz Tumbler Glass
Rating: 3.48
Look
The Stowaway pours somewhat choppy with a large amount of carbonation action creating a quick cascading effect building a thick, rich, and somewhat creamy half inch foam head. This clear beer features a deep, golden/dark amber color. The beer laces quite nicely.
Aroma
Very hoppy and citrusy aromas clear out the sinuses and fill the nostrils. Very bitter, North American hop aromas indicate this beer's confident level of bitterness. There are slso some fruity notes aromas mixed in as well.
Feel
This is a solid, somewhat choppy, light/medium bodied, beer which delivers a medium/high amount of carbonation action, and a dry finish. This beer is crisp, yet not without substance. Low viscosity.
Taste
With an IBU of 69, this is a pretty bitter beer loaded with five different varieties of double dried hops. This is a somewhat balanced beer, with a sublte maltiness before and during the mostly dry lingering aftertaste which helps to add some complexity to the brew. Some citrusy and fruity notes are present as well.
Our Take
If you're looking for an IPA which is definitely unique, yet still exploding with hoppy sensatinos, here is your final destination. This was a bitter yet well balanced beer with some malty subtleties and fruit/citrusy notes as well. Definitely not your average American IPA. A couple of things to note; this was a complex brew with pronounced flavors, yet it was missing a full substance like feel. Not exactly light, but the level of flavors delivered by this beer deserved a bit more. Another thing to note: this particular sample came from a keg. Baxter is known in part for being an environmentally responsible brewery and as such, they are noted for being the first craft brewery in North America to can (as opposed to bottle) their entire line up. Contrary to popular belief, beer sold in cans actually tastes close to fresh brewed than those served in bottles thanks to two main things: a modern lining made of polymers which ultimately renders fears about metallic taste infections irrelevant; and a more airtight, and sunlight proof material which keeps the contained beverage from being contaiminated by excess oxygen and UV rays. Like wine aficionados and screwcap wine bottles, the craft beer enthusiast may never fully embrace the can, but we can tell you, this is a beer which is served great from the keg. And that's made of metal, right? Heavy metal.