The 1977 Ford Tagus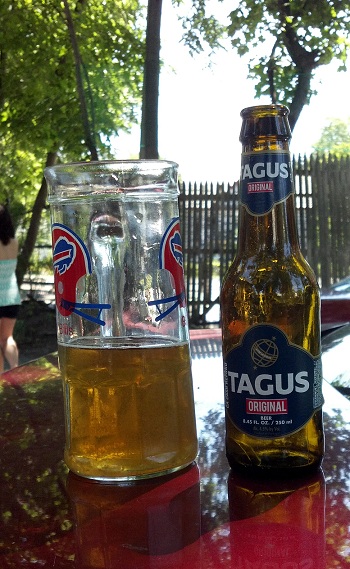 Brewery
and
Country
of Origin:
Cereuro Cervejeira Europeia (Tagus)
of
Estrada Portela 9, 2790 Carnaxide, Portugal
Date Reviewed: 7-31-12
In 1970, Ford Motor Company (F) unveiled their answer to growing demand for a smaller, somewhat fuel efficient subcompact car whose sales were driven by value. Unfortunately, it seems that Ford took the whole value thing a bit too far. Whether you loved it or hated, everyone knew about the Ford Pinto. And that is because in 1977, it was made publicly apparent that the company decided not to pursue a recall on the Pinto, the predecessor to the long lived Escort. As it turned out, the cars were at a high risk of exploding if they were rear ended at even modest speeds. It was revealed that a weak structure near the differential and the fuel tank in the rear of the car wasn't strong enough to keep the tank from being ruptured, creating sparks, and subsequently exploding. Ford conducted a cost-benefit analysis on an estimated sum of lawsuits (for accidents, injuries, and even deaths), against the $11 it would have taken to repair each Pinto. Regardless of the ethical implications, Ford ended up recalling the car, and as far as anyone is concerned today, they're still the world's fifth largest auto manufacturer. Tagus, while completely safe, sadly reminded us of Pinto like cost saving measures. Filtering beer is an optional step in the brewing process which cuts out the solid materials which give beer an added element of texture or substance. These solids are spent yeast, grains, and other brewing ingredients. Certain beers typically go unfiltered... but Tagus is a lighter, pale lager, and these beers should not be full of leftovers. Whether this was intentional or not, we can at least say their intent was to produce a good beer. By distributing this beer with stuff which gives you the sensation that you're drinking fermented spoiled chunky milk, they produced just the opposite.
Date Sampled: 7-21-12 At: 7 Prescott Place, Allston, Boston, 02134, MA, USA
Beer Style
:
Euro Pale Lager
Alcohol by Volume: 5.00%
Serving Type: 250 ml Bottle, 20 oz Mug Glass
Rating: 1.43
Look
This is a very pale golden colored brew, and the first thing you'll notice about it is that it is full of cloudy, jelly like sediment. It's definitely unnerving the first time you see it, but don't worry, it's perfectly safe. This beer pours very choppy with a somewhat thin foam head which maintains its form for a short while.
Aroma
A very grainy aroma leaves little to the imagination. Unfortunately, there's nothing special going on in the nostrils while consuming this beer. There is a slight malty presence here.
Feel
This is a very light bodied beer with a moderate level of carbonation. A large amount of sediment makes this a beer full of texture and grittiness. This brew has a moderate viscosity and a somewhat dull finish.
Taste
If you're looking for a very grainy beer from Portugal, your search ends here. Nothing special, nothing exciting, and most importantly, nothing rewarding. A very slight malty character and somewhat bitter finish give this grainy beer an otherwise lackluster flavor overall. The slightly lingering bitter aftertaste is dull without refreshing qualities.
Our Take
Unfortunately, we wouldn't recommend this beer to anyone who wants to keep their appetite for fermented beverages. This is a weak, flavorless, grainy smelling excuse for a beer which seems to have crapped itself in its own bottle. The excessive sediment doesn't add any special element to this beer or its overall experience. The flavor is comparable to bleached paper, and in all honesty, we're sorry that it cost us money. It's one thing to have a lingering finish in a beer whose style may not necessarily merit something that isn't crisp or refreshing. It's another for a beer to leave behind chunks of itself for your whole mouth to enjoy... and if you actually do enjoy it, perhaps reconsider what the meaning of good is. In a way, Tagus beer is very much like a Ford Pinto: cheap, chunky, ugly to look at, beige, sold in small packages (8.45 oz bottles), and dull. On the other side, it's not at all: Tagus is perfectly safe to drink, yet it sells in very poor numbers; the Pinto however, killed people and yet sold over 2 million units before it was replaced by the Escort. And we all know, a car is much more difficult to deal with if its purchase was the result of a poor decision, than a beer.