Off The Grid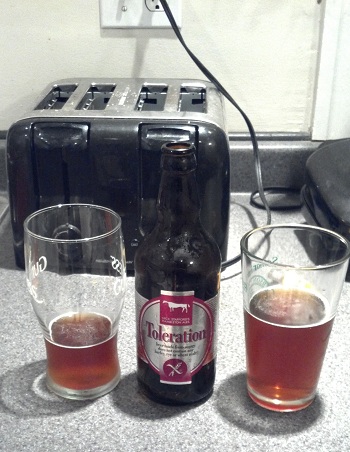 Brewery
and
Country
of Origin:
Hambleton Ales
of
Melmerby Green Road, Barker Business Park, Melmerby, HG4 5NB, Cumbria, England, UK
Date Reviewed: 9-30-12
By now, the concept of a beer made from
gluten free
ingredients should be at least
somewhat familiar to you
, but if it isn't, then let's rewind a bit. The market for food and drink products with no gluten in them has increased in size dramatically in the past decade. For reasons we can't really make out, more and more people are being diagnosed as being sensitive to gluten protein found in many grains. Sadly, the prevalence of conditions like Coeliac has steadily increased and on top of that, beer crafters have to find ways to capitalize on a growing population of self appointed vegan, organic, free range, grass fed, hippies who decide to rid their diets of grains containing any gluten (apparently it's a healthier way of living, they say). Either way, as more and more people's eating and drinking requirements cut out beer brewed with barley and wheat, an increasing number of breweries have been cutting gluten out of their routine as well.
Hambleton Ales
out of
England
has caught the "cut anything exciting or tasty out of your diet" bug (though they still brew real and cask
ales
. Their gluten free ale has become the best selling British gluten free beer, and they also brew a gluten free
lager
as well.
Date Sampled: 9-08-12 At: 7 Prescott Place, Allston, Boston, MA, 02134, USA
Beer Style
:
English Pale Ale
Alcohol by Volume: 4.40%
Serving Type: 500 ml Bottle, 16 oz Tumbler Glass
Rating: 2.18
Look
This beer pours somewhat smooth with a slightly hazy appearance, giving it a copper color glow in the light. The beer has a low level of carbonation action which gives it a very thin and weak foam head, no lacing, and a weak aroma.
Aroma
Because of the little amount of carbonation, the aroma is very weak, containing mostly pale and caramel malt and absolutely no hoppy character. A slightly sweeter aroma gives you the hint of this beer's overall flavor.
Feel
This is a lighter bodied beer with a medium low viscosity, a crisp finish, and a below average level of carbonation. This beer has a lighter weight and closes somewhat dry.
Taste
This is a mostly bitter beer with a dry character through most of the beer toward the finish. Hops are definitely present, as is a noticeable level of caramel malt flavor and a slight associated sweetness. The flavors are not very prominent.
Our Take
Interestingly enough, this is a beer which tries to tackle the challenge of crafting a malty tasting beverage without the use of real malt. To an extent, we can say they have succeeded with this attempt. Toleration has a good deal of malty properties, including a secondary caramel malt flavor balancing an almost overwhelming hoppy taste, and a slightly roasted malty aroma to enhance the experience. Unfortunately, Hambleton has not yet been able to create this ale with any bold or pronounced flavors or aromas, leaving quite a bit up to the condition of your mind. What's worse, this beer doesn't feel like a beer. This is a beer whose body and substance could possibly be surpassed by many mass produced pale lagers which sell for quite a bit less. Of course, we know great brewing with adjuncts can be quite difficult if you're relatively new to the game (and let's be real, everyone is at this point), but we also understand that those who can't have gluten, especially those who are forced to (not by choice), deserve a beer which not only satisfies their need for a gluten free beer, it satisfies everyone else's wish for a respectable beer, regardless of what its made of.