Off The Beaten Interstate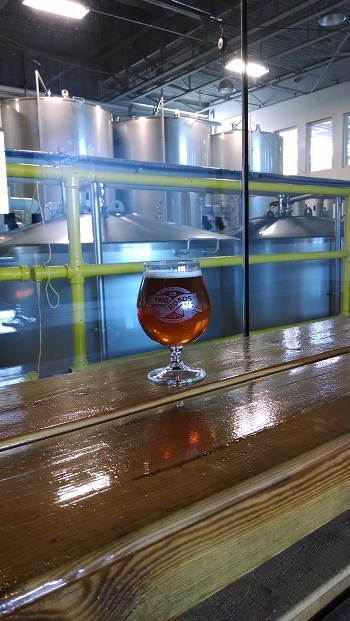 Brewery
and
Country
of Origin:
Two Roads Brewing Company
of
1700 Stratford Avenue, Stratford, Connecticut 06615, USA
Date Reviewed: 6-12-14
According to this beer's crafter's website, the name
Two Roads
doesn't refer to two specific roads near Stratford. Instead, this is a more general reference that pertains to the introspective assessment in how we all choose to live our lives. The brewers of this beer will have you know that in life, there are two ways to do things. Make generic beer, or beer people will one day write reviews about. Or you could look at it like two roads. One is as the crowd drives; I-95, which is one of
the nation's
busiest and oldest interstate highways. Commonly known for hour long traffic jams, endless construction projects, speed traps, lost out-of-towners, and shameless billboard based consumerism, I-95 (especially the length between Boston and New York City) isn't on anyone's list of favorite roads, but a parallel route which also runs through Stratford, CT-15 may just be. The other road, is a fun, winding speed loving parkway with no trucks, no state troopers, and gorgeous scenery. In this part of Connecticut, CT-15 is more commonly known as the Merritt Parkway. Named after a former US Congressman from Stamford, the Merritt Parkway opened to traffic in 1938 as part of the progressive City Beautiful Movement of the 19th to early 20th centuries, and covers a length of 37.27 miles through southwestern Connecticut, ending in Stratford. The road is known for its art deco, art moderne, and gothic style overpasses, its unique signage fonts and styles, and its general appeal to people who realize that the speed limit is a mere suggestion, not a law of physics or reason. As with all parkways, there are no trucks, heavy, or tall vehicles allowed, and for almost all of its length, the parkway has no hard shoulder for state police to set up speed traps or pull speed limit offenders over. This has generated a unique reputation for the road which, also especially when considering its rolling hills and sharper than normal highway curves, makes it a favorite among those looking to save travel time between New York and central Connecticut. The road, which is sometimes referred to as the "Gateway to New England," is designated as a National Scenic Byway and was added to the US National Register of Historic Places on April 17, 1991 primarily due to its scenery and architecturally unique bridges. The road is also known for safety issues concerning the trees lining the road as well as the large deciduous trees in the median itself. Occasionally, but especially during storms, trees and large limbs have been known to fall into the roadway and onto cars, causing accidents and sometimes even killing motorists. This has partly lead to the rehabilitation of the roadway, which in May of 2010, was named one of America's 11 Most Endangered Historic Places. Since then, the 66 unique bridges have been or are in the process of being repaired and reinforced where necessary, while many of the faded and damaged unique signage has been replaced while staying true to its unique style. The roadway has never had any advertising billboards along its route, and there are currently no plans to change that.
Date Sampled: 4-05-14 At: Two Roads Brewing Company, 1700 Stratford Avenue, Stratford, Connecticut 06615, USA
Beer Style
:
American Double/Imperial IPA
Alcohol by Volume: 7.60%
Serving Type: Brewery Keg, 16 oz Snifter Glass
Rating: 3.79
Look
Road 2 Ruin is a moderately choppy pouring beer with a good amount of carbonation action, producing a medium density, half inch tall foam head with a white color and an average retention level. This beer has a nice amber color with a clear appearance, a bright, glimmering shine, and no visible sediment or settling. This beer also has a small amount of effervescent effect. There is a medium bright glow in light, and this ale shows off an average amount of lacing.
Aroma
As with every strong IPA, this beer has a bold hop influence characterized by a strong citrusy fruity presence mixed in with a nostril clearing soapy, pine heavy bitterness. This is complemented with a respectable amount of medium slightly roasted malt with a somewhat sweet secondary, and a subtle nutty undertone. This beer's aroma contains some toffee notes and no alcoholic tinge despite an elevated ABV.
Feel
This is a medium bodied beer with a good amount of carbonation, a crisp presence, and a clean, refreshing feel throughout. This beer is very dry with a mouth clearing closing which lingers for a good amount of time. There is no texture other than the carbonation, making this beer fairly smooth overall with a slightly airy, lighter than reality finish. This beer has an average viscosity and a below average weight. There is also a small amount of alcohol induced warming at the close.
Taste
As expectedly hoppy as this beer is, this imperial IPA is very well balanced with a good deal of somewhat sweet caramel and toffee like malty notes. This beer has a strong, nearly overpowering bitterness throughout that is full of northwestern variety style piney notes and some soapy floral character. There is a subtle earthy undertone in the flavor profile. This beer finishes with a lingering bitter aftertaste and no alcohol bite. There is a dry, soapy like finish.
Our Take
Though this is categorized as a high strength imperial IPA, this beer is anything but, aside from a typical overwhelmingly hoppy presence. This beer isn't particularly strong (at 7.60%, not too high, and not too meager), nor does its flavor indicate a high alcoholic strength. This beer is still well balanced, albeit with an obvious hop preference. There are some clear and present sweeter malty notes that help bring some flavor based sanity to the mix, and this beer has a similar aromatic experience. Don't get us wrong, this is still very much a rather bitter IPA which will satisfy the needs of the hop freak, but don't expect it to beat your 90 minute dry hopped 11.00% monsters. This is different in that it's in the middle. No man's land. The area between the normal 5.50% ABV, 50 IBU mainstays with the 10.00%+ eyewateringly bitter powerhouses which only those with a serious flavor preference skew or plain liars looking to convince people they are seasoned beer fans would go for. This is a solid performance from a solid brewery which shall pair nicely with strong, sharp cheeses, salty foods, and very sweet desserts which compensate for this beer's big hoppy flavor.