Unidentified Flying... October?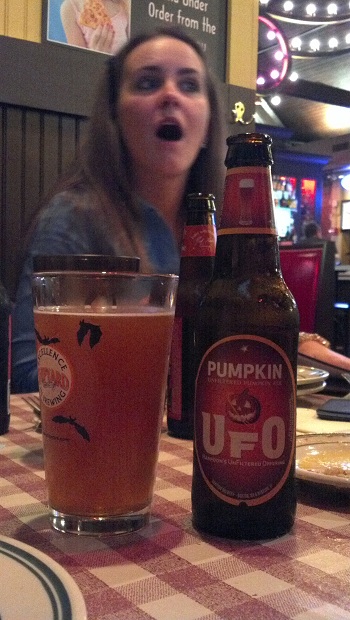 Brewery
and
Country
of Origin:
Harpoon Brewery
of
306 Northern Ave # 2, Boston, MA, 02210, USA
Date Reviewed: 10-09-12
For those of you who don't live in the
Boston, MA
area, there is a very little known local brewery known as
Harpoon
which offers a wide range of higher end beers for discerning brew enthusiasts. OK, maybe it's very well known. Either way, we've loved their beer, and on many occasions, we've given them
rave reviews
as well. But there was always one aspect of the brewery that we could never get too perky about. That bit is known as the UFO series, or UnFiltered Offerings. These are otherwise normal beers that have gone through a... let's just say, less vigorous series of filtration compared to most beers, giving them a trademark hazy and cloudy appearance which glows when held up to a light. Until recently, the four beers that were included in this series were a
witbier
, a
hefe
, a raspberry wheat, and a
pale ale
, with the raspberry being the latest addition first brewed in 2006. Five years later, Harpoon decided to jump on the Pumpkin Ale bandwagon by brewing an Unfiltered seasonal beer made available between August and November. This is a beer which celebrates the brewery's love for... yes, pumpkin pie. There are certain, quintessentially New England things that are commonly associated with the autumn season, and one of those things, is Pumpkin Pie. As Harpoon puts it, this is the result of a rogue pumpkin vine which decided to live the life of barley, only to get scooped up in the mix by a brewer, resulting in a fermented beverage which can only be described as alcoholic, liquid fall.
Date Sampled: 9-13-12 (8-26-11 original) At: Pizzeria Regina, 353 Cambridge Street, Allston, Boston, 02134, USA
Beer Style
:
Unfiltered Pumpkin Ale
Alcohol by Volume: 5.90%
Serving Type: 12 oz Bottle, 16 oz Tumbler Glass
Rating: 3.25
Look
The UFO Pumpkin, like every other UFO offering from Harpoon, has a slightly cloudy appearance with a lighter brownish, almost orange glow. This beer pours mostly smoothly with a lower level of carbonation action, producing a thin, yet dense foam head and some lacing. Though this is unfiltered, there appears to be no chunky sediment.
Aroma
This beer has a very spicy aroma full of pumpkin and festive fall thought arousing character. This beer's overall smell reminds you of pumpkin pie on Thanksgiving. Some lighter and low end roasted malt notes are present in the aroma, with a very small (trace) amount of hoppy edge mixed in as well.
Feel
This is a medium light bodied brew with a below average level of carbonation, a lower viscosity, and an overall smooth, yet slightly crisp feeling. There is no added texture from the unfiltered elements as the haze is caused by very fine bits of unfiltered material. This beer concludes with a dry, crisp, and slightly refreshing finish with a short lingering.
Taste
As you would imagine, this beer is full of spice and pumpkin, reminiscent of pumpkin pie or pumkin bread. Sweet with a slight caramel and pale malt mix and complex overall. This beer begins sweet, spicy, and pumpkin like, shifts more toward strictly pumpkin and some nutmeg/cinnamon, then concludes with a short lived hoppy aftertaste.
Our Take
Although this is not quite the best pumpkin themed beer we've ever had, this does make a good case for why we need to be more open about Harpoon's UFO series. Rather embarrassingly, we wrongfully assumed that all UFO's would taste similarly to most wheat beers, but unlike a traditional Weissbier, this pumpkin ale is exactly what you'd expect it to be. A pumpkin ale, and nothing more but a bit of unrefined materials left in. At 3.25, this is definitely a beer worth trying, and just in time for the colder fall months, too. The cliche thing would be to go for the
Shipyard Pumpkinhead
with the cinnamon sugar lace ring at the top of the glass, but we think this is a viable alternative. For those seeking a fairly new experience in the fall beer drinking category, UFO delivers a typical pumpkin character with a bit of alternative jazz in the unfiltered mix, all of which satisfies better than most. So no, this isn't a beer which we'd ever top a ratings list with, but as far as swaying our minds about the UFO series, it's certainly a game changer.