Until The Beers of Summer Have Gone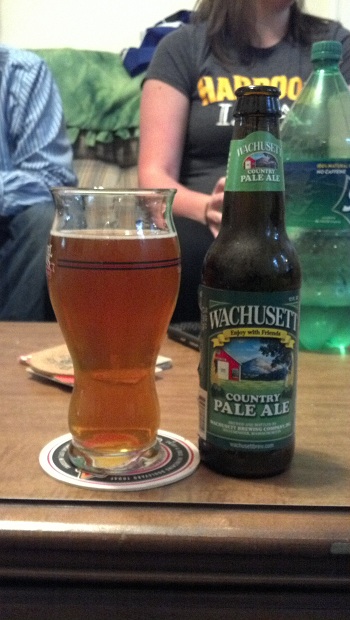 Brewery
and
Country
of Origin:
Wachusett Brewing Company
of
175 State Road East, Westminster, MA 01473, USA
Date Reviewed: 9-08-12
It is that time of year again. The stores are beginning to empty their shelves of all of the hoppy, wheat like, crisp seasonal summer beers and replacing them with hearty, malty, and sweeter fall and harvest beers. But fear not, beach lovers, because there are still plenty of hot weather beers that you can get before they run out. Fortunately, the hot weather usually doesn't end up here in the
North East
until late September, so you all still have a few weeks. Besides, the actual end of summer this year isn't until September 22nd (at approximately 10:49 AM, EDT). Yeah, we didn't know that seasons started at actual times either. Regardless, sometimes the beer industry falls victim to the same marketing curse as any other big seasonal holiday or event. Yes, you know Christmas is on its way once the festivities of Halloween are over. And New Year's Eve? Forgetaboutit! Once that ball drops in Times Square, Target stores are littered with pink and red hearts, just in time for a couple months' notice before St. Valentine isn't remembered for anything. And even though stores have already begin the sales of Pumpkin beers, that doesn't mean that you should give up on summer.
Date Sampled: 9-02-12 At: 7 Prescott Place, Allston, Boston, MA, 02134, USA
Beer Style
:
American Pale Ale
Alcohol by Volume: 5.00%
Serving Type: 12 oz Bottle, 14 oz Sam Adams Glass
Rating: 2.89
Look
The Country Pale Ale is a fairly smooth pouring beer with a very thin foam head as a result of only light carbonation action. This brew is amber in color, clear, and contains no sediment. There is some lacing that occurs.
Aroma
The aroma is dominated by a strong caramel malt and slightly nutty mixture, being very sweet overall. There is almost no hops presence in the aroma, and the aroma begins to fade as the beer is consumed.
Feel
This brew is light medium bodied with a low level of carbonation, and an average viscosity compared to most pales, making this a relatively easy drinking beer which doesn't fill you quickly. There is a slightly dry finish which caps off a generally smooth beer.
Taste
A bit unorthodox of the style, this beer is dominated by malty character, most notably caramel malt and overall sweetness. There is a slight transformation as the beer passes throught the mouth, finishing a bit drier than most with a short lived, well balanced bitter and somewhat malty aftertaste.
Our Take
Sure, there are going to be other hot weather beers out there that deliver a more traditional hoppy and bitter character, with a more crisp finish. But this isn't a beer that you should discount immediately. Perhaps we can look at this more malty beer as a way for summer drink lovers to ease into the more sweet, medium bodied, dark, and complex fall beers. Basically, a step between a very light, bitter, and refreshing pale, and a full blown Oktoberfest, bursting with caramel and dark malt. And though this may seem like a way to get away with giving up on summer, don't worry. This is still a good beer which can be enjoyed in even the most opressive heat, all while delivering a bit of quirkyness to your summer. The Country Pale Ale isn't going to be what you expect when you read the label. This is certainly a beer which you can love, but we predict more people are going to be turned off by what kind of experience it is being marketed as. Either way, we think you should give this a whirl, live summer to the fullest, and decide for yourself.