"Nothing is better for thee, than me."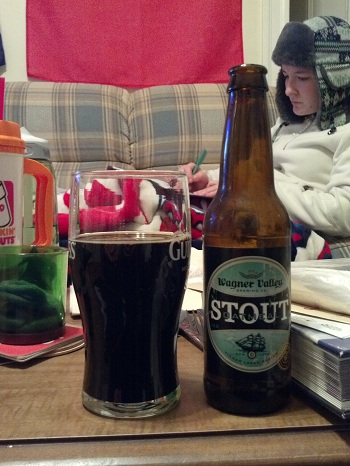 Brewery
and
Country
of Origin:
Wagner Valley Brewing Company
of
9322 New York 414, Lodi, NY, 14860, USA
Date Reviewed: 3-01-13
Chances are when you were a kid, hot oatmeal was a mainstay breakfast in your routine. In 2005, 24.6 million tons of oats were produced around the world, of which 5.1 million were produced in
Russia
, 3.3 million in
Canada
, 1.7 million in
The US
, and 1.3 million in
Poland
. And not only are these top four producers located in temperate climates, they all represent large markets for
stouts and porters
. And though we've
reviewed some of these
before, we figured that this would be a good time to actually introduce the
oatmeal stout
to you. The European practice of brewing beer with oats has existed for thousands of years. But with the exception of some areas in Northern Europe, including
Norway
, the inclusion of oats in brewing largely ended in the 16th century because people didn't like the bitter taste that brewing with oats produced. When oats are used for brewing, the resulting beer is usually very smooth, bitter, high in protein, and full bodied. Contrary to popular belief, there is no flavor or aroma which indicates the use of oatmeal. Sometimes solid chunks are left over as a result of unfiltered oat material left in the mixture. In order for a brew to be classified as an oatmeal stout, at least 30% of the fermentable grains must be oats. And though many oatmeals contain a much larger proportion of oats to malted grain, the main reason why oatmeal stouts don't taste like oatmeal is because of the rich, dark, bold malts that are typically used in stouts. These malts usually give off more powerful bitter dark chocolate or coffee (espresso) like flavors, accompanied by either sweet or bitter undertones. Oatmeal per se is usually too weak of a flavor to impact this outside of adding bitterness to the overall tone.
Date Sampled: 2-08-13 At: 7 Prescott Place, Allston, Boston, MA, 02134, USA
Beer Style
:
Oatmeal Stout
Alcohol by Volume: 5.50%
Serving Type: 12 oz Bottle, 20 oz Pint Glass
Rating: 2.47
Look
This beer has an opaque appearance produced by some floating, fine sediment, as well as a very dark brown color which does not even glow in bright light. This beer pours smoothly with a lighter amount of carbonation action, giving off a very thin foam head, a low retention, and a low density. There is no lacing on the glass.
Aroma
Wagner's Oatmeal Stout has a very strong malty roasted coffee and dark chocolate dominated smell. Some alcohol is present with a bit of nutty secondary. There are no hops or fruity notes to speak of. This beer has a smoky aroma mixed in with a somewhat metallic tinge.
Feel
This is a medium full bodied beer with a smooth texture overall, making it a sipping style beer with a medium high weight, a higher viscosity, and a dull, wet finish. There is some slight alcohol induced warming after the close. The fine sediment delivers no difference in texture. The level of carbonation is below average.
Taste
Overall, this is a very malty beer with bold roasted flavor mostly characterized with dark chocolate and coffee notes. There is some alcohol tinge, as well as a bit of nuttiness and biscuity secondary flavor. The malt is also complemented with some sweetness coming from lighter caramel malt. A smoky undertone gives this beer a fairly interesting aftertaste, which follows a dull, but bitter ending. Generally speaking, this is a somewhat sweet beer with only a small amount of hoppy flavor.
Our Take
While the ingredients and style of this beer had the making of a potentially great brew, sadly, this particular oatmeal stout didn't deliver. An overwhelming aroma was too distracting from the overall taste, as well as some unpleasant secondary odors of metal and alcohol. The dull feel overall was rather lacking, aside from a traditionally smooth texture, which is expected from oatmeal stouts. But this wasn't a terrible beer. There were some good flavors in the mix, including a nice dark chocolate presence. Alcohol did take away from the flavor, which was made a bit unique with a secondary note of smokiness. Overall, this added to the experience, but the finish was rather disappointing, as well as a slightly distasteful linger in the aftertaste. Still, this was good enough to be classified as a slightly quirky casual drinker. We're not exactly sure why this beer exhibits a smoky character, but we found it as a nice surprise. But if you're at all serious about your oatmeal stouts, look elsewhere.