Chip Off The Old V8 Block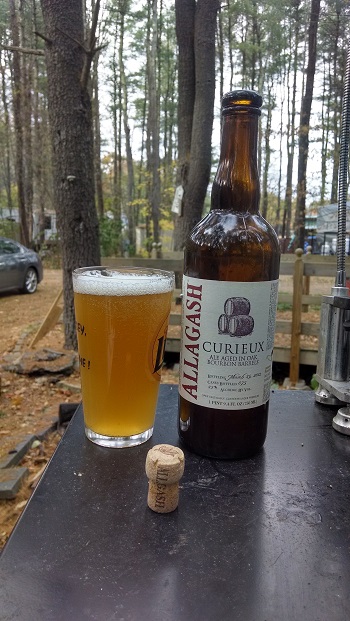 Brewery
and
Country
of Origin:
Allagash Brewing Company
of
50 Industrial Way, Portland, ME 04103, USA
Date Reviewed: 12-13-13
The Ford Mustang. It's a loud, high displacement, rear wheel driven symbol of
America
. It is arguably one of the most recognizable cars of the past 49 years having been featured in global motorsports, countless movies, intense racing and driving games, and poetic songs. The Mustang has also been hugely successful in winning over potential buyers and critics alike. It has won numerous awards, and over its mass produced career as a pony car, proud owners have spent their hard earned simoleons on more than eight million Mustangs. And to us, it's somewhat of a working class hero. For its entire life, the Mustang has offered motorists the opportunity to chase freedom without having to chase money. In 1964, you could bring home a future legend for only $2,320. The equivalent Corvette of the time was nearly twice that amount. Today, a brand new 5.0L, 420 HP V8 Mustang GT will run you $30,900 ($22,300 base), while a new base 430 hp Corvette will eat an additional $20K from your bank account. For a two door Mercedes with a 429 hp engine, you'd have to put out $116,600. The Mustang has also stubbornly held on to its 1960s roots, and it has proven to be a smart tactic on Ford Motor Company's (F) part. Large V8 at the front with a long hood, small compartment and unusable rear seats in the middle, and rear wheel drive and a fast back style in the back with very simple suspension throughout, all for less than a family midsize. Styling cues from the 1960s Mustang are still found in the current model, with some highlights including the side panel hockey stick paint stripe, the triple bar tail lights, and an aggressive, snout like front end. But with the recent release of the 50th anniversary Mustang, the 2015 model year generation, many are arguing that Ford has taken the whole modernization thing a bit too seriously, complaining that the new car looks a bit too "European". But like Windows 8 (MSFT), each new version of Facebook (FB), and iOS 7 (AAPL), people eventually get used to it, and it becomes standard.
And that's another reason why the Mustang has been so successful. While the basic formula hasn't changed in 49 years, its designers have managed to keep the car as relevant as it was during the era of the Apollo missions. Ever increasingly progressive appearance, more powerful (and now perhaps more importantly to some, more efficient) engines, better safety & convenience equipment, and as recently announced to the joy of snobby Europeans, independent rear suspension. The top end model of the newest generation will continue to employ the world's most powerful production V8, and Ford will offer a new mid-tier 2.3L Ecoboost 4 cylinder turbocharged engine which gets more than 32 mpg and more power and torque than the V6. The general sentiment is that any Mustang with a 4 cyl. engine isn't a Mustang. But now that Ford has managed to squeeze more power out of 4 cyl. than it could with the 4.6L V8 of the Crown Victoria, maybe it is time to introduce new ideas. But all of that aside, the 2015 Mustang will still be pretty simple in mechanics, good value for the power, made in
America
, and of course, fast in a straight line. The formula is still the same, but it's the fringe things, like a new infotainment system, new rear suspension, and euro style headlights that keep the car relevant.
So what does the Mustang have to do with a
Tripel
from
Allagash
? The Curieux, which we first tried at the Portland brewing facility, is
their actual Tripel
which is conditioned in genuine Jim Beam Kentucky Bourbon barrels for two months, and then blended with their unaged Tripel for a one of a kind experience augmente with a hint of Bourbon. Think of their tripel as the old 1965 Mustang which, when treated with a bit of time (through aging and conditioning), and then splashed with the old as it were (the original, unaged Tripel), you get the 2015 Ford... well, the Allagash Curieux. Curieux means curious in
French
, which is probably what you're feeling right now. Don't worry. If you don't understand this drawn out metaphor, understand this: Allagash's fairly recently added perennial is a bourbon infused juggernaut and like the Mustang, it blends old with new, and we expect it to be with us for a long time.
Date Sampled: 10-26-13 (5-12-12 original) At: Puffin's Wilderness Refuge, Stab City, Blackthorne Resort, 348 Sunside Road, East Durham, NY 12423, USA
Beer Style
:
Tripel
Alcohol by Volume: 11.00%
Serving Type: 750 mL Bottle, 16 oz Tumbler Glass
Rating: 4.13 (from brewery keg)
Look
Allagash's big bre pours somewhat smoothly with a moderate level of carbonation action, giving this beer a two thirds tall, white foam head with a medium high density, and a fairly good retention. This beer has a cloudy appearance with a good amount of hazy golden glow, and a highly visible effervescent effect. This glow is caused by the inclusion of some very fine sediment. This beer exhibits pretty full lacing, and has no sediment settling at the bottom.
Aroma
The aroma is full of fairly prominent clove and yeast like notes with a fairly fruity banana wheat and strong pale malty secondary. A strong aroma of bourbon is present and somewhat overwhelming. There are some slight, but apparent hoppy notes and a bit of resulting sour citrus effect. There is no alcoholic tinge despite an elevated ABV, and there are no nutty or biscuity notes. The aroma is pretty strong overall.
Feel
This is a medium full bodied brew with a very dry, average lingering finish. This beer has a moderate viscosity, and a smooth overall texture with a bit of crispness toward the end. There is a below average level of carbonation and an average weight to this beer. Despite a relatively high ABV, this beer does not offer any real alcohol warming or bite.
Taste
Strong hoppy and pale malt like notes dominate this beer's immediate flavor profile, which shifts toward a fruity and yeasty clove character, accompanied by a bit of spice, vanilla, and coriander. A good amount of bourbon like flavor is present in the taste. In the brewery tap sample, this was nearly overpowering. There are some grainy notes included with a good amount of trailing hoppiness and a fairly citrusy secondary. This beer has a dry and lingering finish with a good amount of alcohol bite in the taste.
Our Take
This Bronze medal winner at the 2007 Beer World Cup is a year round strong ale which Allagash say, should be served within a year of bottling at 45 degrees F. If you like your Kentucky Bourbon and you're looking for a step up from Lexington's
Kentucky Bourbon Barrel Ale
, we'd start with this. Rich with bold bourbon notes and a good deal of complex yeast with citrusy hoppy notes with a hint of spice and vanilla, this is a complicated beer which will keep your taste buds satisfied for many sips to come. Of course, we wouldn't suggest drinking this on a hot day, or in especially large quantities. We would also strongly recommend that you have this on tap, as it resulted in a much better experience than when it was served from a bottle. This is a hearty beer which we'd pair with some softer cheese, potent fruit, and a fairly heavy meet based meal. Some may find the trace of bourbon a bit overpowering in this beer, especially if they're not a fan of the stuff, so be wary if you haven't tried any bourbon cask aged beers before. Overall though, Allagash have made a pretty memorable experience with this tripel, and Americanized
Belgian ale
style beer fans should be pretty excited about this one.