War Of The Globes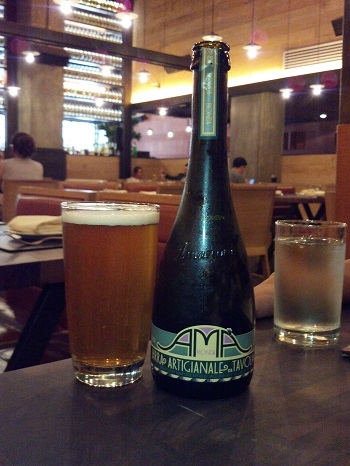 Brewery
and
Country
of Origin:
Amarcord Birra Artigianale Italiana
of
Via Flaminia, 171, Rimini, 47923, Italy
Date Reviewed: 10-11-13
There is a small private business college near Boston, Massachusetts called Babson College which is known for teaching the highest ranked entreprenuership cirriculum in the
United States
. And while the enrollment just barely exceeds 2,000 undergrads, the campus is home to not only an unusual, but also an impressive landmark. Perched on an angled pole near the Coleman Hall dormitory is the 25 ton, 28 foot diameter Babson Globe, originally built by the college's founder Roger Babson in 1955 at a cost of $200,000. It held the
world
record for being the largest globe until it was surpassed by Globe of Peace, located in the small
Italian
town of Apecchio, within the region of Marche. The globe was actually constructed deliberately larger than the Babson Globe by 1.5 meters to secure the record (with consultation from those who helped build the Babson Globe). And funny enough, the Globe of Peace also has a sister made by the same artist, only 5.0 mm in diameter. Though no longer the record holder (a title which now belongs to a globe in Yarmouth, Maine), the Globe of Peace is a big attraction in Apecchio, and perhaps a symbol more akin to a world wide beer summit of sorts. Well, it could be for one
Amarcord Birra Artigianale Italiana
, who have launched an effort to make Apecchio the "City of Beer" in the hopes of making the small town "the international capital of craft beer." Though not much detail about this is given on their Italian website, the brewery does in fact source much of its ingredients from the town whose population is similar to that of Babson College. And to succeed, the project aims to unite the world's best
breweries
. We're not exactly sure how they aim to accomplish this goal, but we do have to admire their global aspirations.
Date Sampled: 8-17-13 At: Asellina New York, Midtown, 420 Park Ave South, New York, NY 10016, USA
Beer Style
:
Italian Style Belgian Ale
Alcohol by Volume: 6.00%
Serving Type: 12 oz Bottle, 8 oz Stange Glass
Rating: 3.09
Look
Boinda pours slightly choppy with a medium high amount of carbonation action, producing a medium density foam head with a moderate retention, a white color, and a two thirds inch height. This beer has a bright golden colored shine with a good deal of effervescent effect. There is no visible sediment included in this beer, which demonstrates an above average amount of lacing.
Aroma
This beer has a moderately strong aroma full of fruity banana clove and somewhat sweet wheat derived notes. This creates an overall light and fruity aromatic character, which includes some light malt and very faint, but present and noticable delicate hops. This beer has a tart aroma and includes some grainy notes like a traditional lager. Yeast notes are present as well, and no alcohol tinge is detectable.
Feel
This is a light bodied brew with a good amount of crispness and a very refreshing finish good for summer and hot weather. There is a very dry finish, a light viscosity with a matching low weight, and an overall airy and cool feeling. This is a very easy to drink beer with no heavy substance. This beer's dry finish lingers for a good deal of time.
Taste
The AMA Boinda offers a generally well balanced flavor profile taking a lot of character from the inclusion of wheat. This comes in the form of stronger banana and clove notes, accompanied with some lager like grassy and grainy pale malt notes and some very light and slightly tart and citrusy hops. The hoppy finish is accentuated with a rather dry sensation and some solid malt grainy lingering.
Our Take
Though by no means a world... or
globe
beater, AMA Boinda's unique wheat and fruity character and its ability to connect the countries of
Belgium
make it a pretty good beer with some real novelty. Novelty that you probably can't find in too many places. This Belgium influenced ale contains the typical refreshing, lighter, crisp feel you get with a Belgian pale, and the delicate floral notes and the faint clove and sweet banana flavors you come to expect out of the style. And all of which make this beer a great summertime beer that goes well with lighter meals, including balsamic salads and grilled chicken. Personally, this beer didn't offer any exceptionally special flavor profile, nor did it conjure up memories of coastal Italy or the rolling hills of the Flemish countryside, but it provided the refreshment, the fruity aromatic experience, and the well balanced profile its stature indicates.