The Ale's Back, And It's Better Than Ever!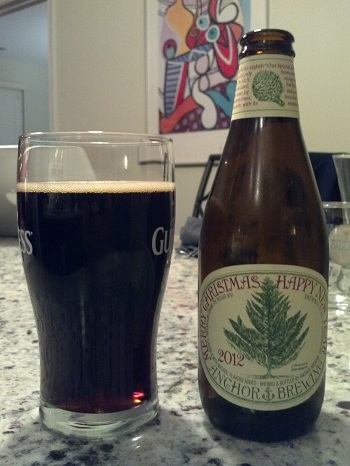 Brewery
and
Country
of Origin:
Anchor Brewing Company
of
1705 Mariposa St San Francisco, CA 94107, USA
Date Reviewed: 12-19-12
In 1975, San Francisco's
Anchor Brewing Company
came out with a
winter warmer
which, with their intent, creates "joy and celebration of the newness of life." Each year, between the months of November and January, Anchor brews a new version of this Christmas ale with a different recipe and a new label, which features a different tree every year. The tree used for the illustration is usually found in California or near the West Coast. California Junipers, California Nutmegs, Ponderosa Pine, and even a California Fan Palm (as well as a Coconut Palm) are some of the examples. This year, Anchor decided to use a foreign tree, a Norfolk Island Pine, native to a small island in the South Pacific near
Australia
and
New Zealand
. Because each beer is brewed differently by the year, it's important to grab one while you can, because it'll never be back. The bottles (usually empty) have become a somewhat collectors item for beer enthusiasts over the years. Conduct a quick survey of online listings for Anchor's Christmas Ale, and you'll be able to find full magnums of the stuff all the way back to at least 1997 (or at least we have). We probably wouldn't recommend you buy them though... much less actually consume them. In many ways then, you could compare this yearly tradition with another, more familiar Christmas ritual. Usually coinciding with the beginning of
the Holiday Shopping Season
, the Hess Corporation (HES) comes out with an annual gift known to you and us as The Hess Truck. Since 1964, Hess has come out with a new and different truck, adorned with the familiar Green Hess logo and livery. The trucks have become a big collectors item themselves and today, early models of the trucks can fetch more than $2,000 from collectors. And with the release of each truck, Hess distributes another ridiculously annoying commercial featuring "The Hess Truck's Back," a jingle which borrowed the melody from
The Angels
1963 song, "My Boyfriend's Back." You know the song, we don't have to sing it for you. Either way, much like Anchor's annual beer, the Hess truck has become somewhat of a symbol of the Christmas season. And while the Hess Truck delivers a ton of excitement and joy to the kids who receive them year by year (yes, we've had a couple back in the day), we can say that Anchor's now 42 year tradition has made quite a few beer lovers happy over the years. Their ale for 2012, as far as we're concerned, delivers much of the same.
Date Sampled: 12-08-12 At: Rhode Island Row Apartments, 2300 Washington Place Northeast, Washington, DC, 20018, USA
Beer Style
:
Winter Warmer
Alcohol by Volume: 5.50%
Serving Type: 12 oz Bottle, 16 oz Pint Glass
Rating: 4.02
Look
The Christmas ale pours smoothly with a low level of carbonation action. This gives the beer a half inch foam head with a moderate density, and a lower amount of retention. This beer has a rich dark red color with a mostly clear appearance which shines dull in the light. Only a small amount of lacing occurs.
Aroma
Despite the rather weak foam head, this beer has a very strong aroma filled with sweet darker malts. Anchor keeps the lists of their ingredients secret every year, but there are definite chocolate and licorice aromas detectable, as well as a fair bit of coffee roast. There are no hops or alcohol hints to speak of. The smell is overall sweet and almost overpowering in its strength.
Feel
This is a medium bodied brew with a moderate (slightly below average) level of carbonation, a medium viscosity, and a fair bit of weight. This all makes the Christmas ale fairly substantial to drink, despite a moderate alcoholic content. This is still an easy going beer, but don't expect for it to go down like a light beer. There is a slightly dry and unclean finish with an alcoholic presence and a slight warming effect at the close.
Taste
This beer is full of malty flavor, characterized with dark malts with a good amount of roasted character. Sweet overall with some slightly fruity and licorice notes, both of which are present all the way through the somewhat lingering aftertaste. This beer has a barely noticeable, but detectable amount of alcoholic flavor. There is almost no hops until a very small amount comes out at the end of the profile. Some spices and a hint of nutmeg are discernible.
Our Take
After having a bottle of this, we think we're right in saying that this is the best winter warmer/Christmas ale we've had. Ever. This is a very bold and malty beer bursting with holiday inspired, spicy and sweet flavor, accompanied with an appropriate but subtle, alcohol induced warming. This is not a light beer, which will help deal with colder nights, as well as go well with larger, meatier dishes typically served during this time of year. Though this isn't a typically balanced beer, we think the flavor and the nearly overwhelming aroma suit this beer style and the intent of this beer nearly perfectly. In fact, the only real regret we have is getting the 12 oz versus the magnum... of course, our bank accounts were happy about that decision. Either way, no matter what size bottle you get, you are going to enjoy this beer (unless you're looking for something a bit hoppy, in which case, don't drink this). Of course, the presence of alcohol may be a bit misleading for some expecting a higher content than <6%. Maybe have some eggnog after. Or better yet, finish an eggnog the right way by getting rid of the disgusting taste of eggnog by way of washing down the flavor with the real, robust, and rewarding flavor of this Christmas Ale (obviously, we don't like eggnog). Anyway, much like the holiday season and
America's
beloved Hess Truck, this beer isn't going to be around forever. So do yourself a favor and grab one before the grass is green again.