Golden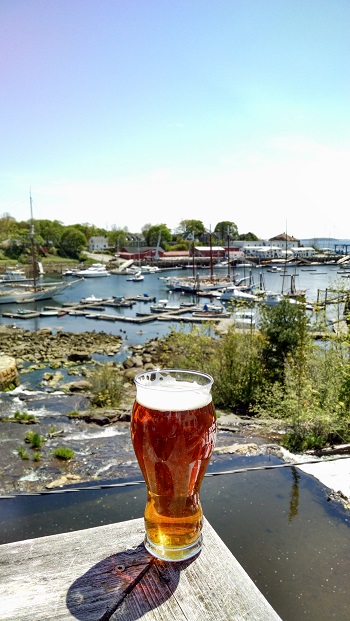 Brewery
and
Country
of Origin:
Andrew's Brewing Company
of
353 High Street, Lincolnville, ME, 04849 USA
Date Reviewed: 7-20-15
When people think of the quintessentially "
American
" dog, they generally think of either the Labrador or the Golden Retriever. The two breeds have been the first and third most popular in the US for the past few years, flanking the
German
Shepherd at spot #2. For us, we are big fans of all big dogs, and really, if you are looking for a new pet, you can't go wrong with a Lab or a Golden. German Shepherds are awesome, but they are not for everyone as they can be extremely active dogs as well as fiercely loyal and somewhat aggressive pets (especially when encountering strangers). The guys at
Andrew's Brewing Company
, as indicated by their logo and their beer labels, have both a cat and a Golden Retriever. Goldens make great family pets and their above average intelligence makes them suitable candidates for various working roles, such as therapy dogs, hunting dogs, guide dogs, search and rescue dogs, and of course, brewer's assistants. they are very easily trained and are also naturally great swimmers, especially when being employed to retrieve game in water. Goldens are also widely featured in movies, TV, commercials, and other media as their ability to learn tricks quickly makes them great actors. Funny enough, Andrew's makes a golden colored beer which is a versatile beer much in the same way that the Golden Retriever is a versatile companion. This
pale ale
is easily likable and will appeal to a large beer drinking crowd. It may not be the most exotic or exclusive
style
there is, and indeed there are even better examples out there, but truth be told, while you may not find many who actually love this beer, you'd be hard pressed to find anyone who definitely hates it... not that anyone with a soul would ever hate a dog.
Date Sampled: 5-24-15 At: Back Roof Deck, Camden Deli, 37 Main St, Camden, ME 04843 USA
Beer Style
:
American Pale Ale
Alcohol by Volume: 6.00%
Serving Type: Keg, 14 oz Glass
Rating: 3.10
Look
This pale ale pours moderately smoothly with a medium amount of carbonation action, producing a two thirds inch tall foam head with a moderate retention rate, an above average density, and a mostly white color. This beer has a rich amber/deep golden bright shine in light with a clear and filtered appearance. There is no visible sediment and a moderate amount of lacing on the glass. This beer shows off an average amount of effervescent effect and no settling.
Aroma
Andrew's English has a mostly malt oriented aroma with a moderate amount of sweeter toffee caramel like notes immediately present as well as a hint of grain/grassy notes and a slightly biscuity undertone. This is somewhat balanced by a small but present amount of dull hops noticeable. This beer's aroma contains no alcohol or fruity notes, and because it is low in terms of strength, it does little to enhance the overall flavor of this beer.
Feel
This is a medium bodied brwe with a lower than average weight, a medium low viscosity, an above average amount of carbonation, and a fairly smooth feel overall with no added texture. This beer has a crisp, dry, and lingering finish with no alcohol bite at the close. This beer offers a good amount of refreshment and its generally lighter presence makes it a good beer for the summertime.
Taste
In general, this is a well balanced beer which has a flavor profile beginning with a normal amount of roasted pale caramel like malt which is overtaken by a bitter hoppy secondary toward the finish. This beer also has a slightly present cookie like undertone and a bitter lingering aftertaste toward the dry finish. This beer also contains a small, non-factor amount of alcohol taste at the close. None of the flavors are strong or overpowering, and overall, this is a casual go-to beer.
Our Take
As it is, this is a good beer that should satisfy most people to a decent degree. This beer has a versatile flavor profile which doesn't sway too far in either direction, and it's rather understatedness should attract many looking for a beer to simply "drink." That said, this beer will not serve well to those who are pining for either a really hoppy, malty, or in general, a very flavorful beer. Perhaps this beer's biggest flaw is that it has a rather nondescript aroma whose lack of presence is almost too noticeable for proper enjoyment. Otherwise, the rather middleground nature of this beer makes it somewhat impossible to score very low or very high, hence the ever so slightly above average score. This is a recommended beer for anyone who really doesn't want to think too hard about their beach beer choice, but still wants to enjoy it completely. This is a mellow casual summertime, easy going and very forgiving beer which is easy to drink in any quantity. Because this beer is well balanced, it pairs well with a large range of things, but we'd stick to pizza, burgers, fried foods, chicken, sweet salads and Thin Mints Girl Scout Cookies.