Green Eggs and Beer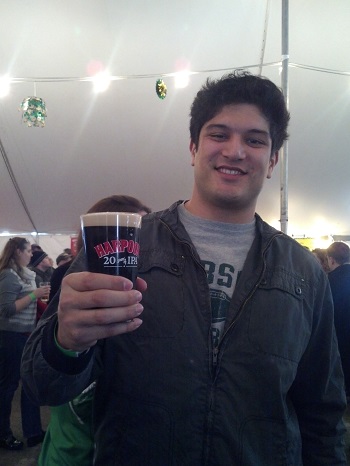 Brewery
and
Country
of Origin:
Harpoon Brewery
of
306 Northern Avenue, Seaport District, Boston, MA 02210, USA
Date Reviewed: 3-14-13
It has been exactly one year to the day since we reviewed
Harpoon's
2012 St. Patrick's Day headliner. Last year we went to
Harpoon Brewery's
annual
St. Paddy's Day
festival, which usually happens a couple of weeks before the actual holiday. In 2012, they were showcasing their
Irish Style Red Ale
known as
Celtic Ale
. We liked it quite a bit, but we were hoping for a
stout
of some sort. Well it appears that they have read our minds because this year's festival also served as the official unveiling of their newest festive beer, the Boston Irish Stout. Perhaps capitalizing on the somewhat seasonal novelty of the worldly popular
Guinness
at this time of year, Harpoon finally decided to bring a little stout of their own to the table. As one of the most popular beverages in
Ireland
, beer is an obvious choice for those looking to bring a bit of "authenticity" to their celebrations except for those who think drinks like Malibu, honey whiskey, light beer, and tooters belong on
planet Earth
. And with every mainstream tradition, there are always good ways to go about your business, and there are certainly not so good ways. Light pale lagers like
Bud Light
are not what you should salute with this weekend, even if they're colored green. Of course, when there are no other options, we do like the festive touch... and we should probably be spending St. Paddy's Day somewhere else. A
Stout
is a good way to celebrate, especially when it's an Irish style Dry stout, like Guinness. Of course, this usually means you can't really do keg stands or funnels as easily, but there's more honor in it (if you're 18, but your ID says 26). To be honest though, these are beers you wouldn't want to waste on any crap like that, because Harpoon has made a pretty good celebratory seasonal here. Sadly, adding green food coloring to this or any other dark beer isn't going to have the same effect as it does to watery "alcoholic" beverages, but a stout's trademark creamy tall foam topper will be more fun to look at, especially if you begin the festivities at 10:00 am. The Southie St. Patrick's Day Parade in Boston, MA is scheduled to start at 1:00 pm, so that gives the average person plenty of time to get propped up with fermented malts and green food coloring.
Date Sampled: 3-02-13 At: Harpoon St. Paddy's Day Festival, Harpoon Brewery, 306 Northern Avenue, Seaport District, Boston, MA 02210, USA
Beer Style
:
Dry Stout
Alcohol by Volume: 5.30%
Serving Type: Brewery Nitro Keg, 16 oz Plastic Tumbler Glass
Rating: 3.29
Look
Harpoon's newest addition to its lineup is nearly opaque with a very dark brown color and no sediment. There is a very dark reddish brown glow in the light. This beer pours smoothly with a modest level of carbonation action, producing an inch tall foam head with a high density, a creamy texture, and strong retention. This beer shows full lacing on the glass.
Aroma
This beer's moderately low strength aroma features a roasted dark chocolate sweeter overtone with a somewhat balancing, slightly bitter dark roasted coffee undertone. A sweet toffee like note brings an added level of sweetness to the aroma, and some nutty and biscuity tones bring complexity. There is no real amount of hops in the aroma, and no alcohol is present here.
Feel
This is a medium full bodied beer with a full viscosity, a full weight, and a very smooth, almost creamy like texture with a low amount of carbonation, all of which make this a pretty heavy, filling beer. This beer finishes with a slightly dry and lingering finish. There is no alcohol induced warming.
Taste
The Boston Irish Stout has a full strength roasted coffee and dark chocolate bitter flavor with some slight nuttiness and a good, somewhat sweeter and balancing biscuity medium malty aspect. There is a good amount of toasted malt, bringing out some sweet toffee and nutty notes. There are no real hops in the flavor, and the trailing bitterness is derived from the dark coffee malt at the close. This beer has a lingering bitter aftertaste. There is no alcohol or fruity notes in the taste.
Our Take
Before you go on about how we don't know anything about the holiday, its purpose, background, or religious significance, please read last year's review on
Harpoon's
Celtic Ale
. This year's obviously quite different in its offering. Yes, this beer is quite appropriate for the season, but sadly a few things were off. This beer's relatively average aroma didn't have the muscle to augment a potentially overpowering flavor experience. This beer's full, creamy presence would be better if this beer had the strength to back its stature. But at a rather meager 5.30% ABV, this beer's feel is all shirt and no trousers. Still, that doesn't mean that this isn't a good beer. Far from it. This beer's flavor is quite spot on with a dark roasted malt induced bittersweetness, accompanied with a signature dry finish and a bitter aftertaste. And it looks exactly the way it should... unless it's green for some reason. And if you're in the area, you should definitely give it a whirl. Don't like stouts? Well too bad. Give it a try, and then move back to your green beer keg stands if you want. That's a part of the holiday. Much like how we all have to put up with
Corona
on Cinco De Mayo, except that Irish beer is usually much more rewarding. So go out there, try some new things this weekend. Flash a balcony for shiny green beads. Maybe you'll find that stouts aren't so bad. Drink a few if you have to. Maybe you'll also find that public nudity isn't the best thing to take part in. But just know, we don't and never will condone any drinking habits that we find abusive, dangerous, harmful, or risky. We will, however, certainly tell you all to take part in your local festivities this coming Sunday. Should be a fun time. And if you're not planning on drinking, perhaps you're on the wrong website. Beannachtaí na Féile Pádraig oraibh!