Aspirations As Tall As Mountains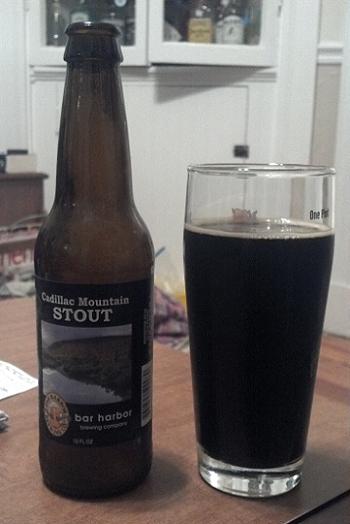 Brewery
and
Country
of Origin:
Bar Harbor Brewing Company
of
8 Mount Desert St, Bar Harbor, ME 04609, USA
Date Reviewed: 6-18-12
Next to the quaint resort town of Bar Harbor, ME, is the
French
discovered and named Acadia National Park, and in it lies Cadillac Mountain, named for a 17th century French explorer. The mountain is a popular natural attraction for residents and tourists alike, and is known for being the tallest point on the North American East Coast between
Northern Canada
, and the
Yucatan Peninsula
. The mountain has a prominence of 1,528 feet, making it a sizable peak by most standards. And in many ways, Bar Harbor Brewing has made a notable beer like the mountain. Sure, the Cadillac Mountain isn't the highest peak in New England... it isn't even close to being the highest in Maine, but its prominence, popularity, and location make it a notable geographic feature. Acadia is the one of the oldest and smallest National Parks in the US. Bar Harbor's Cadillac Mountain Stout isn't a big
Russian Imperial or Double
, but it does pack really bold flavors, a strong presence, and a full body. Like the mountain, this isn't something that can be overlooked. And although Bar Harbor Brewing, like Acadia, is very small and receives relatively very little attention, its offerings still shine and manage to find a way to rise above the rest.
Date Sampled: 4-20-12/6-15-12 At: 7 Prescott Place, Allston, Boston, MA, 02134, USA
Beer Style
:
American Dry Stout
Alcohol by Volume: 6.70%
Serving Type: 16 oz Stange Glass
Rating: 4.14
This beer can be enjoyed by itself, with dessert, or a hearty meal. This is a very good one, so indulge whenever possible.
Look
This stout, being a traditional dry, is very dark, with a deep reddish tone and a near opaque level of shine. Clear and filtered, this beer features a full, thick foam head when poured properly, and pours smoothly. Some minor lacing occurs.
Aroma
Cocoa and prominent Coffee aromas fill the nostrils as this beer is fairly potent. Slight dark malty notes and even a little hoppiness are noticeable as well, albeit only just.
Feel
Cadillac Mountain is a full bodied, yet easily drinkable, and very smooth beer. Moderate levels of carbonation and a subtle warming effect give this a pleasant, easy going character which best comes out during cold weather. And although this beer is also solid with a medium/high viscosity, it finishes relatively clean.
Taste
Coffee and dark chocolate notes are very present in the flavors immediately. Some red malts and slightly bitter hoppy notes come out towards the finish, and the lingering aftertaste brings out the modest hop level at the end.
Our Take
Though this isn't a big, scary beer like we said earlier, we (and hopefully most other stout lovers out there) can't deny that this is a noble effort from Bar Harbor. Awesome flavors, bold aromas, and a great overall feel highlight the strong points for this beer. Not too sweet, but definitely very malty and full of darker end character. As prestigious and upscale as the town of Bar Harbor is, the brewery hasn't forgotten about the important, simple things about beer. Nothing terribly special or unorthodox went into making their Cadillac Stout, and brewing practices at their facility are to world standard. And though this beer has won international awards and receives high acclaim from beer critics everywhere, it is rather understated. Very good- excellent indeed, but nothing boastful or grand being broadcasted by itself or its crafter. And that's something we like about this beer. Big stouts are known for big egos, but smaller stouts are known for even bigger self-images. Cadillac Mountain, like the eponymous peak, is nothing short of glorious, but don't expect the Maine Tourist Board hyping up the hike to the summit, and don't expect Bar Harbor to try to convince you that this is a great beer. Let the product do the talking. These guys set their goals high, and let us tell you... the view is great from the top.