Hybrids To The Rescue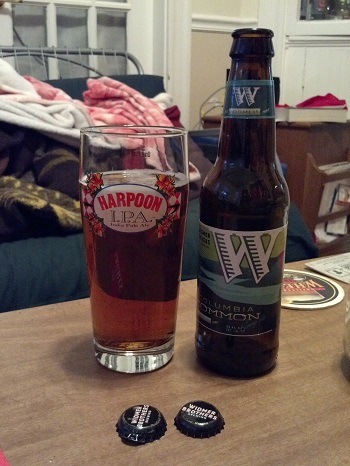 Brewery
and
Country
of Origin:
Widmer Brothers Brewing Company
of
929 North Russell Street, Portland, Oregon 97227, USA
Date Reviewed: 5-10-13
In an effort to bring beer drinkers variety, many
breweries
in
hops
producing
countries
go through the scientific process of developing new hop flowers and varieties to bring out new aromatic and flavor aspects of beers. Most breweries are content with the 80 or so varieties that are already in widespread commercial use. And others, like
Widmer Brothers
, do what they can to keep waning breeds from dying off completely. This is the Columbia Common, a spring seasonal beer known for its use of Columbia hops. Brought back from the bring of "extinction", the columbia hop variety is considered to be a cousin of the reginoal Willamette (Oregon) hop, a popular
American
family which is used in both US and
British
beers. The Willamette is in turn, a 1976 derivative of the English "Fuggles" hop, which many
IPA
s and other bitter ales are brewed with. As far as the Columbia ale is concerned, not much is known about this rare variety, other than its origin as a Willamette offshoot. Either way, this particular beer, which is brand new for spring 2013, is perhaps the best known example of the Columbia Hop in use today (and the only one we're aware of for sure). Either way, as you know, choosing the right hops for your beer is one of the most important decisions, especially if it's aimed at being the main flavor inducing ingredient. Fresh is the only way to go. And of course, you have to make sure that the hops you choose are right for the style of beer you want to make. An overly citrusy hops variety probably isn't the best choice for a sweet
Milk Stout
, and you're going to want a more aromatic breed if you're brewing
ESB
. Most beers will use more than one kind of hops (this beer uses three), and with more than 80 separate variations out there, the possibilities are indeed, endless. Brewers in climates prime for hops growing will most likely source from local farms, such in the case of
Czech
brewers and the
Saaz
Noble variety, or brewers in
Germany
, and their propensity to use
Hallertau
hops (the largest continuous hops producing region on Earth).
Date Sampled: 5-03-13 At: 7 Prescott Place, Allston, Boston, MA 02134, USA
Beer Style
:
Spring Ale / California Common/Steam Beer
Alcohol by Volume: 4.70%
Serving Type: 12 oz Bottle, 16 oz Stange Glass
Rating: 2.76
Look
The Columbia Common pours slightly choppy with a moderate level of carbonation action, giving this brew a thin foam head with a low amount of retention, a medium density, and a quarter inch height. This beer has a clear and filtered appearance free of sediment which gives off a somewhat bright shine, featuring this beers rich amber color. This beer displays a small amount of effervescent effects, and a small amount of lacing.
Aroma
This beer's medium low strength aroma has a fairly grainy and grassy character accompanied with some sweet malt and a small amount of slightly citrusy hops. These are general, lager like notes found in some pilsners or pale lagers. This beer does not have any alcoholic tinge in the aroma, and there are no bold malts and no sweet fruity notes.
Feel
This is a medium light bodied brew with an average amount of carbonation, an average weight, a matching viscosity, and a slightly dry finish. Overall, this is a cool and crisp beer with a lighter presence and a refreshing feel without substance. This beer has no alcohol warming.
Taste
As is with many spring beers, this beer has a fairly grainy and grassy flavored profile with some sweeter medium dark malt with a citrusy hop accompaniment. There is a hint of dark malt mixed in, as well as a bit of fruitiness. This beer has a somewhat lingering bitter finish which closes with a grassy pale malt aftertaste. This is a bittersweet beer overall, with no prominent or overpowering flavors.
Our Take
The beer's signature ingredient adds a bit of floral citrusy character, and when mixed with caramel, chocolate, and
Munich
malt, as well as Alchemy and Willamette hops, you get an amber ale which is more akin to a
American Lager
. This beer has a pilsner like grassy character, immediate from the aroma to the bittersweet aftertaste. So in a way, though this style is brewed and touted as a spring ale, it's closer in result to a
California Common
. Yes, this is a hybrid beer which we found quirky at best, and while there were some stong points with the use of more citrusy hops, a clean, crisp finish, and a lighter spring like presence, this beer's grainy profile wasn't what we were looking for. And an overall weakness in flavor as well as a faint aroma were low points which hurt this othewise casual beer's score. Still, this is a good way to ring in the new season, even if it's already May.