Two Cream, No Sugar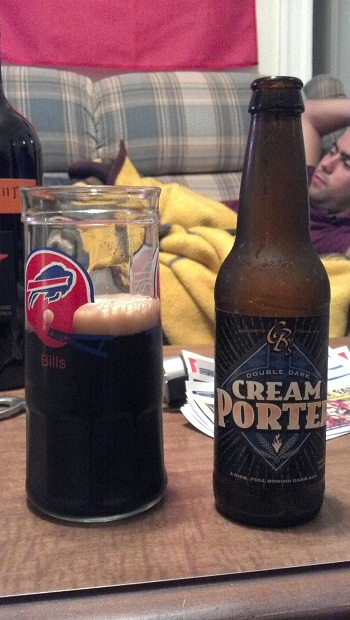 Brewery
and
Country
of Origin:
Custom Brewcrafters
of
300 Village Square Boulevard, Honeoye Falls, NY, 14472, USA
Date Reviewed: 10-10-12
Let us first start off by saying that this is not a sweet beer. Despite it being a cream based dark malt brew, this is an overwhelmingly bitter beer for the
style
. And if you're only expecting the tail end to exhibit any hoppy character, don't be so quick to assume. This is not the usual creamy sweet, lactose laden malty beverage you've come to expect at this point. What this would appear to be then, is a creamy
porter
without neglecting to address the lactose intolerant market. In
Milk/Cream/Sweet stouts
, the lactose sugars in milk or cream are unfermentable by yeast, giving the resulting beer a sweeter flavor than would have otherwise come from just using malt. Lactose is sweet just like any other sugar, but it is rather infamous for being undigestable in people with certain dietary sensitivities. Fortunately, we can recommend anyone with an intolerance for lactose try this beer because we have just been informed by the
brewery
that this beer contains no lactose. For this reason, the Double Dark is unique since it has some elemental, yet subtle characteristics of a creamy beer without the added sweetness. This essentially means that if you're still interested in a drier porter, your search ends here.
Date Sampled: 9-14-12 At: 7 Prescott Place, Allston, Boston, MA, 02134, USA
Beer Style
:
American Porter
Alcohol by Volume: 5.00%
Serving Type: 12 oz Bottle, 20 oz Mug Glass
Rating: 3.02
Look
This brew is a very dark with an opaque appearance, and a barely visible dark brownish color. A moderate amount of carbonation action gives this beer a half inch, creamy and dense foam head, and a good deal of lacing on the glass. There is a small amount of chunky sediment that quickly settles at the bottom of the glass.
Aroma
Double Dark's aroma is full of prominent dark chocolate malt notes with a small amount of hops detectable. There are also a faint hint at dark coffee and some caramel sweetness present as well. Not terribly complex, but definitely a bold and powerful aroma.
Feel
This is a medium full bodied beer with a lower amount of carbonation, and a medium high viscosity. Though this beer has some sediment, it isn't consumed until the last few sips, making this beer a generally very smooth beer with an almost syrupy like feel. A very bitter and mostly dry finish closes.
Taste
This beer has a very dark chocolate malt bitter overall flavor with subtle coffee to accompany the primary tastes. Some lighter sweetness is noticeable as well as a subtle creamy character. This beer finishes with an overpowering bitter and hoppy aftertaste with a somewhat lingering property.
Our Take
Though this beer doesn't showcase any of the higher than normal sweet notes of a normal milk stout, this is still a malty beverage which should satisfy the traditional porter enthusiast. Obviously, there are better porters out there, but this one is pretty unique in that it delivers a nice smooth and creamy texture and taste, without making you feel like you'll need the Listerine afterward. The Double Dark is a lot like dark chocolate. Big, bold, and bitter flavors will nearly overwhelm your tastebuds, while a very small amount of sweetness keeps this beer under watch. You should consider trying other milk or sweet stouts before you give this one a whirl in order to appreciate the individuality of this brew. To some, the creamy element of this brew can be a bit difficult to detect, but trying a couple of other milk stouts and comparing them to your usual
Irish
Dry Stout
will help you gain an appreciation for this small, quirky, but growing segment of the dark beer market. And with that, we have finally completed a beer review without going terribly off topic. A rare thing on this site.