Bringing On The Heat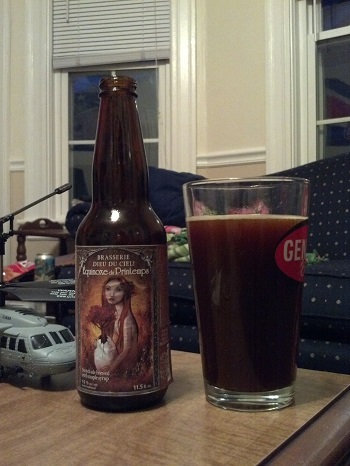 Brewery
and
Country
of Origin:
Brasserie Dieu Du Ciel!
of
29 Avenue Laurier Ouest, Montreal, QC H2T 2N2, Canada
Date Reviewed: 5-03-13
As you're probably aware by its name, this is a
Canadian
beer with a bit of
French
influence. The name "Equinoxe du Printemps" refers to the Spring Equinox, which in this year happened on March 20th. Thanks to mother nature's pouty mood this year, spring in Boston started a bit later than usual. In fact, this past winter dumped 62.6" of snow in Boston, which has averaged 43.7" since 1890. This was compared to the meager 9.3" Boston received last year, which was the second least snowy winter in the city's history (the least snowy winter got 9.0" in 1936-37). But that was then and this is now, and it looks like spring is finally here. In fact, it looks like summer's already here. Temperatures have reached near 70F over the past few days, and this brilliant weather is supposed to carry through for another half a week or so. That's well above the average 58-62F highs that the city normally sees during this time of year. Either way, the hot days are coming on, humidity will rise, as will ice cream sales, and the consumption of spring time beers. Interestingly enough, this particular beer isn't exactly what we'd refer to as a spring beer. In fact, this probably serves better in the winter or late fall months. Heavy or strong beers (this has 9.50% ABV) aren't necessarily bad when the mercury rises, but they tend to be less refreshing, more filling, and more warming than their lighter summertime cousins. These beers also go better with cool beach breezes and picnics. But of course, that's a matter of opinion, and personal preference will always take precedence over what everyone else says. And this is in spite of the fact that trends, general consensus, and popular choice exist because most people agree with them.
Date Sampled: 4-26-13 At: 7 Prescott Place, Allston, Boston, MA 02134, USA
Beer Style
:
Scotch Ale/Wee Heavy
Alcohol by Volume: 9.50%
Serving Type: 11.5 oz Bottle, 16 oz Tumbler Glass
Rating: 3.14
Look
This French Canadian brew pours relatively smoothly with a medium low level of carbonation action, producing a thin, eighth inch tall foam head with moderate retention, and a medium density. This beer is unfiltered and bottle conditioned, with a lot of noticeable sediment ranging from large solid chunks at the bottom of the glass, to small flakes, and very fine specks. This beer has a cloudy appearance with a lighter brown rusty color and a medium glow. This beer has very little lacing.
Aroma
Equinoxe du Printemps's aroma is slightly below average in terms of overall strength and showcases a moderately malty presence as well as a fair amount of nuttiness, as well as some sweeter, medium roasted caramel malty notes. This brew's aroma has no real detectable alcoholic tinge, and also absent is any trace of hops and any fruity notes.
Feel
This is a full bodied beer with a high weight, a chewy, substantial feel, a very high viscosity, and a low amount of carbonation. This beer is pretty smooth with an almost syrupy, thick texture. At the closing is a slight alcohol warming, as well as a short lingering, dry finish with a generally unclean feeling. This is not a refreshing beer, nor is it airy, which makes it good for colder weather.
Taste
Overall, this is a sweet beer with mostly malty notes including sweeter caramel roasted malt and other associated flavors. This beer is biscuity and somewhat nutty in secondary, with a fairly unbalanced effect in general. There is no real presence of bitter and balancing hops. Some very faint maple and vanilla flavors are detectable. This beer finishes with a slight alcoholic bite at the finish with a lingering unclean, slightly malty aftertaste.
Our Take
This is a bottle conditioned beer which we found to be quite unique. This was definitely one of the heaviest and thickest beers we've tried in quite some time, keeping in mind that we just got over the winter
stout
and
porter
seasonals. This beer will feel like you're drinking syrup or molasses, and sipping it is the only way to drink it... as drinking this beer really fast will probably result in you tasting it twice. Overall, this was a sweet and malty beer with a good amount of roasted caramel and some lighter vanilla and maple like flavors. If you're looking for a strong, stout (but not an actual
stout
), and heavy beer which offers a bit of quirky aspects, isn't as dark as night, and comes complete with a full ABV and a subtle warming finish, this is your beer. We can't say we necessarily agree with the springtime name, but we do respect every endeavor to be different.