Four Calling Beers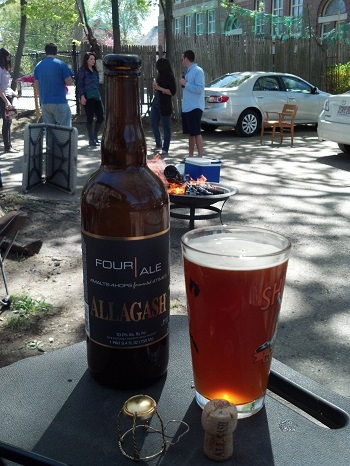 Brewery
and
Country
of Origin:
Allagash Brewing Company
of
50 Industrial Way, Portland, ME 04103, USA
Date Reviewed: 5-15-13
Today's lesson is brought to you by the number four. With this bold beer, we see this number come up four times. This brew, a
quadrupel
(1), is brewed with four kinds of malts (2), four kinds of hops (3), and goes through four different
fermentation
processes (4). Actually, that means the number four comes up five times... which would then actually make it four times. And now we need a beer. Actually, this beer also uses four different yeast strains (5). There. Now we don't have to go all inception on ourselves... though this is more like the movie
The Number 23
. Either way, this beer isn't about numbers. This is a beer which, as we just said, is a quadrupel ale. That doesn't refer to the number of times malt was fermented. More basically, this directly relates to the overall alcoholic strength of the beer. In
Belgium
, the country whose beer
Allagash
models itself after, beer casks are marked with "X"s to denote the strength of the beer they contain. Each X represents a maximum of 3.00% ABV, meaning four Xs (which is what a quadrupel would be), lies between 9.01% and 12.00% ABV. Other than that, this beer is unique to most in the
United States
, because it does go through four separate fermentations. That adds quite a bit of complexity and refinement to a beer. On top of that, this beer is bottle conditioned, matured, and further cellared for up to a recommended two years after release. Each bottle of Allagash is marked with the date and batch which tells drinkers exactly what they're paying for.
Date Sampled: 5-04-13 At: 7 Prescott Place, Allston, Boston, MA 02134, USA
Beer Style
:
American Belgian Style Quadrupel
Alcohol by Volume: 10.00%
Serving Type: 750 ml Conditioned Bottle, 16 oz Tumbler Glass
Rating: 4.10
Look
The Four Ale has an opaque appearance, caused by both fine and somewhat chunky sediment from this beer being unfiltered and bottle conditioned. This pours choppy with a medium high amount of carbonation action. There is somewhat creamy foam head with a half inch tall height, a medium high density, and a good retention. This beer has some faint glow and a rich amber lighter brown color. This beer laces a good amount on the glass.
Aroma
This beer has a medium strength aroma which features a general malt character with some roasted notes and a bit of nuttiness in the profile. This sweetness is balanced with fruity and aromatic hops, which clear the nostrils a bit. This beer, despite being a pretty strong beer in terms of alcoholic strength, does not have any alcohol tinge in its aroma. The malt present has a medium roasted darkness aroma and is more prominent than the hops. This beer has some slightly biscuity notes as well.
Feel
This is a medium full bodied brew with a faint alcohol warming after a lingering, complex and pretty dry finish. There is a below average level of carbonation, a medium high weight, a matching viscosity, and a creamy and smooth texture throughout. This beer does have a bit of alcohol bite and warming toward the close. This beer does not have any texture added from the large amount of sediment included.
Taste
While this beer is mostly sweet with a good amount of somewhat roasted malty caramel like malt, it is well balanced with a good amount of bittersweet hops and a fruity citrusy finish. First maltiness, changing over to bitter hoppiness. There are some subtle nutty and slightly biscuity notes included. This beer has a mostly bitter dry aftertaste which lingers for a good amount of time. There is no alcohol taste in this beer, and overall, this beer is fairly mellow considering its strength.
Our Take
This particular bottle came from the 27th batch of
Allagash
's Four Ale. It was made early last year, so it's been cellaring for about 14 months. This perennial offering features all of the qualities and properties of a hearty
Belgian
strong ale. A rich, complex, malty flavor complete with a vast array of fruity, nutty, and hoppy secondary notes. And this is also a pretty full, solid beer with a lot of physical presence. This beer is definitely a sipper, meant to be enjoyed slowly, but don't worry too much about trying to match this with any particular season. We think the fall may be the best, but it's not important. What is important, is that this is an excellent beer which, despite, its rather high ABV, is pretty restrained, refined, and composed. This is a beer which has the complexity, boldness, and presence of a big beer, without the overpowering bite, extreme flavors, and alcohol tinge. Those looking for a solid, fairly malty Belgian style strong ale, your search ends here.