Purist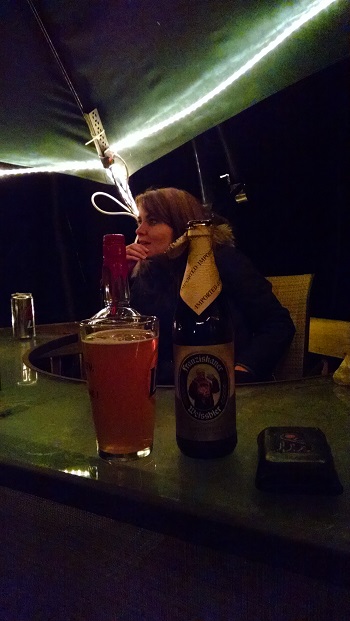 Brewery
and
Country
of Origin:
Spaten-Franziskaner-Brau GmbH
of
Mars Strasse 46-48, Munchen, 80335, Germany
Date Reviewed: 12-29-14
If we were to poll everyone who read this on whether they traveled somewhere for the holidays this year or not, we'd be willing to bet that almost a third of you would say, "Yes, I dealt with the comorbidities of living away from family by driving hundreds of miles, or buying an expensive plane ticket back home." According to AAA, almost 100 million of us
Americans
hit the roads/rails/runways this holiday season for various... well, holiday related travel. And with more people crowding the on-ramps, cabins, and aisles, tempers invariably rise. In today's ultra-sensitive, politically correctness dictated society, that means more planes being diverted or held up because one irate passenger was wished a "Merry Christmas" instead of a "Happy Holiday." This means that every time you go to a store, airport, or station, you have to be extra careful about what you say, otherwise, you'll end up on the lighter side of the news, or at least that's what it should be. Still, as much as it is important to not only be tolerant, but also accepting of other people's beliefs and religious observances, all of this PC driven ambiguity is putting a massive damper on the holidays themselves. Calling the massive (usually
Canadian
or
Norwegian
) evergreen plopped outside of 30 Rockefeller Center in New York City a "Holiday Tree" gives people the excuse not to display an equally prominent Menorah or Kinara (yes, Kwanzaa is still going on). But let us all face reality for once. It is a Christmas tree. No other holiday season celebration helps to festoon the abode with a fresh cut pine tree decorated with glass bulbs, intricate ornaments, angels, stars, garland, tinsel, candy canes, or strings of lights. Sure, the intent is where it should be. Make sure no one feels left out, and all holidays are fairly represented. But the use of the misnomer "holiday tree" just doesn't make sense. If we were the office of Mayor de Blasio,
and
Rockefeller Center was a
public
entity, then we would make sure that all three major celebrations were represented. A sane person wouldn't put up a giant Menorah in a town square and call it a "holiday candelabra." So stop calling a Christmas Tree what it isn't, and instead "incite war" and "spark controversy" by making sure that Jewish, Muslim, and other religious populations are represented fairly. You don't need a 800 foot Muslim Star and Crescent, or a nativity the size of Mt. Rushmore. And we don't need
Black Friday
to turn into "Black November" either. If it is done in good taste, keeping things simple and traditional may sometimes be the best way to go about it. At least that's what this
Weissbier
from
Franziskaner
teaches us. Sometimes beer needs to do away with the infusion of deliberate spices, gratuitous exotic sounding ingredients, and useless labels like "Platinum," "Fortune," "Sapphire," or "Black Crown." Stop ruining the holidays for us rational, accepting folks. The last thing we need is to be held from seeing our families and friends because some overly sensitive martyr for the PC police gets upset at a flight attendant. Well, perhaps the second to last thing behind crap beer with a catchy name.
Date Sampled: 10-24-14 At: Puffin's Wilderness Refuge, Stab City, Blackthorne Resort, 348 Sunside Road, East Durham, NY, USA
Beer Style
:
Hefeweizen
Alcohol by Volume: 5.00%
Serving Type: 16.9 oz Bottle, 16 oz Tumbler Glass
Rating: 3.79
Look
This weissbier pours somewhat choppy with a medium amount of carbonation action, generating a half inch tall foam head with a high density, an almost creamy texture, a white color, and an average retention. This beer has a slightly hazy appearance caused by the inclusion of some very fine sediment. There is a fairly bright golden glow in light and no shine. This beer exhibits a low amount of effervescent effect, moderate lacing, and no settling of sediment.
Aroma
Franziskaner's Hefe has an average strength aroma overall that begins with a healthy amount of sweet banana like fruity notes mixed in with some weak, grainy malt. There are some yeast notes and cereal like grassy wheat smells, too. This beer's aroma does not contain any noticeable hops or alcohol or metallic tinge. There are some clove and coriander spices detectable.
Feel
This is a medium light bodied brew with a below average viscosity, a low weight, and a relatively high amount of carbonation, all of which contributes toward an overall light and airy feel. This is a crisp and refreshing beer which is easy to drink and contains no texture from the extra fine sediment. This beer finishes dry without any real alcohol bite or warming, and closes with a slight cooling sensation.
Taste
As with most weissbiers, this particular example has a flavor profile that immediately delivers a strong banana fruity flavor which is derived from this beer's wheat heavy presence. This mixes with some weaker pale grassy malt and a citrus and clove spice secondary. This beer also has some coriander present. The flavor contains no real hops or alcohol tinge. There is a slight biscuity undertone and this beer closes somewhat dry with a lingering malty sweet aftertaste.
Our Take
Traditionalists, rejoice! This is the
Reinheitsgebot
abiding hefe that purists are looking for. Fully fledged wheat and yeast notes fill the nostrils, aiding in bringing out this beer's complex, yet typical flavor profile. This is a beer for those looking for a traditional experience out of a beer which delivers on the expectation that you are going to get a crisp, refreshing wheat beer which comes with the spices, malt, and a session like strength that is meant to be enjoyed easily. Given that this beer does have a fairly light presence overall (like most beers of the
style
), we'd normally recommend this for the hotter seasons, but anyone looking for a good, fully flavored Hefeweizen should be able to fully satiate their desires no matter what the weather outside. Given that this is a traditional style wheat, we'd recommend pairing it with soft smoked cheeses, wurst, sweet fruit dishes, or seafood. Do not put a lemon slice in it.