Up Market, Equal Price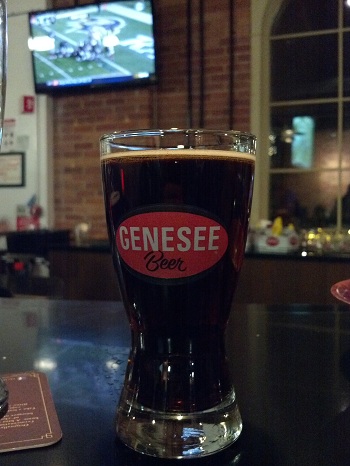 Brewery
and
Country
of Origin:
Genesee Brewing Company
of
Genesee Brew House, 25 Cataract Street, Rochester, New York 14605, USA
Date Reviewed: 1-04-13
Known locally as The Flour (or Flower) City, The ROC, or simply "home," Rochester is a Western New York city with a metro area population of over 1 million. And although it is perhaps most famous for its depressed industry, Wegmans, high crime rate, quirky foods, flowers, failed fast ferry, and lake effect snow, it is actually one of the top producers of beer in
The United States
. Aside from numerous established, new, and upcoming craft breweries in the region, the
Genesee Brewing Company
is the eighth largest brewery in the country, and a hometown favorite. Much like the city where it was born, The Genesee Brewery has seen a great deal of change (mostly for the better) in recent history. During the last couple of decades, the now 135 year old brewery has shifted some of its focus toward crafting more robust, unique, and rewarding beers which the brewery hopes, will try to establish their position in the premium American beer market. Until relatively recently, the brewery was only known for their flagship lager and light pale, which to be completely honest, weren't exactly our favorites. It turns out, however, that the brewery has recognized this to some degree. In September of 2012, the brewery opened the Genesee Brew House, a refurbished 100+ year old packaging warehouse which now serves as a museum, pub, gift shop, and perhaps most importantly, a pilot brewery, where employees brew limited run, small batch brews. These special beers can be purchased by the growler at the Brew House, or enjoyed on a rooftop terrace overlooking nearby High Falls and the Rochester Skyline. As it is winter, and as you probably already know,
we've written a good amount of reviews
on selected
winter/Christmas ales
. This was the first time we've had the opportunity to try Genesee's Winter (especially on tap), so we figured at this point, one more couldn't hurt. Besides, winter won't end for at least three more months... depending on how hungover Punxsutawney Phil feels on the morning of February 2nd. Either way, Rochester isn't some tropical Girls Gone Wild destination, especially in the month of December, so a strong Winter Ale was appropriate at the time. But step back for a second. Not only is this one of the largest breweries in the country, this is also the brewery which is responsible for bringing Smirnoff Ice, Mike's Hard Lemonade, and of course, Genny Light to college students in the Northeast. And when the prospect of a high quality, seasonal craft beer from this same brewery came along, we couldn't help but think that this was all sales and no pants. Boy. Were we in for a shock.
Date Sampled: 12-23-12 At: Genesee Brew House, 25 Cataract Street, Rochester, New York 14605, USA
Beer Style
:
Winter Warmer
Alcohol by Volume: 11.00%
Serving Type: Brewery Keg, 11 oz Weizen Glass
Rating: 4.02
Look
This winter ale pours smoothly with a moderately low level of carbonation action, giving it a half inch foam head with a lower than average density and short retention. This beer has a clear, filtered appearance with a nice rich bronze color and impressive shine. A fair bit of lacing occurs on the glass.
Aroma
Genesee's warmer has an average strength aroma full of darker malty notes and overtoned with a general sweetness. There is a small, but noticeable amount of hops present, as well as some biscuity and nutty notes. Despite this beer's high ABV, there is no alcoholic tinge in the aroma. A lot of caramel like malt is detectable here.
Feel
This is a medium bodied beer with an average viscosity, a normal level of carbonation, and a slightly heavy weight. This beer finishes slightly unclean with a good amount of lingering wetness. There is a definite alcohol induced warming effect which happens right after the close. This beer is slightly crisp for its strength.
Taste
This beer's flavor is characterized by a full caramel presence, as well as a fair amount of biscuity notes with some added nuttiness in the mix. There is a slightly hoppy bitter aspect which comes in toward a lightly lingering aftertaste. There is only a trace amount of alcoholic taste in the profile. The flavor is sweet but generally mild overall, especially for a beer of this strength.
Our Take
In many ways, this brew directly reflects the city where it was born. Its style is especially appropriate for a city which averages over 100 inches of snow every year. A strong alcoholic strength and profile of bold flavors are only matched by the pride Rochesterians have for their Flower City. And its brewed at the Genesee Brew House, right along High Falls and the Genesee River which flows directly through the center of Downtown. Alright. Enough of the hometown homage. This is a great beer which will keep you warm through the winter, even if its spent on an unheated rooftop terrace overlooking High Falls. With a rather strong 11.00% ABV, this beer balances its flavor profile very well with a substantial amount of malty presence, as well as some cleaning hoppy notes toward the end. But overall, none of these flavors will be found as too strong or overpowering, as this is a relatively mild brew for the scale. Its middle of the row weight, body, and viscosity make it a versatile meal beverage, too. We tried this
Winter Warmer
with a bowl of
Genesee Brew House's
house beer cheddar bisque, which we also definitely loved. And though this Rochesterian venue is a new addition to Downtown's resurging social scene, its hospitality, food selection, seriously awesome views of the city, and of course, great beer will make it a Rochester staple in no time. Perhaps one of the best things about this beer and venue, is that even with a first class location, premium quality, and great service, these seasonal beers will only cost you a very Rochesterian $4.00/pint (or smaller size for high strength beers). And among those familiar with the brewery's main brands, we'd see this as a way to legitimize the craft beer efforts of a brew house trying to reestablish itself as one of America's most respected breweries. Trust us. Genny Light is so 2012. If the
brewery
formerly known as
High Falls Brewery
keeps this up, the thoughts of drinking some of the Genesee River in every can will soon be a thing of the past.