Waist Deep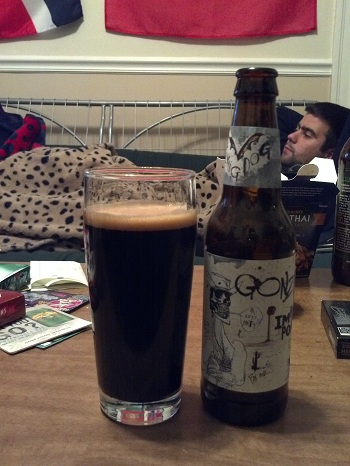 Brewery
and
Country
of Origin:
Flying Dog Brewery
of
4607 Wedgewood Boulevard, Frederick, MD, 21703, USA
Date Reviewed: 1-29-13
Despite what you might think, this is a beer dedicated to an
American
journalist/author, not the character on the Muppets. But while you may be quick to dismiss the entertainment factor here, we should let you know that Hunter S. Thompson, the man in question, has had an extremely fascinating life. Aside from being a world class author and journalist, Thompson was a convicted accessory to a robbery which led to his being incarcerated for 31 days. He lived among the North California chapter of
Hells Angels MC
in San Francisco while writing a book about their lifestyle. Thompson's relationship with the gang ended after he was severely beaten or "stomped" for making the comment, "only a punk beats his wife," referring to an Angel who had been abusing his wife. Before journalism, he was enlisted in the US Air Force for two years until his honorable discharge as an Airman First Class. His commanding officer praised Thompson for his talent and ability, but recommended the discharge due to his "rebel and superior attitude." A world traveler, Thompson lived briefly in Purerto Rico, New York City, San Francisco, and Brazil among other places, before finally settling in the resort town of Aspen, Colorado. After leaving the Air Force, Thompson began a career in journalism, where he had worked for numerous papers, publications, and magazines, traveling to many different places in the
Western Hemisphere
. Of course, his ways of an independent attitude were carried with him from the military, and in 1959, he was fired from
Time
magazine for insubordination. Less than a year later, he was fired from his reporter job at
The Middletown Daily Record
in New York, for various issues. After his career got off to a rocky start, he was brought into San Juan for a job at a Puerto Rican sports magazine, which folded as soon as he arrived. Fortunately, his career would eventually take off, with the help of his own reporting and writing style, known as
Gonzo
. Essentially, Thompson immerse himelf in the story being reported, living in the environment or backdrop per se. And based on first hand accounts, he was able to write personal, emotionally driven pieces which chronicle experiences by way of purely subjective view points. By witnessing the events in the first person, the writing is more accurate as the journalist isn't depending on other sources, such as quotes or interviews, rather, they're part of the story. Thompson comitted suicide on February 20th, 2005 after a hard 67 year long life full of divorce, lost loved ones, alcoholism, drug abuse, gang violence, and chronic medical conditions. And through all of this seemingly endless adversity, Thompson was able to use his wit and intellect as a way to orate a story from a perspective never explored before. He has been credited with creating the Gonzo Journalsim genre as well as the legacy which has followed its inception. Today, his life and work is celebrated by a the Maryland brewery of
Flying Dog
, which also tries to convey the purpose of being challenging, rebelling, and of course, unique. Their beer, including this tribute in the form of a
Imperial Porter
, is just that.
Date Sampled: 1-04-13 At: 7 Prescott Place, Allston, Boston, MA, 02134, USA
Beer Style
:
American Double/Imperial Porter
Alcohol by Volume: 9.20%
Serving Type: 12 oz Bottle, 16 oz Stange Glass
Rating: 3.80
Look
Gonzo pours smoothly with a moderately low amount of carbonation action. This produces a half inch tall foam head with a medium density, an average amount of retention, and a darker tan color. This brew is dark brown with an opaque and hazy appearance caused by a fair bit of sediment (some chunks settling at the bottom). This produces no glow or shine. Some lacing does occur on the glass.
Aroma
The aroma starts off with a weaker roasted malty presence which is quickly overtaken with darker, bitter dark chocolate and coffee like notes. These gain strength to a moderate level, and then quickly dissipate. There iare no real hops in the aroma, and there are no fruity, nutty, or earthy notes either. And despite a moderately high amount of alcoholic strength, there is no alcohol related tinge in the aroma.
Feel
This is a medium bodied brew with a fairly low level of carbonation, a medium high weight, and an above average viscosity, giving this beer a dull, yet very smooth presence. There is no alcohol induced warming effect at the close. This beer has a slightly dry, but short lasting finish. The moderate level of sediment is not detectable as an added texture.
Taste
This beer has strong, pronounced malty flavors, mostly dominated with dark, bitter coffee notes as well s some darker chocolate presence. These are more bitter than sweet. There are some slightly nutty and earthy side notes, but these do not influence the overall bitter presence. There is some alcohol present in the taste. The finish is bitter with a moderately lingering aftertaste.
Our Take
Let us just say that this is a very good
porter
. In fact, we would definitely recommend this malty beer to anyone who is a fan of the style, even in spite of a near 10.00% ABV. Sure, this is a strong beer and many people are going to be turned off by the presence of some alcoholic flavor and aroma, but for the most part, this beer's bold dark malty flavors full of bitter coffee and some dark chocolate taste should more than outweigh this beer's rather undesirably robust side. As this beer does not showcase any real hoppy character, we wouldn't suggest any
IPA or bitter
lover unless you were into diving straight into something new and interesting. And perhaps that is something that should happen more often than it does. Because if Thompson taught us anything, its two things: one, don't be afraid of first hand experience; try new things, as long as they don't kill you. And two: although he would hate to advocate drugs, insanity, violence, or alcohol, as he has said, they've always worked for him.