"That's What Christmas Is All About, Charlie Brown."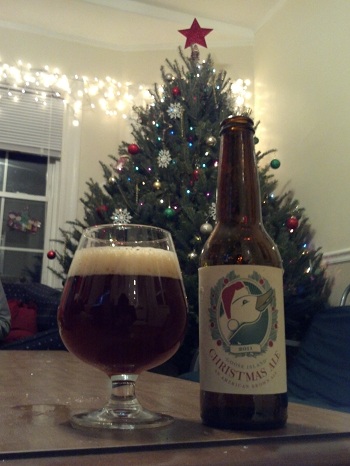 Brewery
and
Country
of Origin:
Goose Island Beer Company
of
1800 North Clybourn Avenue, Chicago, IL, 60614, USA
Date Reviewed: 12-11-12
Each and every year, billions of people around the world, Christians and non Christians celebrate the holiday of Christmas. This day, as you are all probably aware, happens on December 25th, and commemorates the birth of Jesus Christ. The holiday is full of festivities, culture, and symbolism. In more modern history, the holiday has taken up a more secular definition, still very much associated with the Christian faith, but with a more widespread affiliation. Mass, prayer, and a feast tied with the Christian liturgical year were all traditional customs. Today, the holiday has become known to incorporate various secular customs, perhaps most notably the tradition of gift giving (and shopping). This has produced criticism of
over commercialism
surrounding the holiday, as well a significant annual economic injection for the manufacturing, retail, and consumer goods sectors. Some other well-known Christmas traditions include the decorating of the Christmas tree, Christmas lights, cards, nativity scenes, mistletoe, Christmas movies, Christmas music, and of course, Christmas beer. Typically associated with
winter warmers
, Christmas beers are usually stronger
ales
which can trace most of their roots back to old
England
, which is essentially one of the birthplaces of stronger winter geared ales. Two important factors which help to define what a Christmas (or winter ale for those who are PC police...) beer include strength and flavor. These are traditionally brewed ales with special ingredients such as holiday spices like nutmeg, cinnamon, ginger, and vanilla. These and other spices help create a beverage flavor profile which goes great with holiday treats like cookies, cakes, pies, and candies. The alcoholic strength of these beers isn't as important, but due to tradition and seasonal preferences, Christmas and winter ales will typically carry at least 6%+ ABV, with most of them delivering a bit of warmth after the aftertaste ends. Think of it as a way to help cope with the cold winter. Of course, food is one of the most important aspects of the celebration (aside from family, pets, and friends, of course). Roast bird of some sort is always popular, though seafood, beef, and other meats are increasing in popularity, as well as feasts not centered around meat. Because turkey is the most common centerpiece of Thanksgiving, Christmas is more commonly associated with roast Duck or Goose (though turkey is still popular). Poultry is best paired with medium to light bodied beers, many of which are winter ales, though this depends entirely on personal preference and what's being served.
Date Sampled: 12-02-12 At: 7 Prescott Place, Allston, Boston, MA, 02134, USA
Beer Style
:
American Brown Ale
Alcohol by Volume: 6.20%
Serving Type: 12 oz Bottle, 16 oz Snifter Glass
Rating: 3.44
Look
Goose Island's 2011 Christmas Ale is unfiltered and bottle conditioned, giving it a hazy/cloudy appearance, which gives off a dull glow in the light. The color is light rusty reddish brown with a noticeable amount of sediment settling toward the bottom third of the glass (this will eventually settle completely). This beer pours choppy with a three quarters inch tall foam head with a medium high density and a moderate level of retention. There is full lacing on the glass.
Aroma
This brew has a fairly strong aroma with bold caramel like sweet malt and a slight amount of alcohol present. There is almost no trace of hops detectable in the nose, being dominated by roasted malt and a small amount of clove. There is a slightly undesirable metallic smell in the aroma as well.
Feel
This is a medium bodied ale with a moderate viscosity and a lower than average level of carbonation. This beer's rather high amount of solid content gives it a slight chunky texture toward the end of the glass, but this can be avoided by a proper pour or forgetting about the last sip. This beer has some lingering in a very slightly dry finish. There is a subtle warming effect at the close.
Taste
The Christmas Ale has a very sweet and malty start with a roasted grain highlight. This beer maintains its malty character with a sweet lingering roasted malt aftertaste with a somewhat awkward metallic or earthy aftertaste. Some subtle spicy and nutty notes are present as well. There is a small amount of hops detectable in the finish, as well as a slightly dry taste.
Our Take
This beer was further cellar conditioned for almost one and a half years after it was purchased. Full of malty and slightly spiced up flavor, this is a good holiday oriented beer which will keep you comfortable and warm through that long winter season. If you're planning on enjoying this beer (the 2011 or 2012 offerings) with your Christmas or other holiday meal(s), just remember to pour it carefully if you don't want a good amount of sediment in the glass. This isn't detrimental to the overall drinking experience, but it may not be desirable by some, and could deliver unwanted texture. This beer's fairly strong alcoholic strength delivers a nice warming effect at the close, and it's aroma will keep your nose mostly satisfied as well. A slightly distracting and awkward metallic presence in the flavor and aroma does hurt this beer's score, but no matter what holiday you're celebrating this year, you should consider a hearty,
American
, malty, strong ale like this one. On a completely unrelated note, this may actually not really matter at all if
the world comes to an end
.